The best way I can describe Kababayan bread is that it is pretty much Filipino muffins. You won't find this bread as a boxed mix, and you must make it from scratch. The good news is that this recipe is straightforward and simple. You must do one thing you can't do with other muffins to attain their specific shape. Continue reading below to learn more about Kababayan bread. If you want to go straight to the recipe and read some tips on making its signature shape, go here.
What is Kababayan Bread
Kababayan is a simple muffin made with brown sugar and baked in a muffin tray. This is a staple item in panaderias (bakery) sold for a very low price because it is easy to make, alongside the popular ensaymadas and Spanish bread. Kababayan in Kababayan bread (Filipino muffin) means countrymen. Additionally, the bread is also shaped like a hat with a lip that goes around a domed center. This particular hat shape takes after the salakot, a wide-brimmed handmade hat used as protection on sunny or rainy days.
This bread is commonly found all throughout the Philippines. The house I grew up in the Philippines didn't have an oven and most of the families I knew also purchased baked goods instead of making them. I had personally never seen a Kababayan bread recipe made from scratch until I made them myself. When I moved out of my family home and lived in an area where there were no Filipino bakeries, I finally experimented with Kababayan recipes.
How to Make Kababayan Bread
Mixing the dry and wet ingredients separately before combining them is the most effortless way to make a Kababayan bread recipe.
Add flour, brown sugar, baking powder, baking soda, and salt in a bowl, then whisk to combine. Mix the eggs, heavy cream, vegetable oil, and melted butter together in a separate bowl.
Pour the wet ingredients into the dry ingredients and blend with a whisk. Tip Don't over-whisk the mixture because you want to retain some air bubbles to help the muffins rise.
Achieving The Salakot Look
This is the most essential part of making Kababayan bread. First, preheat the oven to 200°C (400°F) because you want to ensure the oven is as hot as the required temperature before putting the muffins inside it.
Tip The first key to achieving the hat shape of Kababayan is to use vegetable oil. A substitute for vegetable could be shortening, vegetable or not. But do not use butter because it will burn in the high temperature before the muffin has a chance to rise appropriately. If you also use something that has a low smoking point such as olive oil, it won't heat fast enough for the batter in the oven. Vegetable oil or shortening can take high heat and gets very hot fast without burning within the time you bake these muffins.
Brush with vegetable oil generously along each side and bottom of each muffin mold. This will make the muffin sides rise and bake faster than the center in the high heat.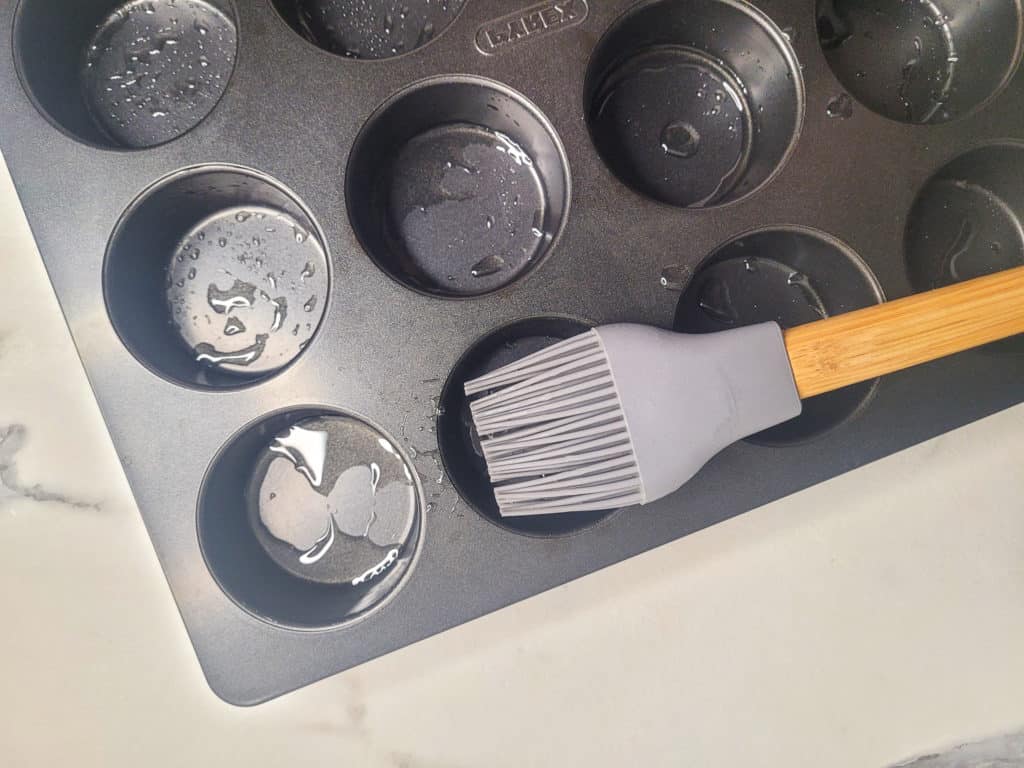 Pour the batter into each mold and clean the leftover batter that may have dripped onto the muffin pan. Tip Make sure no batter hangs along the edges, or else the batter won't rise on the sides as expected.
How to Bake Filipino Muffins
Place the filled muffin pan in the preheated oven and bake for no more than four minutes - I recommend three. You will notice the sides rise up rather quickly. When you see the outer edges touching the top of the muffin pan, turn down the temperature to 180°C (350°F).
Continue baking the Kababayan bread for about fifteen minutes. Watch the center of each begin to rise as it builds its domed shape.
Pull the muffins out of the oven and allow them to cool for thirty minutes.
Ways to Enjoy Kababayan Bread
These Filipino muffins are great on their own. But there are many ways to dress them up and make them more delicious!
Add Butter and Jam
Two of the simplest things to add to Kababayan bread are butter and jam. Cut the bread horizontally in half and carefully spread some butter (the muffin will be moist!) and jam across the slices. Then put the slices back together like a sandwich and enjoy!
Eat with Condensed Milk
Some Kababayan bread recipes also include condensed milk, but I wanted to give you a choice on this one. Dribble some condensed milk on top of sliced Kababayan bread for an extra indulgent factor.
Make it Glazed
This one is inspired by the classic donut. It is also my personal guilty pleasure, and here is how to do it! Make a glaze by mixing the following:
170 grams powdered sugar
3 tablespoons milk
Dip a cooled muffin upside down into the sugar mix and allow the glaze to harden before eating.
Make it Your Own
I highly recommend you make Kababayan bread the traditional way for the first time. But I believe this recipe is also a flexible and versatile base for many interpretations. It's easy to split the batter into different bowls to add various flavors as well. Extracts such as pandan, ube, and even almond are great additions.
Get creative with your version!
Have You Tried This Recipe?
Simply rate the recipe by clicking on the ⭐️s on the recipe card above. Have something to say? Please leave me a comment down below telling me what you think of this recipe.
Bonus: Let me and other readers know what you did to make this recipe your own - 💫 let's inspire each other!
Also, follow me on Instagram [@seesfoodwilltravel] and send me a DM with a picture of what you made. I would love to share and celebrate YOUR creation with our budding community 💞
Check out Sees Food, Will Travel on Pinterest and Facebook for more delicious updates.
Kababayan Bread - Filipino Muffins
So easy to make and so many ways to eat it! Kababayan bread (Filipino muffins) will quickly become one of your go-to recipes for baked goods. Enjoy in the morning, or better yet, throughout the day!
Ingredients
180

grams

all-purpose flour

165

grams

brown sugar

2

teaspoon

baking powder

½

teaspoon

baking soda

½

teaspoon

salt

2

eggs

180

grams

heavy cream

110

grams

vegetable oil

2

tablespoon

butter, melted

vegetable oil

for brushing muffin pan
Instructions
Preheat the oven to 200°C (400°F)

In a bowl, add then mix the dry ingredients.

In a separate bowl, add wet ingredients and whisk to combine.

Then pour the wet ingredients into the bowl of dry ingredients and mix together by hand with a whisk.

Brush a muffin pan generously with vegetable oil.

Place in the preheated oven for 3 minutes

Lower the temperature to 180°C (350°F) and bake for an additional 15 minutes

When the mix is set, remove from the oven and cool for thirty minutes.