I love banana bread, and as a Filipino, I also love fried bananas. This simple caramelized banana bread recipe is a combination of my love for these two things. The bananas are pan-fried to coax out the sugars in the bananas. The result is a deeper banana flavor that is rich and deep. This recipe also helps when you don't have that brown sugar in the kitchen but want to achieve that flavor in banana bread.
Update Disclosure: This post has been updated for one or more of the following reasons: easier reading, updated photos, clearer instructions, and just plain ol' improvements to the recipe (as noted).
Jump to:
Ingredients for Caramelized Banana Bread
The ingredients for this recipe is an adaptation from this luscious All Recipes banana bread post. Instead of using overly ripe bananas, you can use bananas with a few brown spots on its skin. They will hold up better as you fry them in the pan, but will soften to the same consistency as browned bananas.
You will need the following ingredients for this recipe:
Bananas
Unsalted Butter
Eggs
Sour Cream
Flour
Baking Soda
Salt
Chopped Pecans (optional)
Chopped Chocolate (optional)
Substitutes
Pecans: Walnuts are the typical options to add to banana bread. Nuts are an optional ingredients so you can choose not to use them at all.


Sour Cream: You can use heavy cream instead of sour cream for this recipe. Heavy cream will yield a moist banana bread as well.
Recipe Tips For a Rich Banana Bread
Slice Bananas in Half: Take your bananas first and slice each one down its length. Don't worry if it breaks in half. We just need a flat surface to develop the caramelization.
Cool Bananas: Make sure the bananas are cool because if you plan to add chocolate chips, they will melt if they are still warm.


Work Quickly: The sugars in the bananas will make them very soft, so work quickly and transfer them into a bowl when they develop caramelized marks on both sides.
How to Make Caramelized Banana Bread
Here is a thorough summary of this recipe to achieve a yummy soft banana bread!
Fry bananas on the pan until caramelization marks show and they soften.
Mash bananas in bowl, let them cool.
Add the flour, baking soda, and salt in another bowl, mix them together, then set aside.
In another large bowl, crack the eggs, then add the melted butter and sugar and whisk them together until the sugar is completely incorporated.
Combine the wet and dry ingredients. Then, add the flour mixture and the cooled bananas and sour cream to this bowl.
Fold in the chopped chocolate chips and pecans.
Pour the caramelized banana bread filling into a prepared baking dish, leaving about a half-inch space from the top of your loaf pan.
Bake the banana bread for about an hour or until a toothpick comes out clean when you insert it and pull it out.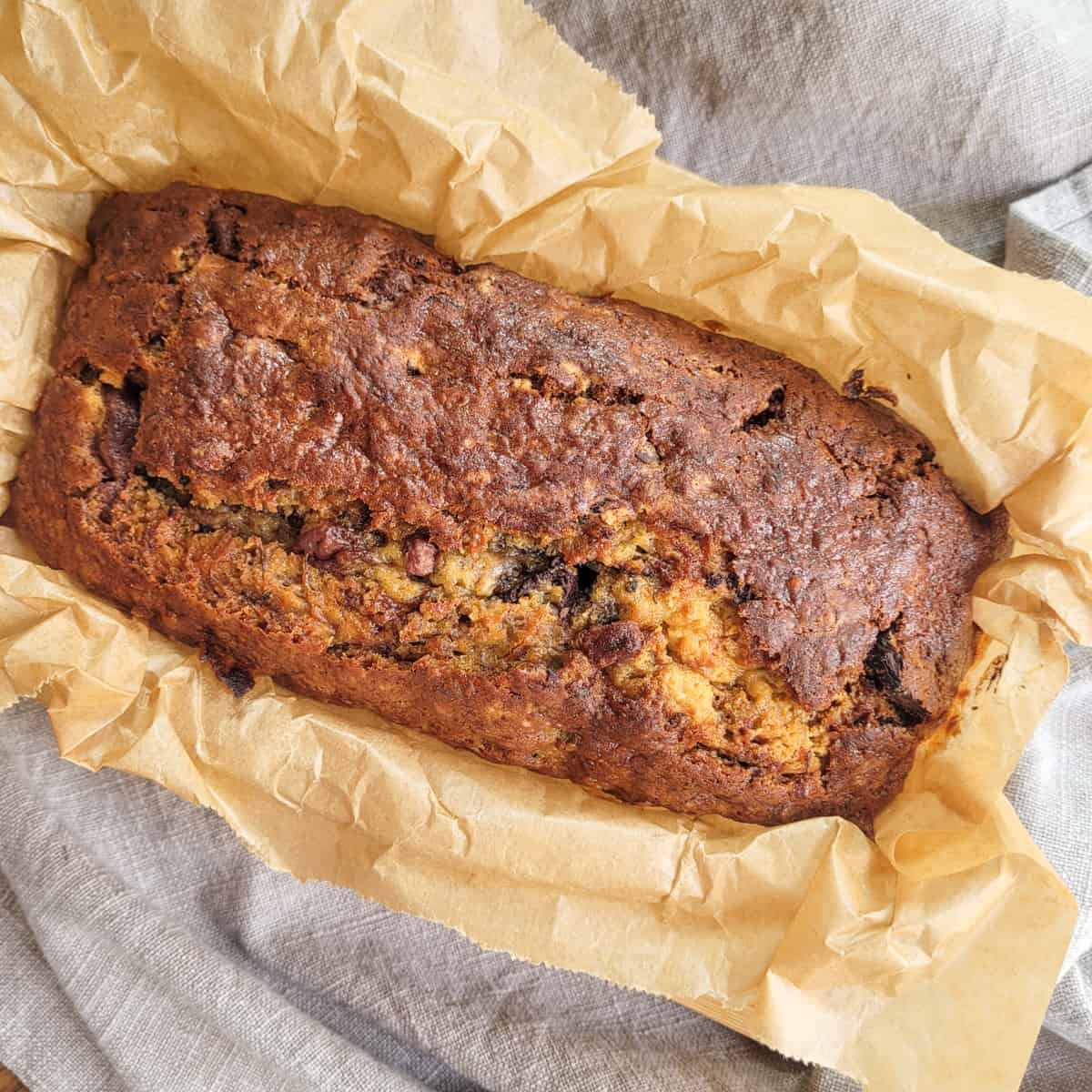 How to Serve
My favorite way of eating banana bread is by taking a thick slice and heating it. Then I take a butter slab and allow it to melt on top of the piece. Grab a cup of coffee and treat yourself to the banana bread's nutty, sweet, caramelized, and chocolate flavors.
Caramelized Banana Bread Recipe
This caramelized banana bread recipe adds cooked bananas that enhances the flavor of your banana bread, ensuring a deep and rich flavor with a dense and moist texture
Ingredients
2

ripe bananas

2

eggs

200

grams

granulated sugar

113

grams

unsalted butter, melted

1

teaspoon

vanilla extract

225

grams

all-purpose flour

1

teaspoon

baking soda

½

teaspoon

salt

123

grams

sour cream

½

cup

chopped pecans

optional

⅓

cup

chopped chocolate, milk and dark

optional
Instructions
Preheat oven to 175°C (350°F)

Slice bananas across its length. Heat a frying pan, and fry the bananas until the bottom is brown. Then turn the slices over to cook the other side.

Place the cooked bananas in a bowl, mash them with a fork and set them aside to allow them to cool.

Add flour, baking soda, and salt in a bowl. Mix and set aside.

Add melted butter, eggs, and sugar. Whisk until the sugar has dissolved.

Combine the flour and egg/sugar mixture. Add the vanilla extract, sour cream, and cooled bananas. Mix all the ingredients until well-incorporated.

Fold in the chopped chocolate and pecans. Then pour into a prepared loaf pan.

Bake for an hour or until a toothpick comes out clean.

Allow the bread to cool completely before slicing.
Nutrition
Calories:
366
kcal
Carbohydrates:
47
g
Protein:
5
g
Fat:
19
g
Saturated Fat:
9
g
Polyunsaturated Fat:
2
g
Monounsaturated Fat:
6
g
Trans Fat:
0.4
g
Cholesterol:
64
mg
Sodium:
245
mg
Potassium:
179
mg
Fiber:
2
g
Sugar:
27
g
Vitamin A:
425
IU
Vitamin C:
2
mg
Calcium:
30
mg
Iron:
2
mg
Disclaimer: Nutritional values were calculated with the Spoonacular Food API and should be used for informational purposes only.
Have You Tried This Recipe?
Simply rate the recipe by clicking on the ⭐️s on the recipe card. Have something to say? Please leave me a comment down below telling me what you think of this recipe.
Bonus: Let me and other readers know what you did to make this recipe your own - 💫 let's inspire each other!
Also, follow me on Instagram [@seesfoodwilltravel] and send me a DM with a picture of what you made. I would love to share and celebrate YOUR creation with our budding community 💞
Check out Sees Food, Will Travel on Pinterest and Facebook for more delicious updates.