Austria is serious when it comes to Christmas markets! Each market exhibits high standards that are purposeful and support a local theme. John and I love visiting Vienna during the holiday season because we know our money will be well-spent on delicious food at their Christmas markets.
Before I jump in, please note that Christmas market vendors can and do change yearly. Some of the vendors this year (2022) may not participate next year. I did my best to make notes on each market's unique and uncommon themes so you can pick from the overwhelming food choices of markets in Vienna. I hope it will help you plan your visit for the following year's Christmas market visit.
This is not a guide for the massive Christkindlmarkt at Rathaus since it is the primary market not to be missed. For its sheer size and overwhelming choices of vendors, you should visit Christkindlmarkt at Rathaus.
Typical Food at Vienna Christmas Markets
There are many food stalls and items across Christmas markets in Vienna that you will come across more than once. Here are some food and drinks to get you in a festive mood.
Chestnuts (Maroni): Vendors will precut chestnuts and roast them before sliding a batch into a cone-shaped container
Punsch: These drinks are made with a base of sweetened juice then a shot of rum is added. There are many variations of punsch, and there are too many to try! So pick a flavor you are familiar with, and you won't be disappointed.
Glühwein: Heated spiced wine is the main drink of the season, and there are two versions, red or white.
Lumumba: If you come across this on a menu, make sure to give it a try! It's a boozy hot chocolate with a shot of liquor, most oftentimes rum.
Almonds: When you buy caramelized almonds, they should be freshly roasted, or you can ask vendors to reheat them.
Sausages (Bratwurst and Käsekrainer): Viennese markets would only be proper markets with their links. I stay away from these because of the markup in price. Würstelstands (sausage stands) just outside of the markets offer their long-standing traditional selections at better prices.
Potatoes: Fried, baked, twisted - you name it - there are always variations of these beloved starch at the markets. Check out some of the standout vendors serving spiral kartoffel and kartoffelpuffer below.
Viennese Pastries: Your time in Vienna isn't complete unless you try one of their many pastries. Try any fruit strudel such apfelstrudel or pancakes (kaiserschmarrn), or doughnuts (bauernkrapfen).
Raclette: Another popular option for food is some melted cheese on top of a slice of bread. Some vendors will have meat and vegetable options. The one at Karlsplatz offers an organic selection that will fill you up.
Specialized Food at Vienna Christmas Markets
Some food and drink are less typical, and they are worth seeking out. So if you have been interested to see what's going on in other notable markets, this section is for you! I combed through specialty food vendors in some markets, so take this as a loose representation of what to expect.
Cozy Market at A Palace
This Christmas market was the first one I ever visited in Europe, so I admit I am partial to it. I've been here at three different times of the day and still yet to see it as busy as other markets. You can briefly scan fifty stalls on a ten-minute loop around the market before deciding which ones to patronize.
What to Drink: Try feuerzangenbowle, or fire tongs punch. It's a drink with a sugar cube on fire over the mug. You let it melt into the mulled wine as the fire goes out, and then you can drink it!
What to Eat: Though it's not as uncommon as other food in this list, try the spiral potatoes cut fresh and fried in front of you.
Organic Vendors in a Park Atmosphere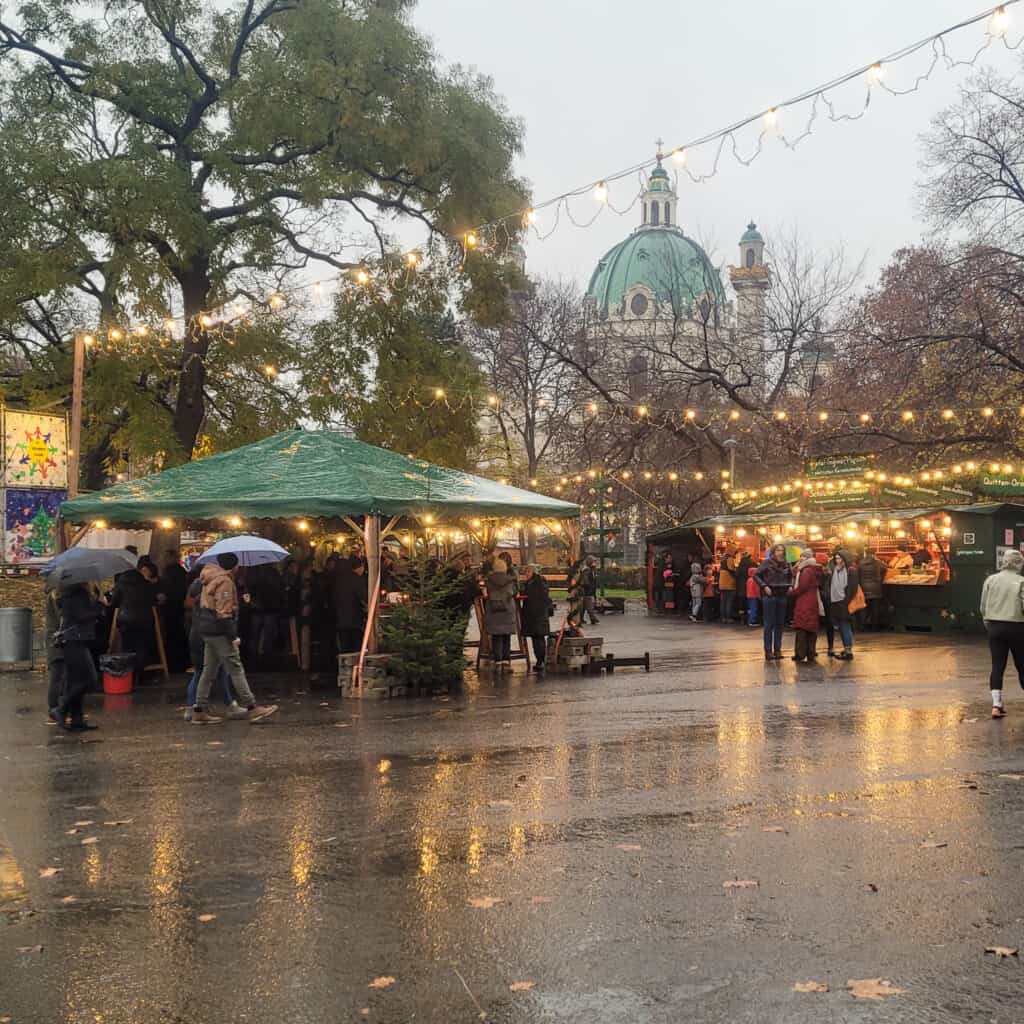 It was a rainy day when we visited the advent market at Karlsplatz, right in front of the Karlkirche. This market is neatly organized across the sprawling square, with food at the center. Maps throughout the area provide information on vendor stalls. The idea for this market is to promote organic producers and food vendors. Some art vendors offer personalization for their products.
What to Eat: The traditional farmer's donuts, bauernkrapfen. The vendor stand is relatively easy to find. Just look for a large sign that says, "Original Kiachl" at the center of the square. Next, try the raclette stand that offers ham or bacon on toast under gooey melted cheese.
What to Drink: Some more exciting mixes, such as mint punsch or chili-kirsch (spicy cherry) punsch, can be found at this market.
Festive Palace Grounds
I must have a thing for Christmas markets at palaces because Schönbrunn is another favorite of mine. It will take thirty minutes to get to this location from the city center. You will be rewarded with 70-something stalls of various handmade gifts and fresh food on sprawling palace grounds. If you need a break from eating and drinking, stroll the (free) gardens behind the palace.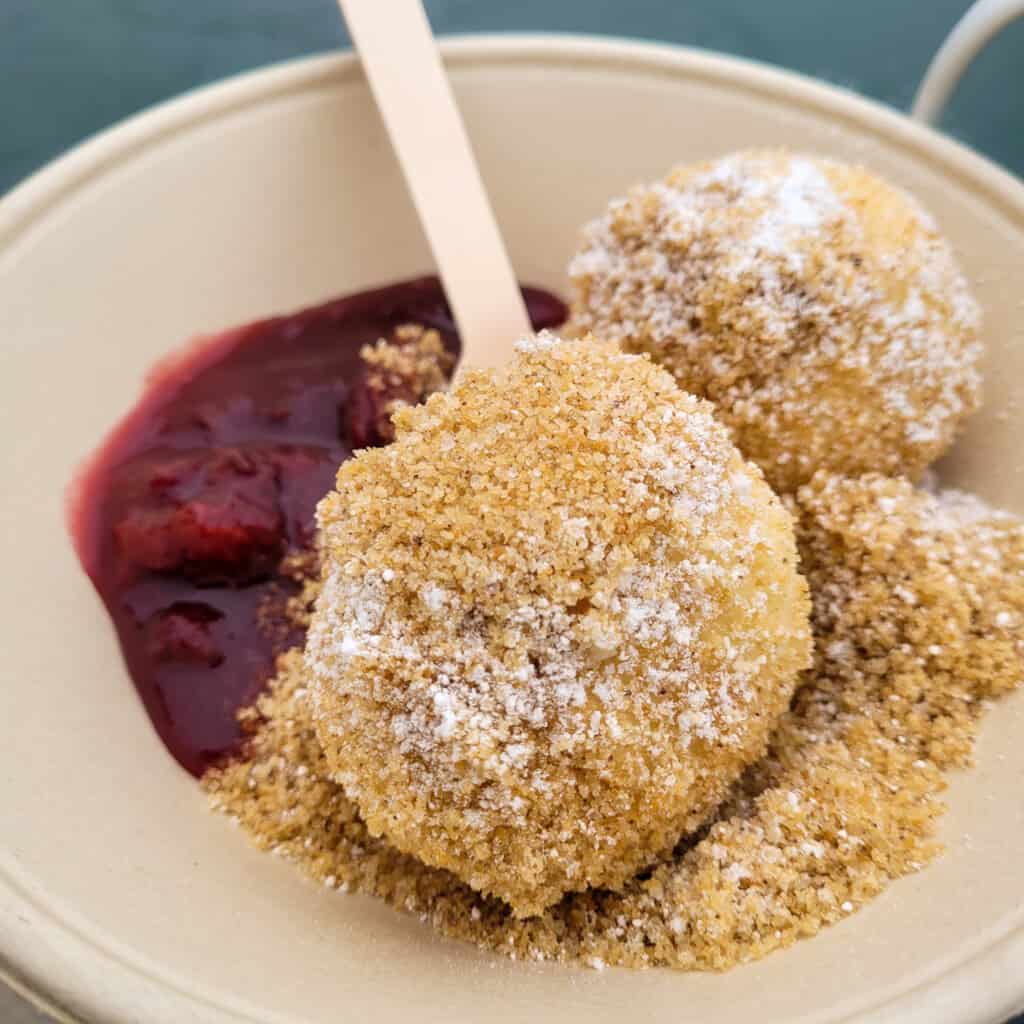 What to Eat: We found a dedicated knödel stand serving savory and sweet dumplings. Since we had a sizable brunch before arriving, we ordered topfenknödel or apricot dumplings as dessert. I've had these dough-based dumplings before, but this vendor served the bounciest and softest knödel I've ever had!
What to Drink: There are some novelty punsch mixes, such as the Sissy punsch or Franz Josef punsch (we're at Schonnbrunn, after all). However, we came across a bio stand with a punchy ginger punsch where the server added spoonfuls of freshly grated ginger before adding glühwein. Then there is the pine punsch , a mild option that is less sweet and more herbal.
Bonus: Check the calendar for concerts during the advent season. Be more efficient with your visit by pre-booking a palace tour and spending half a day in the area.
Winding Alleyways with Neighborhood Vendors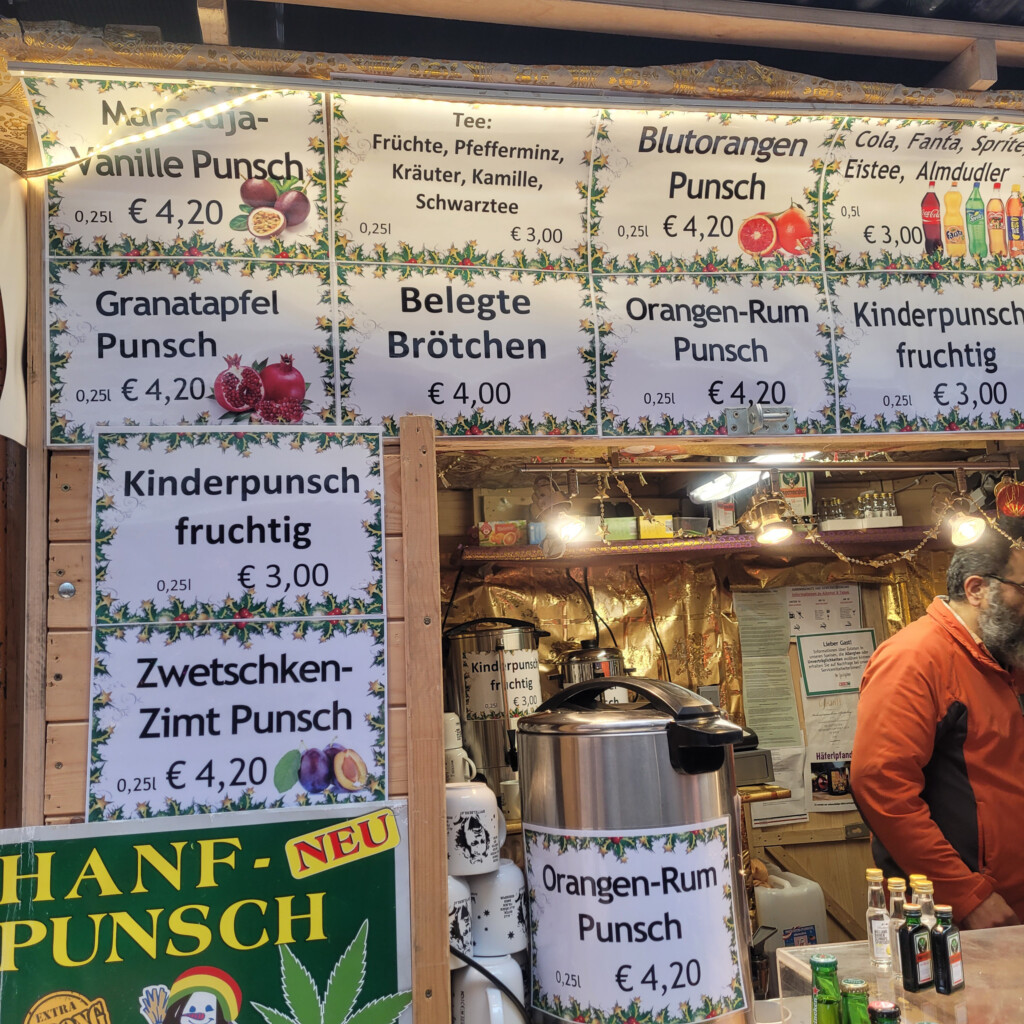 Vendor stands with their own creative holiday decor are nestled along several alleyways in this location. Depending on the time of the day, these narrow alleyways will get crowded with visitors, so come earlier to avoid foot traffic. Here you'll find some interesting food from neighboring restaurants and bars offering holiday specialties and local producers offering their homemade food. Spittelberg's diverse food offerings ranging from arepas to pulled pork to arancini balls is unmatched by any other in the city. If you aren't looking for food, it's also the place to find uniquely creative gifts such as sage bunches, wool sweaters, and family recipe liqueurs.
What to Eat: Try something from the menu of any local restaurant. I stopped at a Filipino stall that served fusion bao buns. Of course, I had to try the longganisa (Filipino sausage) bao, and quickly regretted not ordering more. There is also a famous stand serving fried potato pancakes; get there early because they typically have a line. Remember to spread some grated garlic before eating!
What to Drink: This market doesn't have a uniform look, and all stands decorate in their own style. The spontaneity of what you'll find in each alleyway adds to its charm. The drink stands were among the most creative and ostentatious, and I have to admit, we were drawn by some with whimsical decor. Some of the more uncommon punsch drinks are exotic, such as a passionfruit punsch that we enjoyed.
Bonus: Find the Spittelberg Gallery, a short walkway connecting two streets, and browse art featured behind glass windows.
Popular Market for Meeting with Friends
My first impression of the am Hof Christmas market was that it was popular. The day we visited, it was raining, and we didn't expect lines at this market in the daytime, but it was pretty challenging to walk through. Weihnachtsmarkt am Hof had some of the more intriguing vendors ranging from a champagne bar to a tea liquor stand where we couldn't resist buying some bottles to take home.
What to Drink: Champagne and lavender glühwein. The champagne bar is easy to notice, with its prominent sign right by the entrance. The lavender punsch can be found in the center part of the market. Although it's fun to sip champagne at a Christmas market, I found the taste of lavender glühwein more interesting.
The Original Viennese Market
Christkindlmarkt at Freyung, also known as the traditional Christmas market, is Europe's oldest recorded Christmas market in Vienna. The small square is filled with vendors, so visitors are packed tight. But it's worth a visit and stays true to its rustic theme, selling kitchenware and handmade home goods for the holidays. I found the perfect gingerbread man cookie cutter here.
What to Eat: This is where to try Kaiserschmarrn, the featured food at this market. This dessert was Franz Josef's Emperor's favorite, which is why it's named after him!
What to Drink: In the middle of the market, drink stands offer traditional punsch to specialty hot cocktails. We had a drink at a stand selling cleverly named hot cocktails such as cheek-to-cheek and tea-quila.
More Christmas Market Fun
This list of additional Christmas markets will keep you busy if you have more time:
Tried Some of These Places?
Please leave me a comment down below telling me how your trip went. Bonus: Let me and other readers know what you did to make this itinerary more interesting - 💫 let's inspire each other!
Also, follow me on Instagram [@seesfoodwilltravel] and send me a DM of the food you tried. I would love to share and celebrate YOUR experience with our budding community 💞
Check out Sees Food, Will Travel on Pinterest and Facebook for more delicious updates.