I recently made a list of practical everyday food to share on this blog. This first recipe, a spicy tuna rice bowl, is something I eat for lunch when I'm super pressed for time but craving something on top of rice. Growing up in Hawaii, my family was obsessed with seaweed snacks and tried to find different ways to eat other things with it. After my first taste of canned tuna with mayonnaise and hot white rice wrapped in seaweed, I knew it was something I would continue to eat throughout my life.
Canned Tuna as Everyday Food
As far as I remember, we always had canned tuna in the pantry. So as an adult, I naturally stocked my own pantry with canned tuna, alongside Spam for musubis! John makes tuna mixed with mayonnaise and eats it with vegetables such as cucumbers, like a dip! When we lived in South Korea, I would throw in canned tuna in kimchi jiggae which is also calle chamchi kimchi jiggae (tuna kimchi stew).
Other Korean food that includes canned tuna is kimbap (Korean rice rolls) and deopbap (covered rice dish). Deopbap is the inspiration for this spicy tuna recipe. Essentially, I'm making a style of chamchi deopbap (rice covered with tuna). It's an easy dish that can be made in less than ten minutes but is filling, tasty, and comforting!
Make This Spicy Tuna Rice Bowl Your Own
I will give you the fundamental and essential ingredients for this rice bowl. The sriracha is actually an addition for my preference. But if you don't want to eat something spicy, feel free to skip the sriracha. Add your own toppings as well. I recommend other herbs, edamame, or sliced cucumbers. You can make it as complex or as simple as you like!
The one thing I do ask is that you use sushi mayonnaise because it will make a difference in taste. Sushi mayonnaise is also more popularly called Kewpie mayonnaise, a brand name that became popular. It is basically mayonnaise made with egg yolks separated from the whites plus oil, so it's a richer flavor. If you have seen some of my other recipes, you know that I love using egg yolks in my cooking and baking!
A Note on Garlic and Sriracha
This spicy tuna rice bowl is peppery from the sriracha. It also has a sharp, punchy taste from the grated garlic - which is optional! The first bite will be strong, so I recommend you make it first without the garlic. If you end up craving more flavor, add the grated garlic to add a sharp kick to the dish next time you make it. This spicy tuna rice bowl recipe is flexible for you!
How to Make Spicy Tuna Rice Bowl
The first thing to do is make sure you have canned tuna in water and have cooked rice! You might find this advice funny, but I usually make this dish when I'm starving and don't have a lot of options. It would be the worst feeling in the world when I realize I don't have rice ready or enough rice for the tuna!
I do not like using canned tuna with oil because I found the oil affects the mayonnaise taste. So if you can help it, look at the label and ensure you are using canned tuna in water. Drain the water (or oil) from the canned until you feel like you have gotten rid of most of it. In a bowl, add the tuna and use a fork to break up chunks. Set it aside.
Then add the mayonnaise, sriracha, grated garlic clove, a pinch of salt, and chopped scallions. Mix all these ingredients together until they are well combined.
Add the rice, vinegar, and sugar to a bowl that you will eat from. Then mix together and do a taste test. It should have just a hint of sweet and sour flavor.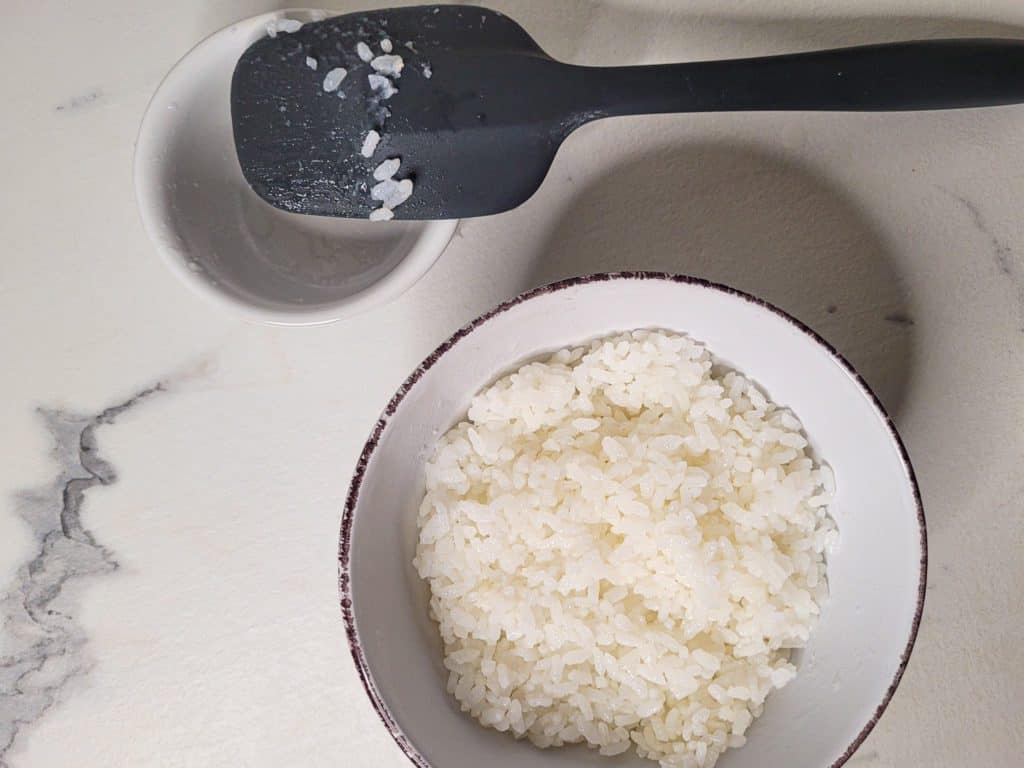 Tip Heat the rice for about one minute in the microwave if it's not fresh rice so it can hold the flavor of the rice vinegar mixture.
Scoop the mixed tuna onto the prepared rice and top it with sesame seeds. You can add more sriracha and mayonnaise on top of the tuna.
Prepare Seaweed
I don't have prepped seaweed snacks in Tbilisi, but I have nori sheets that work just as well. This spicy tuna rice bowl will work with seaweed snacks or nori sheets!
If you are using nori sheets, ignore the perforated lines and make four pieces from one piece. The easiest way to do this is to fold the nori sheet in half and then fold it in half again. You will notice that the folded edges will rip as you fold, and that is what we want it to do! Pinch the folded edges until they snap apart, and you end up with four pieces of "seaweed snacks" ready for your spicy tuna rice bowl!
Of course, if you don't have seaweed at home, you can simply eat the spicy tuna rice bowl with just a spoon.
How to Eat Spicy Tuna Rice Bowl
You can eat these tuna rice bowls in any way you can. But I want to share with you how I like to eat them with seaweed. To eat with seaweed, take a piece of seaweed, and place a spoonful of spicy tuna and rice on it. Then gently fold the seaweed with rice and tuna and put the entire piece in your mouth! Don't try to bite a part of it off. Just enjoy the whole piece. It simile to eating a sushi roll. You get the strong taste of the tuna in the creamy mayo and the seaweed all at once! If you choose to eat this way, prepare at least twelve seaweed snacks (three nori sheets) for the spicy tuna rice bowl.
Have You Tried This Recipe?
Simply rate the recipe by clicking on the ⭐️s on the recipe card. Have something to say? Please leave me a comment down below telling me what you think of this recipe.
Bonus: Let me and other readers know what you did to make this recipe your own - 💫 let's inspire each other!
Also, follow me on Instagram [@seesfoodwilltravel] and send me a DM with a picture of what you made. I would love to share and celebrate YOUR creation with our budding community 💞
Check out Sees Food, Will Travel on Pinterest and Facebook for more delicious updates.
Spicy Tuna Rice Bowl
A simple, but delicious and punchy bowl to rice that you can eat with a spoon or wrapped with seaweed. The garlic is optional so if it's too strong for you, feel free to skip the garlic for this recipe. Heck, feel free to skip the sriracha if you just want to eat a regular tuna rice bowl!
Ingredients
Tuna Mix
1

can

tuna in water (100 grams)

2 - 3

tablespoon

Japanese sushi mayo (Kewpie mayo)

1

tablespoon

sriracha

optional: skip if you don't want it spicy

1

stalk

scallion (diced)

½

garlic clove grated

optional

pinch

salt

pinch

sesame seeds, black & white
Tuna Sushi Rice
250

grams

cooked white rice (about 1½ cups)

should be warm

1

tsp

vinegar

⅛

teaspoon

sugar
Instructions
Open the canned tuna and drain as much water as possible, place in a small mixing bowl.

Add the mayo, sriracha, scallions, salt, and garlic (optional). Mix the ingredients together gently.

In a small bowl, add vinegar and sugar then mix until most sugar has dissolved.

In a serving bowl, add the warmed rice and pour the vinegar/sugar mix all around the rice. Gently mix the rice and slightly flatten.

Spoon all the tuna mixture on top of the rice. Enjoy!