TikTok inspired me to make this easy, healthy, and vegan cowboy caviar. It's basically a loaded corn pico de gallo, chock-full of diced veggies in a citrusy vinaigrette. This versatile dish can be served as a dip, salad, or side dish, but most of all, it's a crowd-pleaser!
Jump to:
Why You'll Love It
I'm currently not on TikTok, but as anyone knows, most TikTok videos make their way to Instagram. That's where I first saw a video of this corn dip.... or is it a corn salad? Over time, I've made bowls and bowls of this for gatherings, and people devour it.
It's also vegan and gluten-free friendly, so it's a no-brainer choice to bring to potlucks. I love that it's full of healthy ingredients and helps you get your dose of vegetables in a meal.
Ingredients
Get ready for this loooong ingredient list! It's your cowboy caviar recipe, so take liberties in adjusting them as you see fit. Check out the next section on substitutes for some suggestions.
Corn Pico de Gallo:
Canned Corn Kernels
Canned Black Beans
Red Onion
Green Bell Pepper
Red Bell Pepper
Roma or Heirloom Tomatoes
Cilantro
Chilies (optional)
Avocados
Cowboy Caviar Style Dressing:
Olive Oil
White Wine Vinegar
Limes
Salt and Pepper
Sugar
Garlic Powder
Chili Powder or Taco Seasoning
Substitutes
Black Beans: I've experimented with a number of canned beans across tweaked recipes I've done. Replacing black beans with black eyed peas, cannellini, and kidney beans work just as well.


Bell Peppers: Bell peppers are a must for this recipe, but bell peppers come in an array of taste and colors. The flavor I enjoy the most is the tangy brightness of orange bell peppers instead of red bell peppers. Figure out what combination you like.


Cilantro & Mint: A zesty and tasty freshness is the goal here, so if you don't have these two lying around, try adding some basil and a squeeze of lemon juice.


White Wine Vinegar: Any other light and mild vinegar will work; I've used white rice vinegar and apple cider vinegar. They both play well with the other flavors.
Recipe Tips
Add Avocado Last: Avocados tend to brown, and they absorb everything, which makes them mushy. Add avocados to the corn salad just before serving it since you'll have to stir the ingredients again to freshen them up.


Chop Vegetables in Order: To save on dishwashing and just to be more efficient overall, dice the cowboy caviar ingredients in order from dry to wet. Start with the bell peppers and end with the tomatoes. This will help more than you think!
How to Make Cowboy Caviar
The majority of the work involved in this recipe is dicing all the ingredients, so prepare a large workspace!
Dice fresh ingredients (except avocado) and drain corn and beans.
Add the diced ingredients to a bowl and set aside.
Add the dressing ingredients to a jar and shake to mix.
Pour all over salad and gently fold the ingredients into each other.
Chill for at least twenty minutes in the fridge.
Slice avocado and stir into salad before serving.
What to Serve with Cowboy Caviar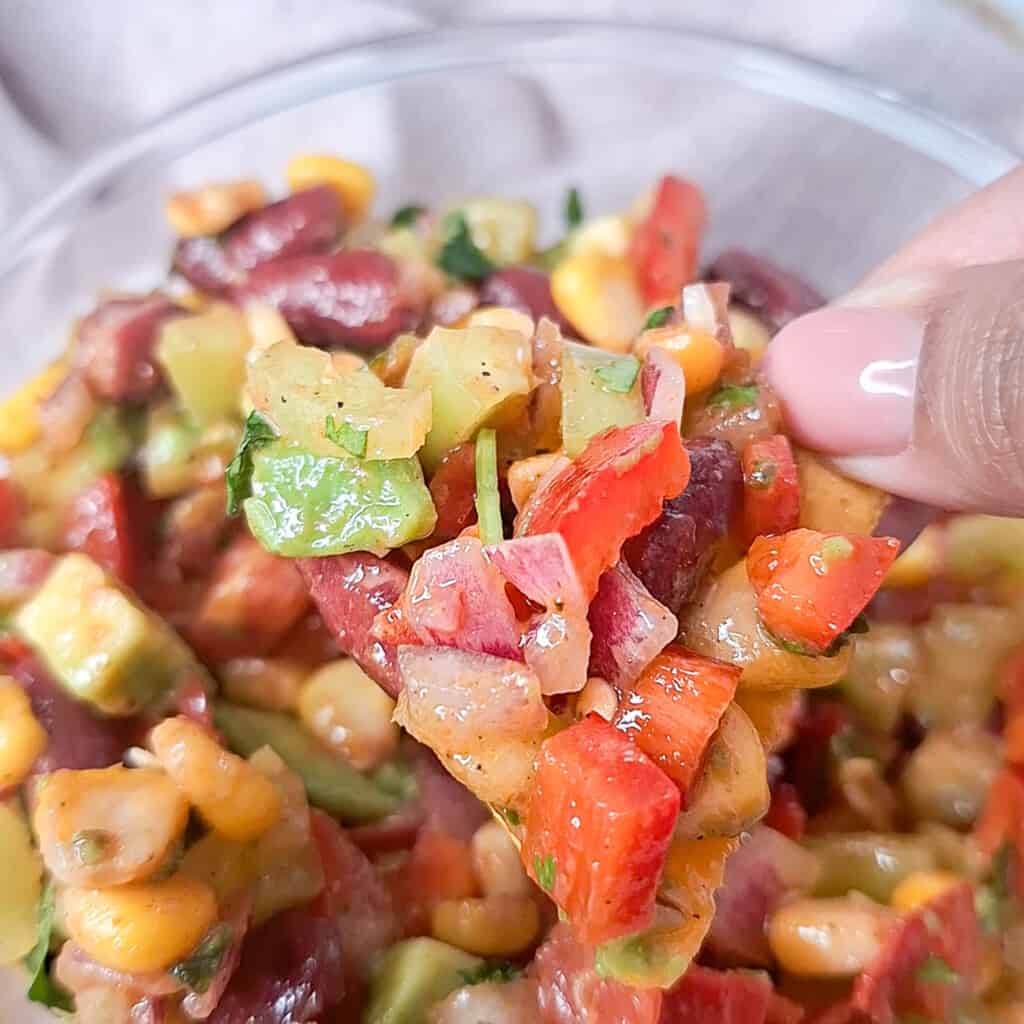 You can serve this dish as a dip with tortilla chips or as a salad! I've eaten them as both ways and even used leftovers as toppings for lettuce wraps.
If you're into tomato salads, check out the recipe for Georgian tomato cucumber salad with walnut dressing.
Frequently Asked Questions
Can I freeze cowboy caviar?
If you freeze it without the avocados, it should be okay for a few months. I don't suggest freezing it with the avocados because when they thaw they will get mushy.
How long does cowboy caviar last?
Cowboy caviar can last up to a week in your fridge inside an airtight container. After that, the beans begins to impart a grainy texture whenever you re-mix the corn dip.
Where can I buy cowboy caviar?
Major retailers now carry cowboy caviar. The ones I've been told consistently carrying them is Costco and Trader Joe's.
Cowboy Caviar (Loaded Corn Pico de Gallo) Recipe
Cowboy caviar is a Texan version of a loaded corn pico de gallo. Full of vegetables with a bright refreshing vinaigrette, it's a versatile dish you can serve as a dip, salad, or topping to other dishes.
Ingredients
Corn Vegetable Mix
1

can

black beans ( ~240 grams), drained

1

can

sweet corn kernels (~425 grams), drained

1

large green bell pepper, diced

1

large red bell pepper, diced

3

roma tomatoes, diced

1

large red onion, diced

2-3

pieces

chilies, serrano or jalapeno, chopped

optional

1

small bunch cilantro leaves, chopped

to taste

1-2

medium

avocado, sliced into small pieces
Dressing
1

juice of large lime

54

grams

olive oil

2

tablespoon

white wine vinegar

2

teaspoon

chili powder or taco seasoning

½

teaspoon

salt

more to taste

½

teaspoon

ground black pepper

more to taste

1

teaspoon

granulated white sugar

1

teaspoon

garlic powder
Instructions
Add the diced tomatoes, bell peppers, red onion, cilantro, and chilies to a bowl. Then add the drained corn and black beans on top. Set it aside.

Make the dressing by adding all the dressing ingredients in a jar. Shake the jar to mix the ingredients. Taste the vinaigrette and adjust the ingredients to your liking.

Pour the vinaigrette over the the corn and bean mix.

Gently fold the ingredients with a spatula. Place it in the fridge to chill for twenty minutes.

Right before serving, slice the avocados and add to the mix. Then gently stir it again.

Serve the cowboy caviar in a bowl with tortilla chips as an appetizer.
Nutrition
Calories:
189
kcal
Carbohydrates:
19
g
Protein:
5
g
Fat:
11
g
Saturated Fat:
2
g
Polyunsaturated Fat:
2
g
Monounsaturated Fat:
8
g
Sodium:
205
mg
Potassium:
422
mg
Fiber:
6
g
Sugar:
3
g
Vitamin A:
777
IU
Vitamin C:
41
mg
Calcium:
24
mg
Iron:
1
mg
Disclaimer: Nutritional values were calculated with the Spoonacular Food API and should be used for informational purposes only.
Have You Tried This Recipe?
Simply rate the recipe by clicking on the ⭐️s on the recipe card. Have something to say? Please leave me a comment down below telling me what you think of this recipe.
Bonus: Let me and other readers know what you did to make this recipe your own - 💫 let's inspire each other!
Also, follow me on Instagram [@seesfoodwilltravel] and send me a DM with a picture of what you made. I would love to share and celebrate YOUR creation with our budding community 💞
Check out Sees Food, Will Travel on Pinterest and Facebook for more delicious updates.