Disclosure: Some of the links in this post are affiliate links. This means if you click on the link and purchase an item, Sees Food, Will Travel will earn a commission at no extra cost to you. See terms and conditions for details.
Yes, this fried sesame ball recipe is that popular dim sum dessert. But this sesame ball has a sweet twist. The inside of these crispy, chewy sesame balls contain quite a festive and comforting familiar caramel loaded with your favorite holiday spices. These make for an unassuming and yet surprising dessert at dinner parties.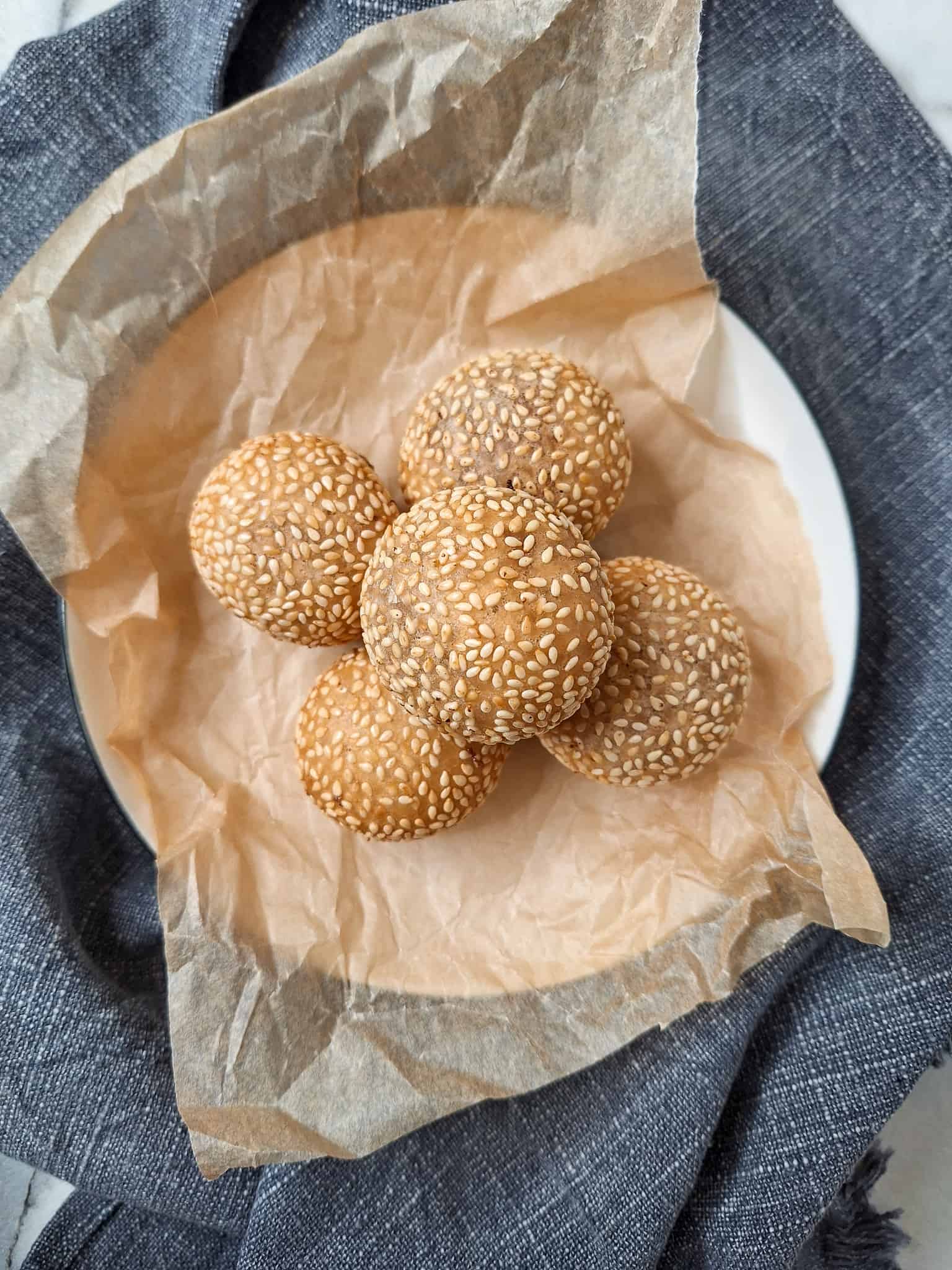 Jump to:
Where Do Sesame Balls Come From?
These chewy spheres hail from China where they are called jian dui in Cantonese. However, the influence of these sesame balls is prevalent and deeply rooted in other Asian countries. They come with a variety of names and fillings that are both sweet and savory.
In the Philippines, I grew up calling them buchi, and they were filled with ube or mung bean. Vietnam also uses mung bean as one of their popular fillings, where they call it bánh cam. In Japan, they go by goma dango, filled with the traditional azuki bean paste. You get the point. 
You can check out the other countries' versions and names in this Wikipedia article about Jian Dui.
Why You'll Love This Cinnamon Spice Filling
The caramel filling in this sesame ball is what sets its apart from other sesame balls! It's flavored with a pumpkin spice blend (not the actual pumpkin). It's also buttery, creamy, and gooey!
Ingredients
Glutinous Rice Flour
Water
Sugar
Butter
Salt
Heavy Cream
Ground Cinnamon
Ground Cloves
Ground Ginger
Sunflower Seeds
Substitutes
Sunflower Seeds: You can choose to opt out of using the sunflower seeds and make a smooth caramel with the rest of the filling ingredients.
Cloves:  Nutmeg or allspice are good alternatives for cloves in this recipe. You will still achieve the holiday spice blend using these ingredients.
Glutinous Rice Flour versus Regular Rice Flour
You can't substitute regular rice flour for glutinous rice flour in this recipe. The chewy mochi-like consistency that sesame balls are known for is due to the glutinous rice flour. Regular rice flour is not as chewy and will *not* provide the texture you want to achieve for this recipe.
Here are some tips to tell the difference between glutinous rice flour and regular rice flour when you go shopping at any Asian grocery store:
Look for labels with "glutinous" or "sweet rice" on the flour bag.

Koda Farms

makes an amazing rice flour that is my go-to, and the word "Mochiko" in bright red lettering is written across the box.
The Erawan brand has cleverly color-coded all of its bags:
Special Equipment You'll Need
Food Thermometer: It's important to maintain an oil temperature around 140℃ (284℉) for the balls to cook evenly inside and out.
Recipe Tips
Knead the Dough: This will make it easier to form the balls, and the dough will be less sticky on your hands. You can knead it by hand for about five minutes, and you'll notice that it will become a solid kind-of stretchy ball.
Keep the Dough Covered: Keeping it covered will help maintain its moisture and smooth texture. It will also stay stretchy for a longer time.
Go Slow: The oil temperature for this recipe is low so you can gently fry the balls and let them take shape. When you fry them too fast, the outside will overcook while the inside stays undercooked.
Let Them Cool: Allow the balls to cool after frying for at least fifteen minutes! The caramel will be gooey and hot. It needs some time to cool. Let this be a warning - be careful when handling them!
How to Make Crispy Fried Sesame Balls
Make and cool the cinnamon caramel filling.
Shape the caramel filling.
Make the glutinous rice balls.
Shape the glutinous rice balls.
Add the filling to the rice balls
Coat the filled balls with sesame seeds.
Fry and drain the balls.
It sounds simple, but I found this one to be on the tedious end of Asian recipes! From the filling to the rice balls, each step needs a lot of attention.
How to Serve
Let these balls cool completely before serving them to people who want to keep their nerve endings. I would like to repeat myself one more time - because of the melted gooey texture of the inside of these sesame balls, please wait ten to fifteen minutes before biting into one!
Variations of Jian Dui (Sesame Balls)
There are many versions of jian dui available with a variety of fillings for you to choose from. The best part is that you can easily buy most of them in paste form!
Fillings: Here is a list of common sesame ball fillings and other more unique ones like the one in the recipe card below:

Mung Bean Paste
Lotus Seed Paste
Salted Egg Yolk (one of my favorite!)
Black Sesame Paste


Use Black Sesame: Instead of rolling the balls in white sesame seeds, you can use black sesame seeds or even use both!

Skip the Filling: If you want to skip half of the steps, you can fry the sesame balls without anything inside them, and they will still be delicious!
Frequently Asked Questions
How can I tell if the rice flour I have is regular or glutinous rice flour?
If you want to double check the type of rice flour you have at home, you can do a simple hot water test. Measure one tablespoon of the flour, then mix in one and a half teaspoon of water. Make a ball by shaping it in your hand. Boil some water in a small pot and drop it in the boiling water for a minute or two until it floats. Remove it to cool for a minute or two, then stretch the cooked dough. The consistency should be like mochi and stretch out before tearing. Rice flour will break apart immediately.
How long can I store sesame balls?
You can store fried sesame balls at room temperature for a week. Over time, they will deflate and lose their shape. You can reheat them to get the sphere shape again.
How can I reheat fried sesame balls?
The best way to reheat sesame balls, especially if they've been deflated, is to re-fry them at 150°C (~300°F). Gently stir them around the hot oil and press down on them once in a while to get them to balloon again.
Fried Sesame Balls With Spiced Caramel Filling
The inside of these crispy, chewy sesame balls contain quite a festive and comforting familiar caramel loaded with your favorite holiday spices. These make for an unassuming and yet surprising dessert at any dinner party.
Disclosure
The equipment and ingredients sections contain affiliate links to products I love to use as well as items that I personally believe make this recipe the best version of itself.
Ingredients
Spiced Caramel Filling
100

grams

granulated white sugar

40

grams

butter

melted

1

teaspoon

powdered cinnamon

½

teaspoon

ground ginger

¼

teaspoon

ground cloves

¼

teaspoon

salt

60

grams

heavy cream

33

grams

sunflower seeds
Sesame Ball
165

grams

glutinous rice flour

70

grams

granulated white sugar

120

ml

water

warm, 50°C (120°F) - 60°C (140°F)
Instructions
Make the Filling
In a bowl, mix the sugar, cinnamon, ginger, salt, and cloves. Add the sunflower seeds to a food processor along with half of the sugar mixture. Grind to a fine powder, then add it back to the bowl. Add the melted butter and mix together.

Add the sugar mixture to a small pot and set it on low-medium heat. Gently mix it with a spatula as the sugar dissolves and caramelizes. About 3 - 5 minutes. If the sugar doesn't dissolve, don't worry but continue mixing the ingredients.

Add the heavy cream while stirring and keep stirring until it is smooth and has a rich brown color. Keep stirring and cooking until it thickens. The caramel is done when you can slide the spatula along the bottom of the pot and the liquid doesn't immediately cover the pot again. It should be viscous.

Pour the caramel into a bowl and allow to cool to room temperature for 30 mins. Then cover and place in the fridge for 1.5 - 2 hours to solidify.

It's ready to be formed to balls when it feels like playdough in your hands. Scoop out pieces that weigh 10 - 12 grams each and shape into balls. Cover and place in the fridge to keep it chilled and hard.
Make the Glutinous Rice Balls
While the caramel is chilling, heat some water to about 50°C (120°F) - 60°C (140°F). Measure out 120 ml (about a half cup). Set aside.

Add the glutinous rice flour and sugar to a bowl then mix together. Then add half of the measured water. Stir with a chopstick until you get a shaggy dough. Add a bit more water and use your hands to clump the dough together. Squeeze some dough in your hands and if it clumps together with a smooth texture you are close.

Keep adding the rest of the water a little at a time until all the dough comes together. If you press the dough alongside the walls of the balls, it should pick up the flour on the walls of the bowl.

Tip: How much water you add will depend on the temperature of the water so you may end up using less if it's on the warmer side. You may need to add more water if you think the dough is too dry. But only add additional water 1 tablespoon at a time.

Knead the dough for about 5 mins until you get a smooth formed dough that is slightly stretchy.

Cover and let it sit for 15 mins then shape into balls weighing 18 - 20 grams each.
Assemble Together
Take a piece of the rice ball dough and stretch it out to a flat disk. The bottom of the disk should be thickener than the sides. Place a piece of the caramel on the center of the dough.

Wrap the dough around it. Pinch the seams closed then reshape it to a ball.

Add the sesame seeds to a shallow bowl and roll the ball around the sesame seeds. Your dough should have enough moisture that the sesame seeds will stick to your ball. Gently roll the ball again between your hands to press in the seeds.

Place the ball on a plate. Repeat the steps for the rest of the balls.
Fry the Balls
Add some oil to a deep frying pot. You should be able to submerge the balls in the oil. Heat the oil to about 150°C (300℉), use a thermometer to check the temperature. Add a few balls at a time (I only did two or three). The balls will release small bubbles from its surface.

Tip: The temperature will lower to about 140℃ (284℉) when the balls have been added. Periodically check the temperature of the oil - it shouldn't go above 150℃ (300℉).

Stir the balls gently around the pot (don't let them stick to the bottom). In a few minutes (about 5-7) they will rise to the surface. Keep cooking them as they grow in size. Flip them over every now and then.

Tip: You can make the balls puff up (only after they float to the surface) by gently pressing down on one for 1 or 2 secs and letting it bounce back up.

Once they are a light golden brown, place them in a large sieve to continue draining the oil. Be gentle with placing the balls on top of each other so they don't get dents.

Let the balls cool for 15 minutes before biting into them. Serve at room temperature.
Nutrition
Calories:
135
kcal
Carbohydrates:
13
g
Protein:
2
g
Fat:
9
g
Saturated Fat:
3
g
Polyunsaturated Fat:
3
g
Monounsaturated Fat:
3
g
Trans Fat:
0.1
g
Cholesterol:
10
mg
Sodium:
55
mg
Potassium:
61
mg
Fiber:
1
g
Sugar:
11
g
Vitamin A:
120
IU
Vitamin C:
0.1
mg
Calcium:
93
mg
Iron:
1
mg
Disclaimer: Nutritional values were calculated with the Spoonacular Food API and should be used for informational purposes only.
Have You Tried This Recipe?
Simply rate the recipe by clicking on the ⭐️s on the recipe card. Have something to say? Please leave me a comment down below telling me what you think of this recipe.
Bonus: Let me and other readers know what you did to make this recipe your own - 💫 let's inspire each other!
Also, follow me on Instagram [@seesfoodwilltravel] and send me a DM with a picture of what you made. I would love to share and celebrate YOUR creation with our budding community 💞
Check out Sees Food, Will Travel on Pinterest and Facebook for more delicious updates.