Menbosha, a trendy food in South Korea, is a minced shrimp ball sandwiched between two small slices of bread. Then it's deep-fried into golden, crispy, and juicy goodness. This mini-fried shrimp sandwich makes a great snack or appetizer. If you love fried seafood, you have to give this shrimp toast recipe a try!
Jump to:
What is Menbosha?
멘보샤, romanized as menbosha, is a trendy shrimp toast snack in South Korea made by celebrity chef Lee Yeon Bok. He is famous for Chinese-Korean dishes (he is of Taiwanese and Korean descent) and therefore dubbed this creation mian bao xia. Mianbao means bread, and xia means prawn, so in English, it translates to prawn bread. We can also call it fried shrimp toast. 
If you watch Korean TV shows such as Fun-Staurant, you know that Mr. Lee has been featured in making these delicious snacks. In fact, you can see him teach other celebrities how to make menbosha on the Lee Yeon Bok Youtube channel. He makes every menbosha recipe just a little different every time. Here is a video of Mr. Lee and Jin from BTS making menbosha together. This simple recipe takes inspiration from one of his many menbosha recipes, so you can see what the hype is about!
Ingredients For This Menbosha Recipe
Menbosha mainly consists of shrimp meat with some other ingredients. Pork fat and chicken stock powder adds savory, juicy flavors to the mix. Bread is also essential!
Fried Shrimp Toast Ingredients
Shrimp: They should be raw and shelled, then deveined.
White Bread: The fewer ingredients on the bread, the better. When the bread is mostly flour and water, it will crisp up the best when fried.
Lard: It's also known as rendered pork fat. Use this at room temperature to add flavor pockets to the shrimp ball.
Potato Starch: The starch will add moisture to the shrimp while keeping the outside texture crispy. I found potato starch produces the crispiest crust for the shrimp balls over other starches.
Egg White: The egg white will act as a binder for the shrimp ball ingredients.
Chicken Stock: We don't really use salt in this recipe, and the added flavor of chicken stock will make the shrimp tastier. So skip the minimized versions with less salt.
Cooking Oil: You will need lots of oil for deep frying! Any neutral oil like vegetable or sunflower will do.
Menbosha Sauce Ingredients
Though the fried menbosha are great on their own. Mr. Lee also has a dipping sauce that comes with this snack. It's optional to make this sauce, but it does add another flavor. Below is a simplified version of the many renditions he has created.
Tomato Ketchup
Garlic
Sugar
Chicken Stock
Vinegar
(Optional) Chinese Red Chili Oil
How to Make Menbosha
The steps below are easy to follow, but the most challenging part is keeping your hands clean! Things get sticky when you get to the part of making balls with the minced shrimp. If you have one lying around, I recommend you use an ice cream scooper.
After peeling and deveining the raw shrimp, slice them into small pieces on a wooden cutting board. Then start mincing them with a sharp knife by pounding on the shrimp. You will know the shrimp is correctly minced because it will come together like roughly mashed potatoes.
Add the minced shrimp to a bowl and add the pork fat, egg white, potato starch, and chicken stock. Mix everything with chopsticks until well combined. Stir in one direction.
At this point, the shrimp mixture might have too much liquid before you can shape balls, so place it in the fridge for fifteen minutes uncovered to solidify it.
Take slices of bread and slice them into four equal pieces. You will need two mini slices for a toast, and I can make about ten pieces with this recipe. So use four to five regular slices of bread. You will end up with sixteen to twenty mini pieces in total. 
Once the shrimp is ready, split the mixture into ten equal-sized portions and shape them into a ball.
Lay out eight to ten mini bread slices and place a shrimp ball on each one. Then press a piece of bread on top of the shrimp ball. 
How to Fry Menbosha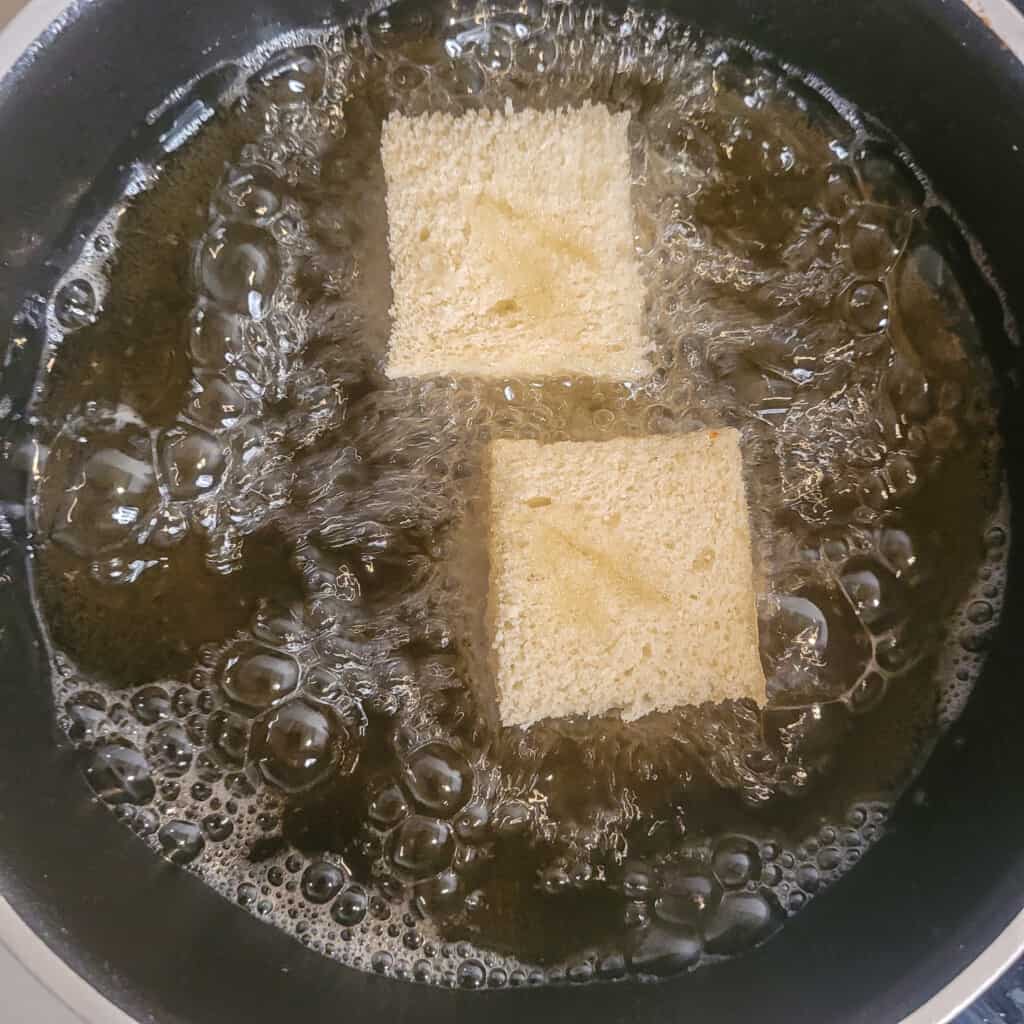 Lee Yeon Bok has specific temperature requirements and frying technique for making non-greasy, crispy menbosha. There is an initial fry and then a second fry at a higher temperature. Follow the instructions below to achieve this.
Pour enough oil into a pot for the sandwiches to be submerged at least halfway.
First Fry: Heat the oil to 130°C (265°F) and fry the menbosha until the bread turns yellow (not golden!). Turn them over for even coloring. Place on a wire rack to drain or place on a sieve. 
Second Fry: Heat the oil to 190°C (375°F) and re-fry the sandwiches for six to seven minutes until dark golden brown.
Place on a rack or a sieve to drain again before serving.
How to Serve
While the menbosha drains on the wire rack, you can quickly whip up your dipping sauce. Add the garlic, ketchup, sugar, chicken stock, vinegar, and chili oil to a sauce bowl. Mix everything together until well combined. Serve it alongside the menbosha while the shrimp toast is still warm.
Can You Freeze Menbosha?
You can make menbosha ahead of time. Assemble the sandwiches as mentioned above, then place them on a lined baking sheet. Put the baking sheet in the freezer for about an hour. Once the sandwiches have hardened and are no longer sticky, you can place them in a plastic bag to keep them in the freezer. Fry the menbosha just as you would fry fresh ones.
Menbosha (Fried Shrimp Toast)
This popular South Korean snack is here to stay! Luckily, chef Lee Yeon Bok has made it accessible for all of us at home. This simplified style will make sure you munch of this crispy, juicy shrimp toast in no time.
Ingredients
Menbosha
4 - 5

slices

white bread

300

grams

shrimp, deveined and skin removed

use up to 350 grams if you'd like

1

tablespoon

lard

1

egg

white only

2

tsp

chicken stock

use more if you want it saltier

1

tablespoon

potato starch

cooking oil

for frying
Menbosha Sauce
6

cloves

garlic, minced

3

tablespoon

tomato ketchup

2

tablespoon

sugar

2

teaspoon

chicken stock

2

tbsp

white rice vinegar

2

tablespoon

chili oil

optional
Instructions
Make Menbosha
Slice each of the bread slices into four equal pieces and set aside.

Slice the shrimp into small pieces. Then mince the chopped shrimp until mashed.

Place the shrimp in a bowl and add chicken stock, egg white, pork oil, and potato starch. Mix everything until well combined.

Shape some of the minced shrimp to a ball and place on an individual slice. Top with another bread slice. Repeat until you finish all the shrimp.

First Fry: Put oil in a pot for deep-frying and heat to 130°C (265°F). Fry the pieces until yellow then place on a rack or sieve to drain the oil.

Second Fry: Heat the oil to 190°C (375°F) and re-fry the menbosha pieces for about 6 - 7 minutes until they are dark golden brown. Place on a rack or sieve to drain the oil.
Make Sauce
In a bowl, add minced garlic, ketchup, sugar, chicken stock, vinegar, and (optional) chili oil. Mix together until well combined. Serve with warm menbosha.
Have You Tried This Recipe?
Simply rate the recipe by clicking on the ⭐️s on the recipe card. Have something to say? Please leave me a comment down below telling me what you think of this recipe.
Bonus: Let me and other readers know what you did to make this recipe your own - 💫 let's inspire each other!
Also, follow me on Instagram [@seesfoodwilltravel] and send me a DM with a picture of what you made. I would love to share and celebrate YOUR creation with our budding community 💞
Check out Sees Food, Will Travel on Pinterest and Facebook for more delicious updates.