Menbosha is a minced shrimp ball sandwiched between two small slices of bread. Then it's deep-fried into golden, crispy, and juicy goodness. This mini-fried shrimp sandwich makes a great snack or appetizer. If you love fried seafood, you have to give this shrimp toast recipe a try!
Update Disclosure: This post has been updated for one or more of the following reasons: easier reading, updated photos, clearer instructions, and just plain ol' improvements to the recipe (as noted).
Jump to:
What is Menbosha?
멘보샤, romanized as menbosha, is a trendy shrimp toast snack in South Korea made by celebrity chef Lee Yeon Bok. He is famous for Chinese-Korean dishes (he is of Taiwanese and Korean descent) and therefore dubbed this creation mian bao xia. Mianbao means bread, and xia means prawn, so in English, it translates to prawn bread. We can also call it fried shrimp toast.
If you watch Korean TV shows such as Fun-Staurant, you know that Mr. Lee has been featured in making these delicious snacks. In fact, you can see him teach other celebrities how to make menbosha on the Lee Yeon Bok Youtube channel. He makes every menbosha recipe just a little different every time. Here is a video of Mr. Lee and Jin from BTS making menbosha together. This simple recipe takes inspiration from one of his many menbosha recipes, so you can see what the hype is about!
Ingredients
Menbosha mainly consists of shrimp meat with some other ingredients. Pork fat and chicken stock powder adds savory, juicy flavors to the mix. Bread is also essential!
Fried Shrimp Toast Ingredients
Shrimp: They should be raw and shelled, then deveined.


White Bread: The fewer ingredients on the bread, the better. When the bread is mostly flour and water, it will crisp up the best when fried.


Lard: It's also known as rendered pork fat. Use this at room temperature to add flavor pockets to the shrimp ball.


Potato Starch: The starch will add moisture to the shrimp while keeping the outside texture crispy. I found potato starch produces the crispiest crust for the shrimp balls over other starches.


Egg White: The egg white will act as a binder for the shrimp ball ingredients.


Chicken Stock: We don't really use salt in this recipe, and the added flavor of chicken stock will make the shrimp tastier. So skip the minimized versions with less salt.


Cooking Oil: You will need lots of oil for deep frying! Any neutral oil like vegetable or sunflower will do.
Menbosha Sauce Ingredients
Though the fried menbosha are great on their own. Mr. Lee also has a dipping sauce that comes with this snack. It's optional to make this sauce, but it does add another flavor. Below are the ingredients in the simplified version he made.
Tomato Ketchup
Garlic
Sugar
Chicken Stock
Vinegar
(Optional) Chinese Red Chili Oil
Substitutes
Bread: White bread works well and when there are less ingredients in it, the better. It will fry up nice and crispy. Check out other breads if you are inclined, such as rye or wheat.


Pork Fat: You don't have to use pork fat and you can skip this ingredient. It also won't be as juicy.
Recipe Tips
Easily Slice Bread: Put the bread slices in the freezer for about ten to fifteen minutes before slicing so they keep their shape when the knife pressed down on them.


Mixing Shrimp: When you mix the shrimp with other ingredients, stir in one direction to build up a texture where it becomes more uniform. That way the balls will easily clump together and not fall apart.
How to Make Menbosha (Fried Shrimp Toast)
The steps below are easy to follow, but the most challenging part is keeping your hands clean! Things get sticky when you get to the part of making balls with the minced shrimp. If you have one lying around, I recommend you use an ice cream scooper.
Slice the bread into four mini equal sizes.
Mince and then season the shrimp.
Mix together and divide into individual balls.
Make sandwiches with a shrimp ball in between two pieces of bread.
Place on a baking sheet and put them in the fridge.
How to Fry Menbosha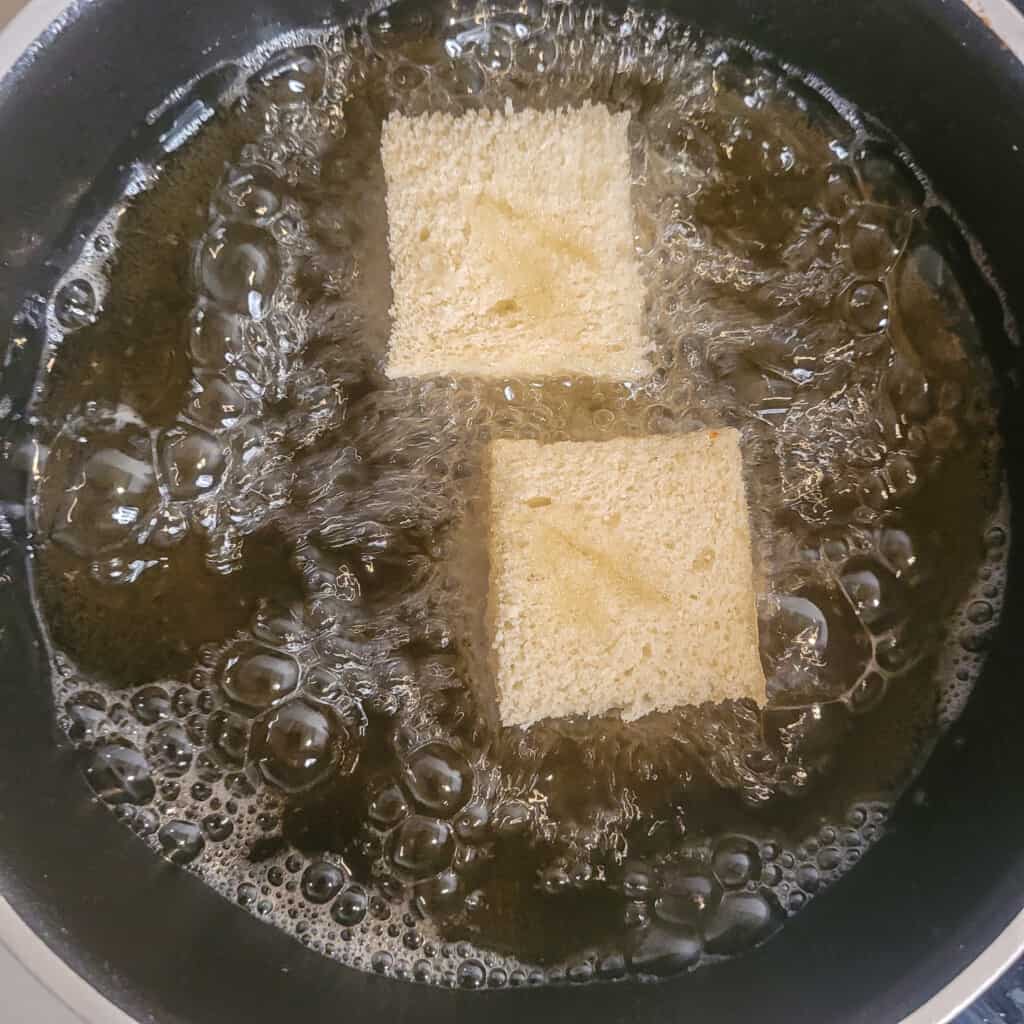 Lee Yeon Bok has specific temperature requirements and frying technique for making non-greasy, crispy menbosha. There is an initial fry and then a second fry at a higher temperature. Follow the instructions below to achieve this.
Pour enough oil into a pot for the sandwiches to be submerged at least halfway.
First Fry: Heat the oil to 130°C (265°F) and fry the menbosha until the bread turns yellow (not golden!). Turn them over for even coloring. Place on a wire rack to drain or place on a sieve.
Second Fry: Heat the oil to 190°C (375°F) and re-fry the sandwiches for six to seven minutes until dark golden brown.
Place on a rack or a sieve to drain again before serving.
How to Serve
While the menbosha drains on the wire rack, you can quickly whip up your dipping sauce. Add the garlic, ketchup, sugar, chicken stock, vinegar, and chili oil to a sauce bowl. Mix everything together until well combined. Serve it alongside the menbosha while the shrimp toast is still warm.
Frequently Asked Questions
Can You Freeze Menbosha?
You can make menbosha ahead of time. Assemble the sandwiches as mentioned above, then place them on a lined baking sheet. Put the baking sheet in the freezer for about an hour. Once the sandwiches have hardened and are no longer sticky, you can place them in a plastic bag to keep them in the freezer. Fry the menbosha just as you would fry fresh ones.
Menbosha (Fried Shrimp Toast) Recipe
This popular South Korean snack is here to stay! Luckily, chef Lee Yeon Bok has made it accessible for all of us at home. This simplified style will make sure you munch on this crispy, juicy shrimp toast in no time.
Ingredients
Menbosha
4 - 5

slices

white bread

300

grams

shrimp, deveined and skin removed

use up to 350 grams if you'd like

1

tablespoon

lard

1

egg white only

2

tsp

chicken stock

use more if you want it saltier

1

tablespoon

potato starch

cooking oil

for frying
Menbosha Sauce
6

cloves

garlic, minced

3

tablespoon

tomato ketchup

2

tablespoon

sugar

2

teaspoon

chicken stock

2

tbsp

white rice vinegar

2

tablespoon

chili oil

optional
Instructions
Make Menbosha
Slice each of the bread slices into four equal pieces and set aside.

Slice the shrimp into small pieces. Then mince the chopped shrimp until mashed.

Place the shrimp in a bowl and add chicken stock, egg white, pork oil, and potato starch. Mix everything until well combined.

Shape some of the minced shrimp to a ball and place on an individual slice. Top with another bread slice. Repeat until you finish all the shrimp.

First Fry: Put oil in a pot for deep-frying and heat to 130°C (265°F). Fry the pieces until they are a light golden color then place on a rack or sieve to drain the oil.

Second Fry: Heat the oil to 190°C (375°F) and re-fry the menbosha pieces for about 6 - 7 minutes until they are dark golden brown. Place on a rack or sieve to drain the oil.
Make Sauce
In a bowl, add minced garlic, ketchup, sugar, chicken stock, vinegar, and (optional) chili oil. Mix together until well combined. Serve with warm menbosha.
Nutrition
Calories:
123
kcal
Carbohydrates:
12
g
Protein:
9
g
Fat:
4
g
Saturated Fat:
1
g
Polyunsaturated Fat:
1
g
Monounsaturated Fat:
3
g
Trans Fat:
0.01
g
Cholesterol:
60
mg
Sodium:
160
mg
Potassium:
155
mg
Fiber:
0.5
g
Sugar:
5
g
Vitamin A:
122
IU
Vitamin C:
2
mg
Calcium:
61
mg
Iron:
1
mg
Disclaimer: Nutritional values were calculated with the Spoonacular Food API and should be used for informational purposes only.
Have You Tried This Recipe?
Simply rate the recipe by clicking on the ⭐️s on the recipe card. Have something to say? Please leave me a comment down below telling me what you think of this recipe.
Bonus: Let me and other readers know what you did to make this recipe your own - 💫 let's inspire each other!
Also, follow me on Instagram [@seesfoodwilltravel] and send me a DM with a picture of what you made. I would love to share and celebrate YOUR creation with our budding community 💞
Check out Sees Food, Will Travel on Pinterest and Facebook for more delicious updates.