Hungary's capital city, Budapest, is full of many historical sites that will keep you busy during your visit. One of these sites is the world-famous Hungarian parliament building overlooking the Danube river. This Budapest travel and food itinerary will guide you on how to make the most of your visit through a day of sightseeing and eating. Your day will be filled with ideas of what to see plus where to eat and drink in Budapest in one day.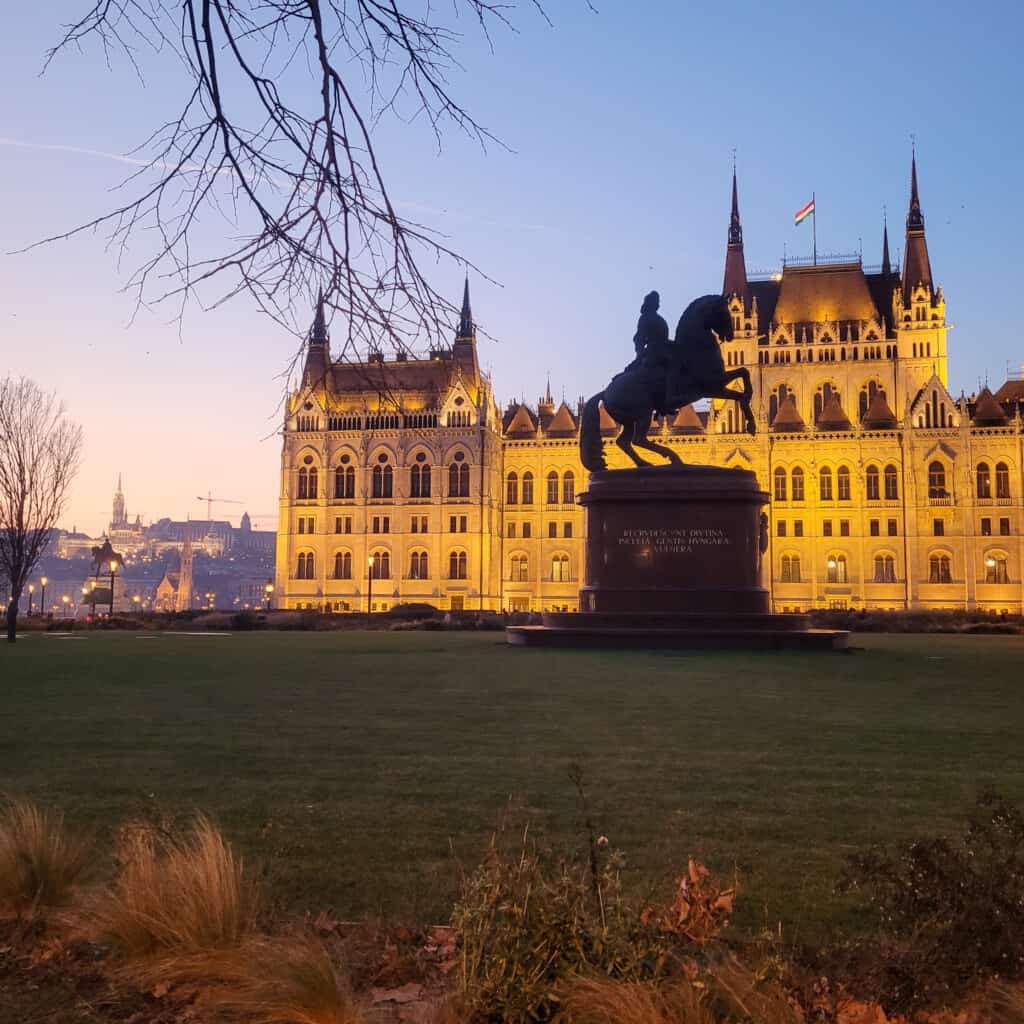 John and I stayed in the Jewish quarter in District 7, so you'll find that this itinerary starts in that area. Most people consider this Budapest neighborhood loaded with fantastic eating spots and bars, as the party area. But I argue that's barely scratching the surface!
Jump to:
How to Visit the Hungarian Parliament Building
What to Know Before Your Visit
As a tourist, you cannot visit on your own; you must join a guided tour group. Luckily, the Hungarian parliament building provides in-house tour groups that run whenever the National Assembly doesn't meet. Six languages are used in rotation and some for a specific language are rotated less, with English rotated the most. So on a day with twenty tour groups, there could be six English language tours but only three French tours.
Certain groups, like English, are facilitated with an audioguide only, but staff will walk the group from location to location. Other language groups involve a professional tour guide who speaks live.
How to Book a Hungarian Parliament Visit Ahead
If you know the exact date of your visit, then your best option to get the ticket is to book a few weeks in advance online. The Hungarian parliament website has a convenient way to book tickets, and you can pay online through their platform. If you are booking too far ahead, like months ahead, sometimes tickets are unavailable until closer to your visit.
How to Get Day of Tickets Last Minute
Option #1 You can come on the day you want to do the tour and check if the customer service desk has same-day tickets available. But it's best to arrive early in the morning, such as 8:00 AM, because day-of tickets are limited and they go quickly on a busy day.
Option #2 Another option is to wake up early on the day of your visit and go on the Hungarian parliament website. They will have available last-minute tickets, and you can buy them online before leaving your hotel. If you use this alternative, check that you are connected to local wifi because SIM card mobile data might make the payment process glitch.
Tip You need a printout of your ticket with a QR code to enter and exit the building. But don't fret if you forgot to bring a hard copy. The ticket desk can print your ticket as long as they have your confirmation number.
Morning in Budapest
If there is a place to start your day right, it would be at Grumpy Cat. Sounds ironic, I know. We ate at Grumpy Cat Cafe, steps away from Klauzál tér. The two-story cafe was already filled with people sitting elbow to elbow. But Sziszi, the owner, still manages to greet us with her warm and clear resounding voice from the kitchen. We first sat at a ledge table but were given a proper table as soon as one opened up. The brunch menu features international fare from Hungarian to French to American. Our choices that day were a plate of quiche and a bowl of pesto eggs with bacon.
In addition to a diverse food culture, Budapest also has a strong coffee scene, and Grumpy Cat sources their own beans. Try one of their many styles of bean juice! Or walk across the street to Dorado Cafe and try their cortado.
What to See After Breakfast
After breakfast, you have many options on where to wander before the parliament building visit. There are beautiful synagogues to visit in the old Jewish quarter. Some are world famous such as the Dohány Street Synagogue - the largest synagogue in Europe - and Kazinczy Street Synagogue. These well-known synagogues require an entrance fee, but the art and historical artifacts are worth the price tag.
I found walking from the Jewish quarter to the river a great way to familiarize oneself with the heart of the city. View the World War 2 memorial a block away. The iron shoes spread across the edge of the walkway stands as a dedication to the victims who were forced to jump into the river as they were executed. Their shoes and other small goods were left behind as these were valuable during a time of scarcity. Iron shoes replicate the tragedy, and many tourists pilgrimage to this site.
Afternoon in Budapest
Stop at Café Kör for a quick lunch. This traditional Hungarian restaurant in a historical building changes its food menu daily. I encourage you to try something written on their paper boards. The staff will delight you with their warmth and efficiency in helping you select the right wine to pair with your dish. Café Kör's specialty is dishing out plates of some of the tastiest local food in Budapest. We tried the steak tartare, green bean soup with meatballs and breaded pike perch with potato salad. These dishes names are zöldbabfőzelék fasírt and rantott fogasfilé respectively.
Visit the Parliament Building in Budapest
It's a short walk to the building from Café Kör, therefore I recommend arriving about an hour before your entrance time. That way, you can take time marveling at the architectural achievement of the building that can easily fill a few Instagram slides. After you are done with photos, head to the underground entrance. Walk towards the Kossuth Lajos monument. From there, you'll see steps that lead down to the entrance.
If you don't have your tickets, you can show the ticket teller your confirmation number, and they will print out your tickets. Check the screens above the entrance for the tours that should stand in line. Because it is an official government building, you will go through a thorough security check. The security measures are similar to airport security with the common forbidden items. After you pass security, you can utilize a coat and bag check for free. They will give you a tag to exchange for your things at the end of the tour.
The guide will usher your group from section to section as the audio guide (we took English) goes over the building's architecture, art, and history. You cannot take photos and videos in the double dome area with the crown jewels. At the end of the tour, there will be an exhibit, so make time to go through those items. I loved learning about how workers change the lightbulbs in the massive rose chandelier!
Nighttime in Budapest
At this point in time, you will be close enough to Vorosmarty Square, where there are loads of shopping and nightlife options. But if you are staying in the Jewish quarter like we did, heading over there will give you lots of things to do.
You will come across Vicky's Barcelona at the mouth of Gozsdu Court, a place created by intertwined buildings and enclosures filled to the bream with more touristy restaurants. This popular Budapest restaurant is abuzz till late at night, serving tasty food - mainly tapas - and creative cocktails.
Another option is to head straight to Karavan, a square filled with trucks offering intriguing food options, Hungarian or otherwise. We ate from the Budapest Langos truck with a simple but creative menu. For drinks, we tried some fun cocktails at the Cocktail and Spirit stand in the back of the outdoor food court.
Right next to Karavan is Szimpla Kert, the first and (my opinion, best) ruin bar of its kind. Ruin bar buildings were attacked during World War 2 and today they still maintain a rugged facade. But inside has been regenerated to hold a combination of bars and areas, such as a hookah lounge and courtyard. Each section hosts musical acts and specialty drinks. Don't be afraid to enter and get lost for the rest of the night!
Budapest Food Guide Breakdown
What We Ate:
Quiche Lorraine
Pesto Fried Eggs
Macchiato
See Cafe's Kor's daily menu on Facebook
What We Ate:
Zöldbabfőzelék Fasírt - Green Bean Stew and Meatballs
Rantott Fogasfilé - Breaded Pike Perch
Steak Tartare
What We Ate:
From Budapest Langos Truck

Beef Langos Set with Jalapenos

From Cocktail & Spirit Stand
Tip Get the set which includes fries and add a lot of garlic oil to them!
Tried Some of These Places?
Please leave me a comment down below telling me how your trip went. Bonus: Let me and other readers know what you did to make this itinerary more interesting - 💫 let's inspire each other!
Also, follow me on Instagram [@seesfoodwilltravel] and send me a DM of the food you tried. I would love to share and celebrate YOUR experience with our budding community 💞
Check out Sees Food, Will Travel on Pinterest and Facebook for more delicious updates.