This fresh strawberry and custard pie is a summer dream! It's filled with an obnoxious amount of strawberries on top of a shortbread-style crust lined with creamy custard. And everything is surrounded by dollops of whipped cream. It's sure to disappear quickly!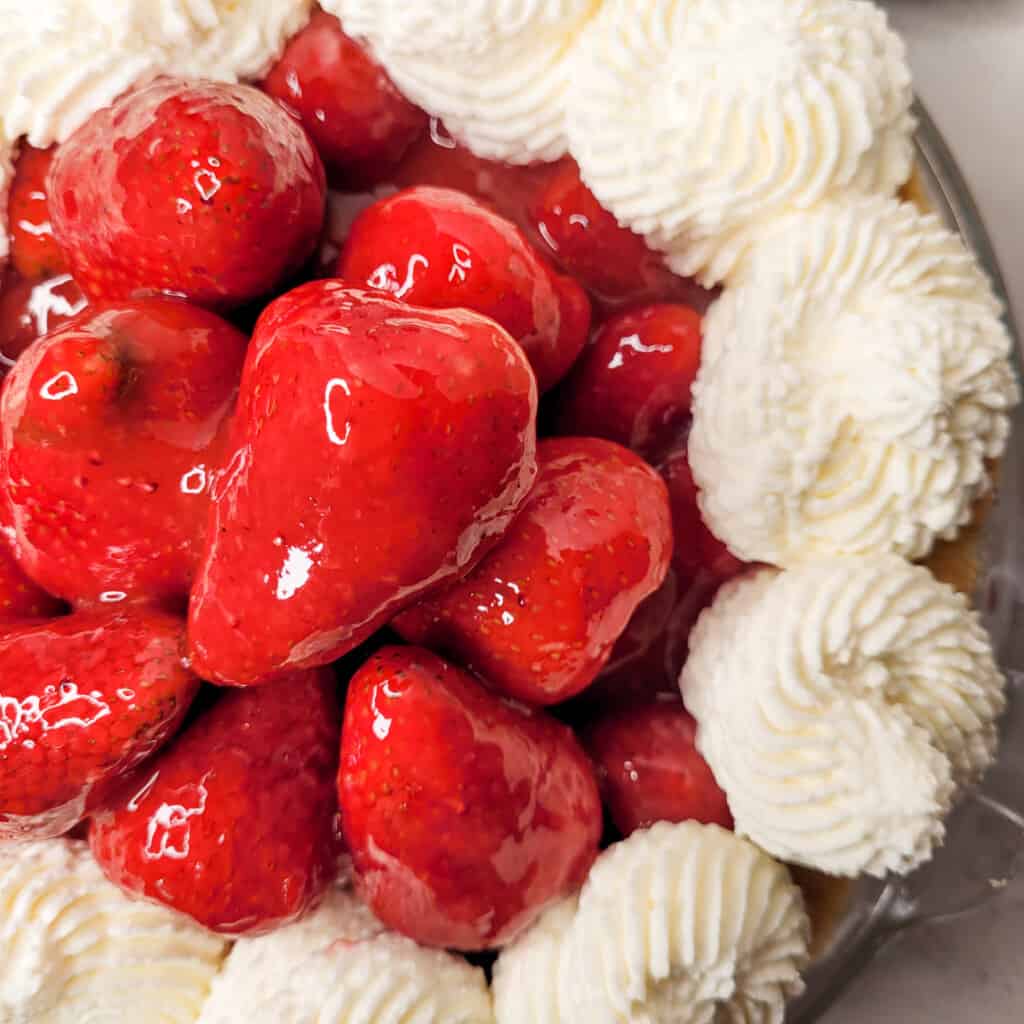 Jump to:
Pie Inspiration
This recipe takes inspiration from Anna Miller's fresh strawberry pie. They also have an amazing chocolate haupia pie which inspired this recipe. Anna Miller's is a famous local diner in Oahu, Hawaii, and I grew up eating their pies. These fresh strawberry pies are in demand during a specific season, and you are limited to how many you can buy. The most frustrating part of these pies is that Anna Miller's keep their recipes on lockdown.
Why You'll Love This Pie
Now that I no longer live in Hawaii, I've decided to make my version of fresh strawberry pies by using my taste memory. Don't worry, I have decades of eating these pies! This strawberry pie recipe comes pretty darn close. Instead of a raw-ish pie crust, I decided to use pâte sucrée - a shortbread-style crust. But everything else is close to the real deal - fresh strawberries, pastry cream, bright strawberry glaze, and lots of whipped cream.
Would I say it's better than Anna Miller's fresh strawberry pie? You'll have to find out by making this and judging for yourself.
Ingredients
It's a long list but these ingredients are easy to find at any grocery store!
See the list below for items you will need for this recipe:
Strawberries
Sugar
All-Purpose Flour
Butter
Eggs
Cornstarch
Milk
Lemon Juice
Heavy Cream
Powdered Sugar
Vanilla Extract
Substitutes
Pie Crust: A solid option is using pre-made flaky pie dough and par-baking it before adding the custard. You can also cut your time in half by using any pre-made crust such as graham cracker crust.


Milk: You can use a combination of half heavy cream and half water for your custard instead of milk. But just know that your pastry cream may come out with a heavier texture.
Recipe Tips
Take Your Time: It's best to set aside about two days in order to complete this pie. The custard will need a few hours to set in the fridge. Meanwhile, both the strawberry glaze and finished pie crust need to cool down to at least room temperature.


Watch Everything: You are making different components that require some boiling. The glaze and pastry cream are sensitive to heat and can clump easily when they are heated too quickly.


Check That You Have Enough Strawberries: I bought around 1.5 kilograms of strawberries - it sounds like overkill, but I want to make sure I had enough to make a mini hill of strawberries and have the best looking strawberries to choose from.

Buy at least 1 kilogram of large cone-shaped strawberries.
Buy 200 grams of small strawberries.
How to Make Fresh Strawberry and Custard Pie
There are many parts of this pie, but we can break them down into separate straightforward steps:
Make the custard or pastry cream filling.
Make the strawberry glaze.
Make and bake the crust.
Put the pie together.
Top with whipped cream.
I know- the steps make it sound tooo simple! But once you go through the motions, it will all make sense. And in the end you will come out with a charming pie to show off!
How to Serve
Keep the strawberry pie in the fridge for about an hour in the fridge to set before serving. Slice the pie carefully because those strawberries will get chaotic. But if the pie has been chilled enough, it should hold its shape well.
Want something colder? Try this strawberry ice candy recipe for a cool summer treat!
Frequently Asked Questions
Can I make this a no-bake strawberry pie?
You can make this a no-bake strawberry pie by using pressed in graham cracker crumb pie crusts that you can find at grocery stores.
Does this pie use gelatin or Jell-O?
No, this pie does not contain Jell-O or other branded gelatin. Instead, the strawberry pie glaze uses cornstarch as a thickener.
Why does my strawberry pie fall apart when it's sliced?
It may be that you didn't let it chill in the fridge long enough to set. When the strawberry pie sits in the fridge for a few hours, it dries out a little bit and its form stabilizes making it easier to make neat slices.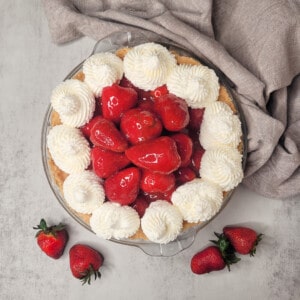 Fresh Strawberry with Custard Pie Recipe
This pie is perfect for strawberry season! Filled with lots of strawberries, a creamy layer of custard, and an irresistible shortbread-style crust.
Ingredients
Shortbread-style Pie Crust
1

egg yolk

113

grams

unsalted butter

cut in cubes

67

grams

sugar

¼

teaspoon

salt

156

grams

all-purpose flour
Pastry Cream | Custard
180

ml

whole milk

50

grams

granulated sugar

14.2

grams

unsalted butter

cubed

1

teaspoon

vanilla extract

2

egg

yolks

4

tablespoon

cornstarch
Strawberry Glaze & Filling
145

grams

whole strawberries

small and hulled

150

grams

granulated sugar

3

tablespoon

cornstarch

118

grams

water

2

teaspoon

lemon juice
Whipped Cream
2

tablespoon

powdered sugar

240

grams

heavy cream
Strawberry Filling
864

grams

whole large strawberries

large, ripe, and hulled
Instructions
Make Pastry Cream
In a bowl, add the egg yolks sugar, and cornstarch. Whisk together until there are no lumps left and set it aside.

Add the milk to a pot and heat until the milk starts to steam or make tiny bubbles around the perimeter. Remove from the heat. Pour a little bit of the heated milk into the bowl with egg yolks while whisking vigorously to temper the eggs. Continue slowly pouring and whisking until you use all the milk.

Pour the liquid custard back into the pot and set it on medium low heat.

Whisk as the custard thickens and bubbles. Remove from the heat and pour into a bowl.

Cover the bowl with cling-wrap making sure it touches the surface area of the custard. Place in the fridge to set for about 8 hours or overnight.
Make Strawberry Glaze
Take a cup of the small hulled strawberries and place them in a food processor or a blender. Puree the strawberries until smooth.

Add the sugar, water, cornstarch, and lemon juice. Mix until smooth and there are no longer lumps.

Pour the pureed strawberries through a sieve into the prepared pot with the cornstarch mix. You may have to mash some strawberry flesh into the sieve to get as much liquid as possible.

Place on medium low heat and allow to boil until it thickens, about 2-3 minutes, as you whisk. Remove from heat and pour into a clean bowl. Cover and set aside to cool to room temperature.
Make Pie Crust
Add the flour, unsalted butter, sugar, and salt in a food processor. Pulse for a few seconds until sandy in texture. Add the egg yolk.

Pulse again until the texture starts to get clumpy.

Place the dough on parchment paper or cling-wrap. Press the dough together and place in the fridge for at least 1 hour to rest the dough.

Remove the dough from the fridge and break it into pieces in a pie pan.

Press the piece of the dough alongside the inner part of the pan until it is fully covered. Place back in the fridge to rest for 20 minutes. Meanwhile, preheat the oven to 180℃ (350℉).

Bake in the preheated oven for 25 minutes or until golden brown. Remove the pie crust from the oven and place on the counter to cool it to room temperature.
Put the Pie Together
Add the large hulled strawberries to a large bowl. Add the strawberry glaze and gently mix everything until all the strawberries are saturated with the glaze.

Remove the set custard from the fridge, remove the cling-wrap, and re-mix the custard until it's smooth. Spread it across the bottom of the cooled pie crust until the bottom is covered.

Add the strawberries on top of the custard leaving about a half inch space between the strawberries and the pie edge.

Make the Whipped Cream: In a bowl mix the powdered sugar and heavy cream until you get stiff peaks. Add to a piping bag and pipe the whipped cream along the empty area between the strawberries and pie crust.

Place the finished pie in the fridge to allow it to set at least for an hour before serving.
Nutrition
Calories:
499
kcal
Carbohydrates:
65
g
Protein:
5
g
Fat:
26
g
Saturated Fat:
16
g
Polyunsaturated Fat:
1
g
Monounsaturated Fat:
7
g
Trans Fat:
1
g
Cholesterol:
98
mg
Sodium:
96
mg
Potassium:
217
mg
Fiber:
2
g
Sugar:
41
g
Vitamin A:
922
IU
Vitamin C:
48
mg
Calcium:
72
mg
Iron:
1
mg
Disclaimer: Nutritional values were calculated with the Spoonacular Food API and should be used for informational purposes only.
Have You Tried This Recipe?
Simply rate the recipe by clicking on the ⭐️s on the recipe card. Have something to say? Please leave me a comment down below telling me what you think of this recipe.
Bonus: Let me and other readers know what you did to make this recipe your own - 💫 let's inspire each other!
Also, follow me on Instagram [@seesfoodwilltravel] and send me a DM with a picture of what you made. I would love to share and celebrate YOUR creation with our budding community 💞
Check out Sees Food, Will Travel on Pinterest and Facebook for more delicious updates.