These Filipino-style coconut macaroons are very addicting! I grew up with these mildly sweet, buttery, and pleasantly chewy macaroons. Just to clarify, these are maca-ROONS and not maca-RONS. Nevertheless, these delicacies are yet another European-influenced treat ubiquitous in the Philippines. They are found as commonly across Filipino bakeries next to ensaymada, pandesal, and yema tarts. You will see how this recipe is slightly tweaked to fit the Filipino palate so they are tantalizing to locals. I hope you find it just as irresistible!
What is a Macaroon?
If you are someone who enjoys their European baked goods, then you already probably know the difference between a macaroon and a macaron. A macaron is made with almond flour and looks like a circular miniature sandwich. A macaroon can be made with various dried ingredients, with its modern take being desiccated coconut. It comes roughly shaped like a cone and is sometimes dipped in chocolate.
The Key Ingredient to Filipino Macaroons
Based on my experience, non-Filipino macaroons are denser and have a heavier mouthfeel. They also have a robust toasted taste because they are covered by browned crispy coconut. I believe there is room for all types of macaroons. But I do want to introduce the macaroon that I am familiar with and grew to love. Filipino macaroons are made with condensed milk, creating a mild flavor that balances the coconut. A lot of eggs are also used, along with a shameless amount of creamed butter. I don't know if you are noticing a pattern here yet, but clearly Filipinos have a thing for condensed milk. I am thankful to the person who came up with adding condensed milk to macaroons!
How Filipino Macaroons are Different
These treats slightly mute the overwhelming coconut flavor thanks to butter and condensed milk. You will also notice Filipino macaroons are made using a muffin pan. The batter isn't dolloped on a baking sheet like other non-Filipino recipes. When it bakes in a muffin pan, the tops become crispy, while the bottom remains soft and tender. It creates a curiously chewy texture that makes you want more as soon as you are done eating one. This Filipino-style coconut macaroons recipe also gives you instructions on making your own muffin liners using only parchment paper!
How to Make Filipino Style Macaroons
The recipe for these Filipino-style coconut macaroons has a strict order of operations because you may end up with a curdled mess if you over-cream the butter. If you add the eggs all at once, it may also cause an issue. So everything requires a light touch. Finally, if you use a machine such as an electric mixer, make sure you use a low setting. Sometimes the lowest setting may still be too strong, so I take notes on when to use a spatula to stir manually. Be gentle as you go along, and the recipe will reward you with an indulgent treat!
Set Up Your Butter Base
First, preheat your oven to 180°C (350°F). Add the room temperature butter and the sugars to a bowl. Beat with an electric mixer until granules have disappeared or until well incorporated.
Tip This recipe calls for 113 grams or half a cup of butter, but if you're inclined to cut that amount in half, feel free to do so. This recipe boasts a generous amount of butter!
Add Liquid
Take the condensed milk and pour it into the bowl of creamed butter. If you are using an electric mixer, you can use it to mix in the condensed milk. Otherwise, if you'd like to have a more soft approach, you can switch to using a spatula or a whisk to mix here.
Whisk in Eggs By Hand One at A Time
Crack one egg and whisk it in the mixture by hand one at a time. Again skip out of using the electric mixer here because there is a chance you may overmix. Once all three eggs are added, you will have a runny texture like a loose cake batter.
Use the Folding Technique to Add Coconut
Fold the desiccated coconut into the mixture by turning the bowl as you flip the spatula up and over the batter. The move will help to maintain the air in the macaroon mix.
Pour the macaroon mix evenly into a lined muffin pan and bake in the preheated oven for twenty to twenty-five minutes. They are done when tops are browned, and a toothpick comes out clean when inserted and pulled out from a macaroon. Allow them to cool completely before eating. Part of the fun of making this recipe and eating these Filipino-style coconut macaroons is surprising yourself with buttery pockets of deliciousness!
Make Your Own Muffin Liners
Measure out some parchment paper and cut them into squares. The edges of the square should sit outside the muffin pan holes, so they are easier to pull out, and this is the size you should eye-ball.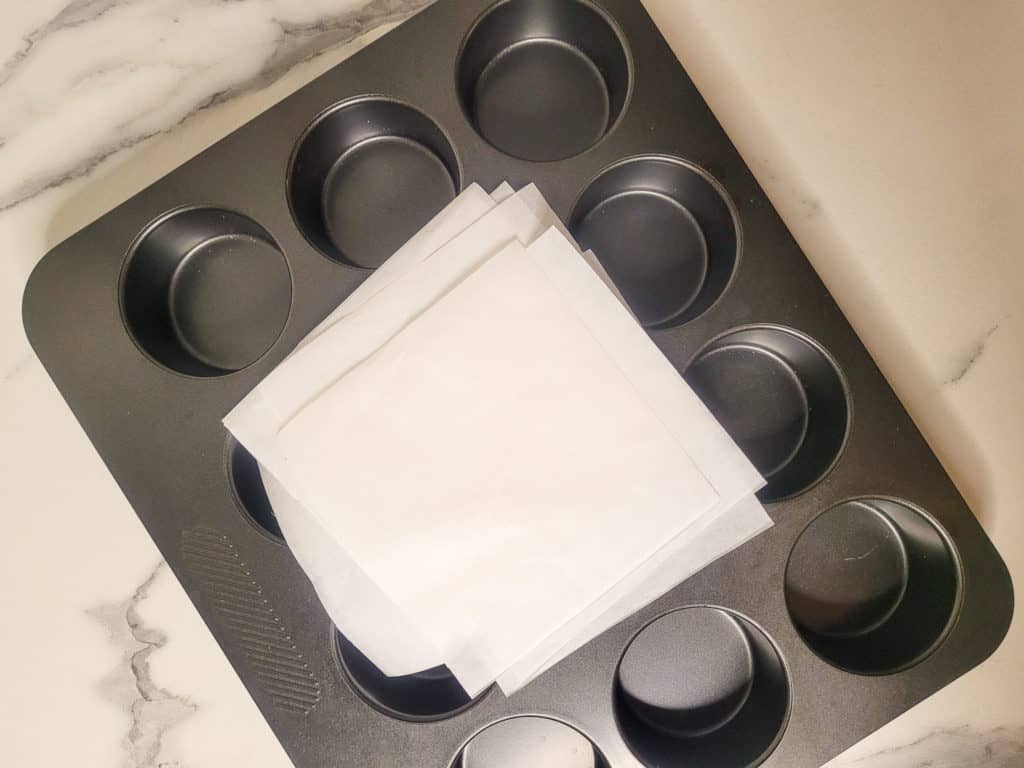 Find a circular glass that fits inside the muffin pan, and it should be small enough to move inside the muffin pan. This movement will pinch and shape the parchment paper in each hole.
Place a piece of paper on top of a hole making sure the hole is centered. Then take the glass and use it to push the paper into the hole.
Twist the glass in one direction and one direction only until the edges take the shape of the hole. The four corners of the paper should all stick out, making the batter hold better in the pan.
Tip From my experience, it's easier to shape the papers one at a time using just one hole and then to put them back in when all papers have been shaped. When you leave the papers in the pan as you shape them, they can get in the way of each other. So figure out which style works for you.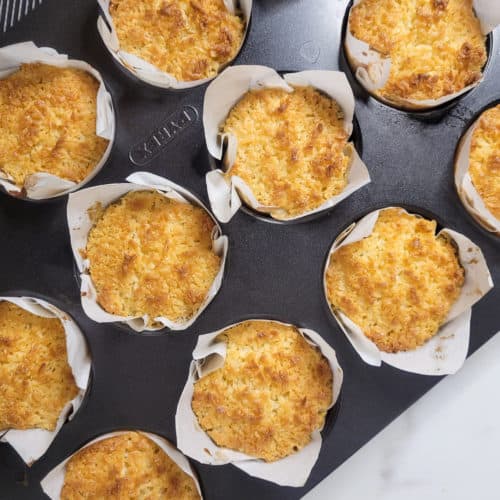 Filipino Style Coconut Macaroons
It's easy to find these sweet morsels of coconut bombs in bakeries across the Philippines. A Filipino-style macaroon sets itself apart by being buttery, light, and airy all at the same time. If you live outside the country and crave some or simply curious about how it tastes this recipe is for you! It's easy to make and the instructions are straightforward.
Ingredients
200

grams

desiccated coconut, unsweetened

113

grams

butter, softened

use less if you'd like

50

grams

brown sugar

50

grams

sugar

3

eggs

200

grams

condensed milk
Instructions
Preheat oven to 180°C (350°F)

Cream butter along with white and brown sugar in bowl

Add condensed milk and hand whisk until incorporated

Add one egg at a time, whisking each one by hand

Add the desiccated coconut and fold it into the mixture with a spatula

Distribute the batter evenly in a greased muffin pan or a lined muffin pan with muffin liners

Bake for about 20 minutes or until it starts to brown

Allow to cool completely before removing from the muffin pan
Disclaimer: Nutritional values were calculated with the Spoonacular Food API and should be used for informational purposes only.
Have You Tried This Recipe?
Simply rate the recipe by clicking on the ⭐️s on the recipe card. Have something to say? Please leave me a comment down below telling me what you think of this recipe.
Bonus: Let me and other readers know what you did to make this recipe your own - 💫 let's inspire each other!
Also, follow me on Instagram [@seesfoodwilltravel] and send me a DM with a picture of what you made. I would love to share and celebrate YOUR creation with our budding community 💞
Check out Sees Food, Will Travel on Pinterest and Facebook for more delicious updates.