I am a true believer that making pancakes for a breakfast will make your day better. In terms of additions to pancakes, I find blueberries to be the superior option! This blueberry pancake recipe has a flavored mascarpone whipped cream topping with blueberry sauce for an overload makeover!
Jump to:
When to Celebrate Blueberry Pancakes
Blueberry pancakes are suitable for any day of the year. But if you really want to celebrate, January 28 is National Blueberry Pancake Day, so this post date is dedicated to these pancakes. Although I live outside the United States, I am happy to participate in the celebration!
Ingredients For Blueberry Pancakes and Blueberry Cream
You need many ingredients for this blueberry overload pancake recipe, but they are easy to source. Check the list below to see the ingredients for the separate components of the recipe.
Blueberry Buttermilk Pancakes: These buttermilk pancakes take inspiration from both Preppy Kitchen and Tasty. They are fluffy and soft and soak up the blueberry sauce and maple syrup. I also include milk and an acid (lemon juice) instead of buttermilk because they are more likely to be in your kitchen already.
All Purpose Flour
Sugar
Salt
Cream of Tartare
Baking Powder
Baking Soda
Egg (white and yolk separated)
Lemon Juice
Milk
Vanilla Extract
Fresh Blueberries
Blueberry Sauce: This sauce is a simple concoction with a few ingredients. Once it's thickened, you can use it as a topping, and a component for the mascarpone whipped cream.
Fresh blueberries
Sugar
Water
Blueberry Mascarpone Whipped Cream: I wanted to make a stabilized whipped cream that was light and tasty. I love adding mascarpone cheese to whipping cream because it keeps it airy yet thick and adds a bright, fresh taste.
Mascarpone Cheese
Heavy Whipping Cream
Powdered Sugar
Blueberry Sauce
Make the Blueberry Sauce
When added to the whipped cream topping, the blueberry sauce must be at least room temperature. So make this sauce before anything else to give it time to cool.
Add fresh blueberries to a sauce pot with sugar and some water.
Place the pot on medium heat and allow the sugar to melt and the blueberries to burst.
The juices and water will bubble as it boils and keep boiling until it is thick and some whole blueberries are still left. Turn off the heat and set aside to cool to room temperature.
How to Make Blueberry Pancakes
These buttermilk pancakes are delicious on their own! They absorb maple syrup well (my favorite part of pancakes) and stay soft. I recommend you cook it on a cast iron pan for that extra outer crispiness, but any pan will do.
Add the milk and lemon juice to a bowl, stir together and let sit for ten minutes to make buttermilk.
Meanwhile, add the flour, salt, sugar, baking powder, baking soda, and cream of tartare to a large bowl. Whisk all together.
Once the milk has curdled a little bit, add the melted butter and egg yolk to it. Then mix it all together.
Combine the dry and wet ingredients by pouring the wet ingredients into the dry ingredients. Then use a spatula to fold and incorporate the ingredients.
Then add the vanilla extract and egg white. Gently fold again until everything is combined, but the batter is still lumpy.
Use a third cup measuring spoon to pour the pancake batter into a heated pan on medium heat with melted butter. Add the blueberries to it.
Cook the pancake until you see bubbles form, then flip it over. Cook for about thirty seconds before removing it from the pan. Repeat until you cook all the batter. It should make about six pancakes.
Make Blueberry Mascarpone Whipped Cream
If you are the type that enjoys adding whipped cream to pancakes, then this topping is for you! The cream is light and airy, and the added flavor of blueberries makes it tastier. Because of the mascarpone, the whipped cream is richer in texture than usual.
Add whipping cream, mascarpone cheese, powdered sugar, and blueberry sauce to a bowl.
Use an electric mixer to whip the cream until soft peaks form.
If you want more blueberry flavor, add more blueberry sauce (more blueberries than liquid) to the whipped cream and beat until thick again.
How to Serve Blueberry Pancakes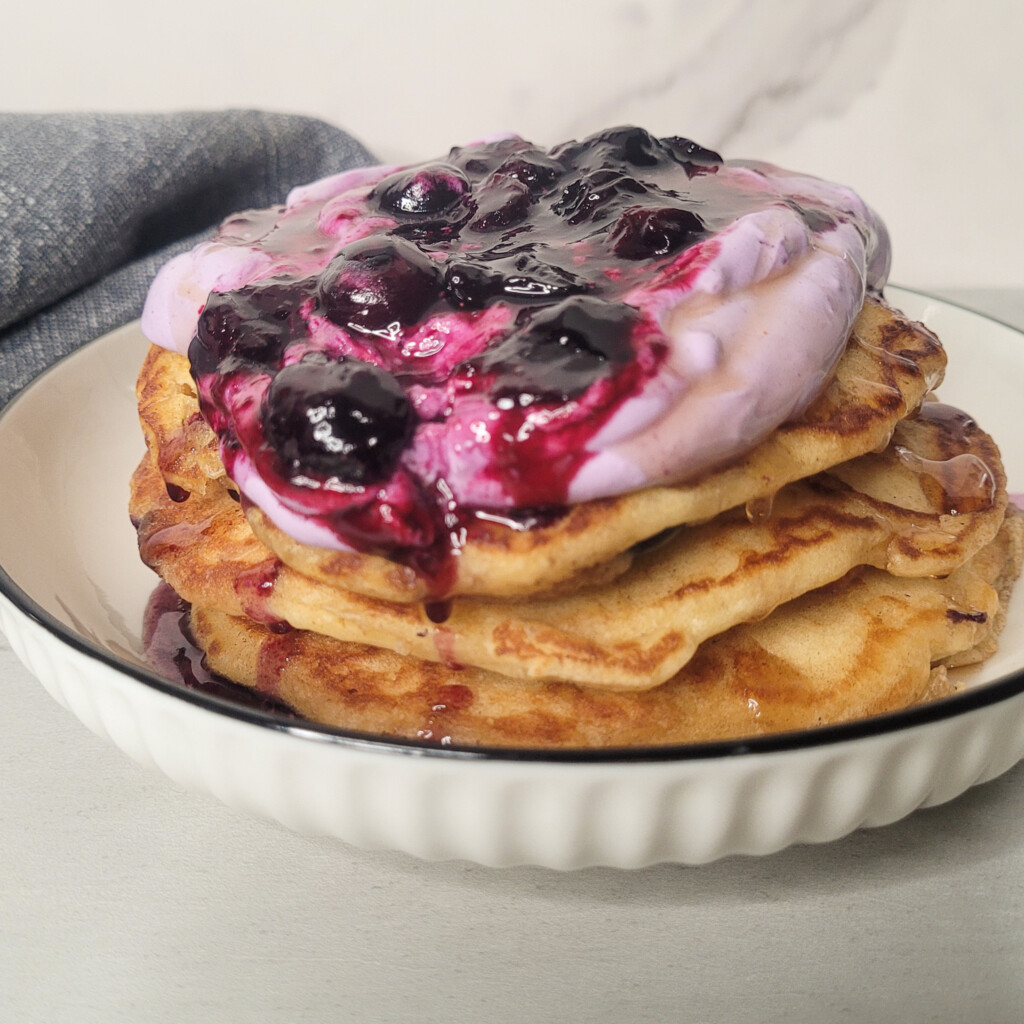 This recipe makes six pancakes, perfect for stacking. I love adding some whipped cream between the pancakes as I stack them. Or you can add the whipped cream and leftover blueberry sauce. To use maple syrup is up to you, but I love adding a bit of it on top of everything.
Blueberry Pancakes with Blueberry Mascarpone Cream
Well, let's just call this what it is: a blueberry overload! If you enjoy blueberry pancakes then these take it up a notch with a mascarpone whipped cream mixed with a blueberry sauce and blueberry sauce topping. These blueberry pancakes are great a way to celebrate blueberries!
Disclosure
The equipment and ingredients sections contain affiliate links to products I love to use as well as items that I personally believe make this recipe the best version of itself.
Ingredients
Blueberry Sauce
300

grams

fresh blueberries

50

grams

sugar

1-3

tablespoon

water

use if the sauce gets too thick
Blueberry Buttermilk Pancakes
160

grams

all-purpose flour

1½

teaspoon

baking powder

½

teaspoon

cream of tartar

½

teaspoon

baking soda

1½

tablespoon

granulated sugar

½

teaspoon

salt

240

grams

milk

1

tablespoon

lemon

1

large

egg; yolk and white separated

2

teaspoon

vanilla extract

60

grams

butter, melted

150

grams

fresh blueberries for topping
Blueberry Mascarpone Topping
160

grams

heavy whipping cream

112

grams

mascarpone cheese

25

grams

powdered sugar

¼

cup

blueberry sauce

to start
Instructions
Make Blueberry Sauce
Add the blueberries and sugar to a pot. Place on medium heat and allow the sugar to melt while lightly mashing some blueberries.

Eventually the juices will come out and the sauce will begin to bubble. Bring to boil until the liquid has thickened to your desired consistency. If the liquid is too thick; add a tablespoon of water and let it re-thicken.

Once finished allow to cool completely to room temperature.
Make Blueberry Pancakes
Add the dry ingredients to a bowl and whisk together. Set aside.

Make buttermilk by adding the milk and lemon juice to a bowl. Microwave for 20 seconds and it should start to curdle. Set aside.

Add the melted butter and egg yolk to the buttermilk, then whisk.

Pour the wet ingredients into the dry ingredients.

Gently fold the ingredients together; the batter should stay lumpy.

Add the egg white and vanilla, then gently fold again. The batter should still be lumpy.

Heat a flat pan and melt butter on top. Use a ⅓ measuring cup to spoon some batter onto the pan. Place some fresh blueberries on top of the batter.

When the top has bubbles and slightly set; flip the pancake and cook for until the other side brown. Repeat this step until all the batter is gone.
Make Blueberry Mascarpone Topping
Add the mascarpone, powdered sugar, heavy whipping cream to a bowl plus ¼ cup of the blueberry sauce.

Whip together until slightly thick. Taste the cream and if you want to add more blueberries do so by adding ¼ cup at a time. Leave some blueberry sauce for topping.

When you are satisfied with the blueberry flavor proceed to whisk until thick or soft peaks form.
Assemble the Pancakes
Stack an number of pancakes you want on a plate.

Add the blueberry mascarpone whipped cream. Add some blueberry sauce and top with some maple syrup.
Nutrition
Calories:
488
kcal
Carbohydrates:
51
g
Protein:
8
g
Fat:
29
g
Saturated Fat:
18
g
Polyunsaturated Fat:
1
g
Monounsaturated Fat:
5
g
Trans Fat:
0.3
g
Cholesterol:
106
mg
Sodium:
502
mg
Potassium:
233
mg
Fiber:
3
g
Sugar:
26
g
Vitamin A:
1054
IU
Vitamin C:
9
mg
Calcium:
168
mg
Iron:
2
mg
Disclaimer: Nutritional values were calculated with the Spoonacular Food API and should be used for informational purposes only.
Have You Tried This Recipe?
Simply rate the recipe by clicking on the ⭐️s on the recipe card. Have something to say? Please leave me a comment down below telling me what you think of this recipe.
Bonus: Let me and other readers know what you did to make this recipe your own - 💫 let's inspire each other!
Also, follow me on Instagram [@seesfoodwilltravel] and send me a DM with a picture of what you made. I would love to share and celebrate YOUR creation with our budding community 💞
Check out Sees Food, Will Travel on Pinterest and Facebook for more delicious updates.