I first came across gyeran mari (rolled egg omelet) during a night of drinking with coworkers when I lived in South Korea. If you are unfamiliar with Korean drinking culture, a night out with friends proceeds in rounds where you go to various places as you drink. Those who manage to stay out all night will typically make it through five places where everyone does a variety of eating and drinking. Jump to this section for step-by-step instructions with photos.
That night, I was one of the remaining survivors, and the last place we visited was a suljib, or drinking house that served snacks. Someone ordered gyeran mari, and there was a collective sigh among the people around the table. Apparently, rolled omelet is considered a snack that must be consumed with soju. So even though most of us thought the night ended at this fifth location, it would not be the place to wind down.
What is Gyeran Mari
Gyeran mari is an omelet rolled over and over until it turns into a log. Then you would cut it into pieces to reveal the layers of fried egg in the middle. As much as it is considered anju (drinking snack with soju), rolled omelet is also popular among Korean moms who want to make simple snacks for their children.
In addition to whisked eggs, two primary ingredients include green onions and carrots. They would be diced into tiny pieces, so they are easier to consume and don't give too much texture to the omelet. A more premium style would also consist of small diced ham. But that's about it! The ingredients are few - the most attractive thing about this rolled omelet is the visible layers of eggs at its cross-section.
The Gyeran Mari Pan Debate
Since living in South Korea, I started making egg roll omelets and haven't stopped making them since. I don't think I am the best eggs roller, but I firmly believe you do not need special equipment to make a rolled omelet. People have been making egg roll omelets without the rectangle pan for generations. You can surely make it on any flat surface if it is hot enough! With that said, a round frying pan that you already own is an excellent choice to use for making gyeran mari!
Tips on Rolling Omelet
Tip #1 The term "rolling" an omelet is misleading. You are actually going to be folding it. It looks rolled because the result has so many layers. So when you begin cooking, remember that you are folding flaps of the egg into itself.
Tip #2 Take your time and move slowly with low heat. When the pan isn't as hot, the egg will take longer to set so that you can roll the omelet at a slower pace. Also, don't worry about ripping the egg if you are still in the middle of cooking gyeran mari. The next layer can cover your mistake.
Tip #3 Have oil in hand to keep the egg from sticking to the pan. Add oil before adding eggs to make they don't stick. You don't need a lot of oil for your pan but just make sure to spread it around evenly. This sticking issue shouldn't be a problem if you have a nonstick pan.
Tip #4 Finally, this is the most important tip I can give you: Leave a tail at the end of each layer you roll. When adding more raw egg to the pan, make sure it touches and connects with the tail. Even better if it streams onto the tail because it makes a seamless connection as the eggs set. The layers also look more continuous after you cut into the egg roll.
Cheesy Rolled Omelet
This recipe is inspired by all the gyeran mari I consumed over the years I lived in South Korea. Another inspiration came from the food trend that has remained consistent in South Korea: melted cheese. Melted, stretchy cheese stuffed into many Korean snacks, such as Korean-style corndog and hotteok are many. If you want to indulge in a cheesy drinking snack, this mozzarella stuffed gyeran mari would be it!
How to Make Gyeran Mari
Start by cracking six eggs in a bowl and whisking them together.
Then add your diced green onions, carrots, and diced ham if you have them. For this recipe, I used Spam, so I didn't add as much salt. But make sure to add salt and pepper to the mix!
Take a round frying pan (nonstick is preferable) and add just a bit of oil. Spread the oil around the pan. A brush would make spreading the oil around more manageable.
With the heat setting on low, add some raw egg mixture as it spreads and coats the bottom of the pan. It should be a thin, solid layer.
Place the mozzarella cheese close to the edge of one side of the omelet. Start rolling (folding) by flipping the edge closest to the cheese over the cheese.
Then the edge over again until you have a bit of tail left.
You now have a small omelet log. Gently push it to one side of the pan. On the other side of the pan, brush a bit of oil, then add more of the raw egg mix. Ensure the raw egg touches the tail and connects with it as it cooks.
Roll the log into the flat side of the omelet. Repeat the steps until you use up all the egg mixture.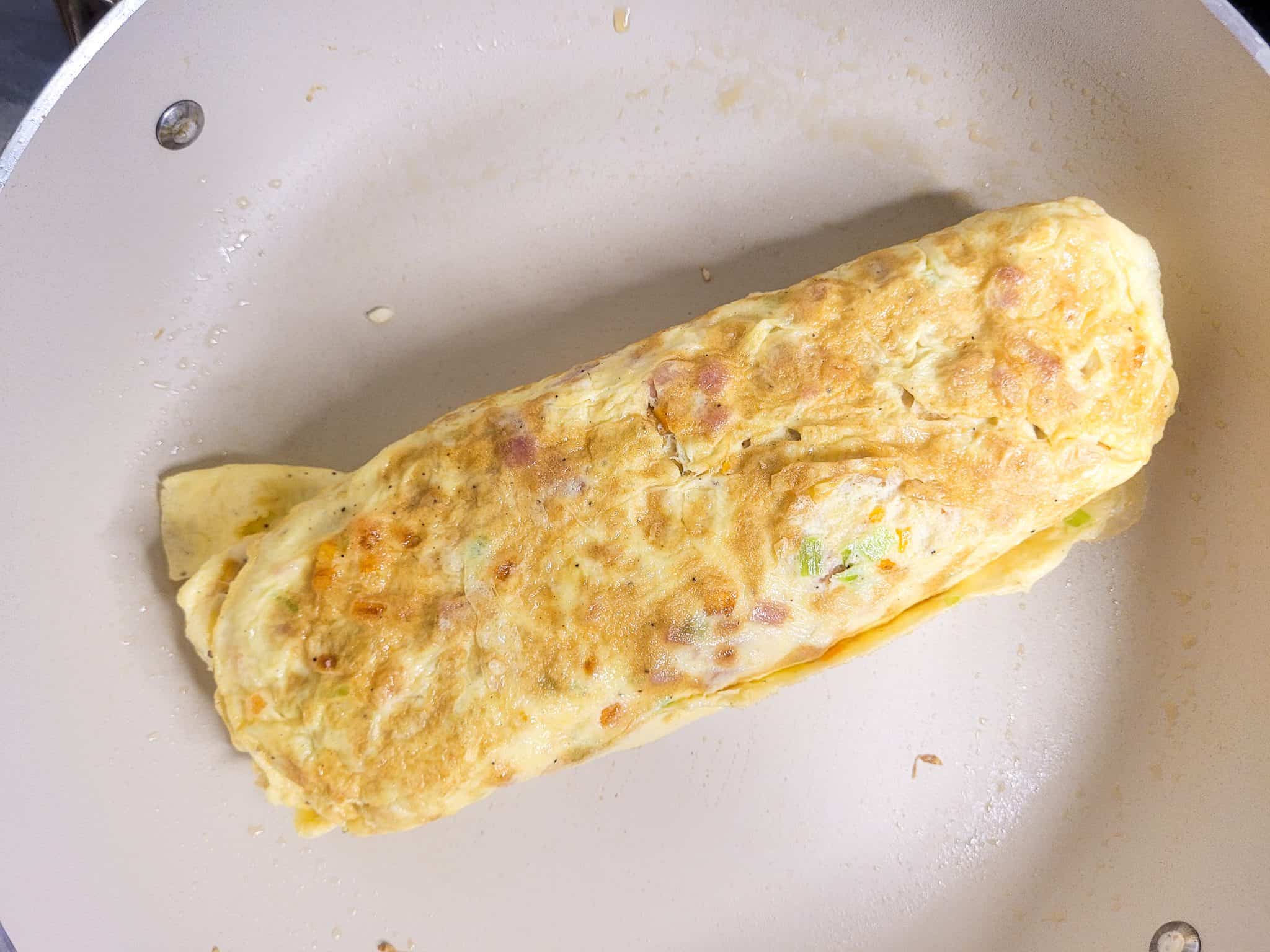 You are not quite done yet! You should now have a round, rectangular omelet log. Lock in the shape by carefully searing each side of the egg for about twenty seconds.
Slide it onto a cutting board and gently cut pieces across. Be careful as you do this because hot gooey cheese might burn you.
You can choose to top it with mayonnaise and ketchup. But my favorite thing to do is brush a bit of soy sauce and sesame oil along the top!
Make it Your Own
Once you get more comfortable with the rolling (folding!) technique. Feel free to add other vegetables and meat to your own egg mix. You can also sub out the cheese with other things such as hotdogs. Figure out what you like. Last but not least, try it as a snack alongside beer or soju!
Have You Tried This Recipe?
Simply rate the recipe by clicking on the ⭐️s on the recipe card. Have something to say? Please leave me a comment down below telling me what you think of this recipe.
Bonus: Let me and other readers know what you did to make this recipe your own - 💫 let's inspire each other!
Also, follow me on Instagram [@seesfoodwilltravel] and send me a DM with a picture of what you made. I would love to share and celebrate YOUR creation with our budding community 💞
Check out Sees Food, Will Travel on Pinterest and Facebook for more delicious updates.
Cheesy Gyeran Mari (Rolled Omelet)
I first discovered gyeran mari as a snack for drinking and ever since I have been making this rolled egg omelet. This recipe adds cheese and it just satisfies the drinking munchies in a whole new level. But to be honest, I eat this even when I am not drinking. It's an awesome breakfast paired with black coffee!
Ingredients
6

large eggs

40

grams

ham, diced small

optional

20

grams

carrots, diced small

20

grams

green onions (or leeks), diced small

salt & pepper, to taste

mozzarella or cheddar cheese

optional: use as little or as much as you want!
Instructions
In a large bowl, crack eggs and whisk together. Add ham, carrots, diced onions, and salt and pepper. Mix the ingredients together

Lightly brush a pan with oil and set the heat on low. Add some egg mix to the pan, allowing it to spread. Make sure the egg mix makes a thin, solid layer that covers the bottom of the pan.

Add the cheese close to one side of the omelet leaving about 3cm space from the edge. Using a spatula, fold the edge over the cheese.

Continue to roll (or fold) the omelet until a few centimeters of the opposite edge remains, making a tail. Slide the roll to one side, letting the tail face the open space of the pan.

Add more egg to the empty space and spread it across the pan making sure it touches the tail of the omelet. Allow the tail to connect with the raw egg as it cooks. Then continue rolling as the previous steps.

Repeat the step above until you use all the raw egg mixture. Lock the edges by searing each side of the omelet log for 20 seconds.

Slide onto a cutting board and slice across to make pieces.