I first came across gyeran mari (rolled egg omelet) during a night of drinking with coworkers when I lived in South Korea. It's fried, simple, tasty, and includes bits of veggies - the perfect accompaniment to alcohol! Gyeran mari is also perfectly suitable for breakfast or as a snack at any time of the day.
Update Disclosure: This post has been updated for one or more of the following reasons: easier reading, updated photos, clearer instructions, and just plain ol' improvements to the recipe (as noted).
Jump to:
That night, I was one of the remaining survivors, and the last place we visited was a suljib, or drinking house that served snacks. Someone ordered gyeran mari, and there was a collective agreement among the table that it was the perfect comfort food to end a long night of drinking.
What is Gyeran Mari
Gyeran mari is an omelet rolled over and over until it turns into a long log. Then you cut it into pieces to reveal the layers of fried egg in the middle.
As much as it is considered anju (drinking snack with soju), rolled omelet is also popular among Korean moms who want to make simple snacks for their children.
Perhaps that's why it's still a prevalent choice among adults today. After drinking some alcohol, eating gyeran mari is a great choice for a nostalgic, warm and fuzzy feeling.
The Gyeran Mari Pan Debate
If you are interested in buying special equipment for gyeran mari, you can pick one up at Amazon by searching for the term "tamagoyaki pan". Tamagoyaki is the Japanese word for rolled omelet.
BUT... you do not need special equipment to roll your omelet! You can simply use a round frying pan you most likely already have in your kitchen.
It will take a few tries to roll your omelet the right way whether or not you use a special pan.
Ingredients
This recipe includes instructions to add some sticks of mozzarella cheese in the middle for a stretchy, cheesy effect, but it's optional. You can skip that step if you don't want to add cheese.
Other ingredients include:
Eggs
Green Onions
Carrots
Diced ham (optional)
Vegetable Oil, for frying
Salt & Pepper to taste
It's a short ingredient list!
Substitutes
Eggs: If you don't prefer to eat actual eggs, the texture of egg substitute should work fine for this recipe as long as you still use oil.


Oil: Since the recipe asks you to use low heat, you can replace vegetable oil with alternatives that have a lower smoke point. But you may have to work faster. Some options are olive oil, sesame oil, and coconut oil. Oils with a higher smoke point than vegetable oil such as sunflower oil, and peanut oil also work well.


Vegetables: Work with what you have! As long as the veggies you have available are diced small enough to throw into the egg mix, you are good to go!
Tips for Perfectly Rolled Omelet
Fold the Omelet: I know, it sounds confusing. But the motion you should aim for is actually folding. It looks rolled because the result has so many layers. So when you begin cooking, remember that you are folding flaps of the egg into itself.


Move Slowly on Low Heat: When the pan isn't as hot, the egg will take longer to set so that you can roll the omelet at a slower pace. Also, don't worry about ripping the egg if you are still in the middle of cooking your gyeran mari. The next layer can cover your mistake. 


Keep Oil Nearby: Add oil to the pan before adding eggs so they don't stick. You don't need a lot of oil for your pan but just make sure to spread it around evenly. This sticking issue shouldn't be a problem if you have a nonstick pan.


Leave a Tail: When adding more raw egg to the pan, make sure it touches and connects with the tail. Even better if it streams onto the tail because it makes a seamless connection as the eggs set. The layers also look more continuous after you cut into the egg roll.
How to Make Gyeran Mari
Here is a short overview of what you will do in this recipe:
Crack eggs in a bowl.
Add diced veggies and ham (if you are using them!), then add your salt and pepper.
Whisk everything together!
Add oil in a pan on low heat then add some egg mix.
Add mozzarella pieces at the edge of one side.
Start rolling (folding) by folding the edge closest over the cheese.
Then keep folding it over until you have a bit of tail left. Push the omelet to one side.
Pour more eggs onto the empty side making sure the raw eggs touch the tail.
Repeat the steps until you use up all the eggs.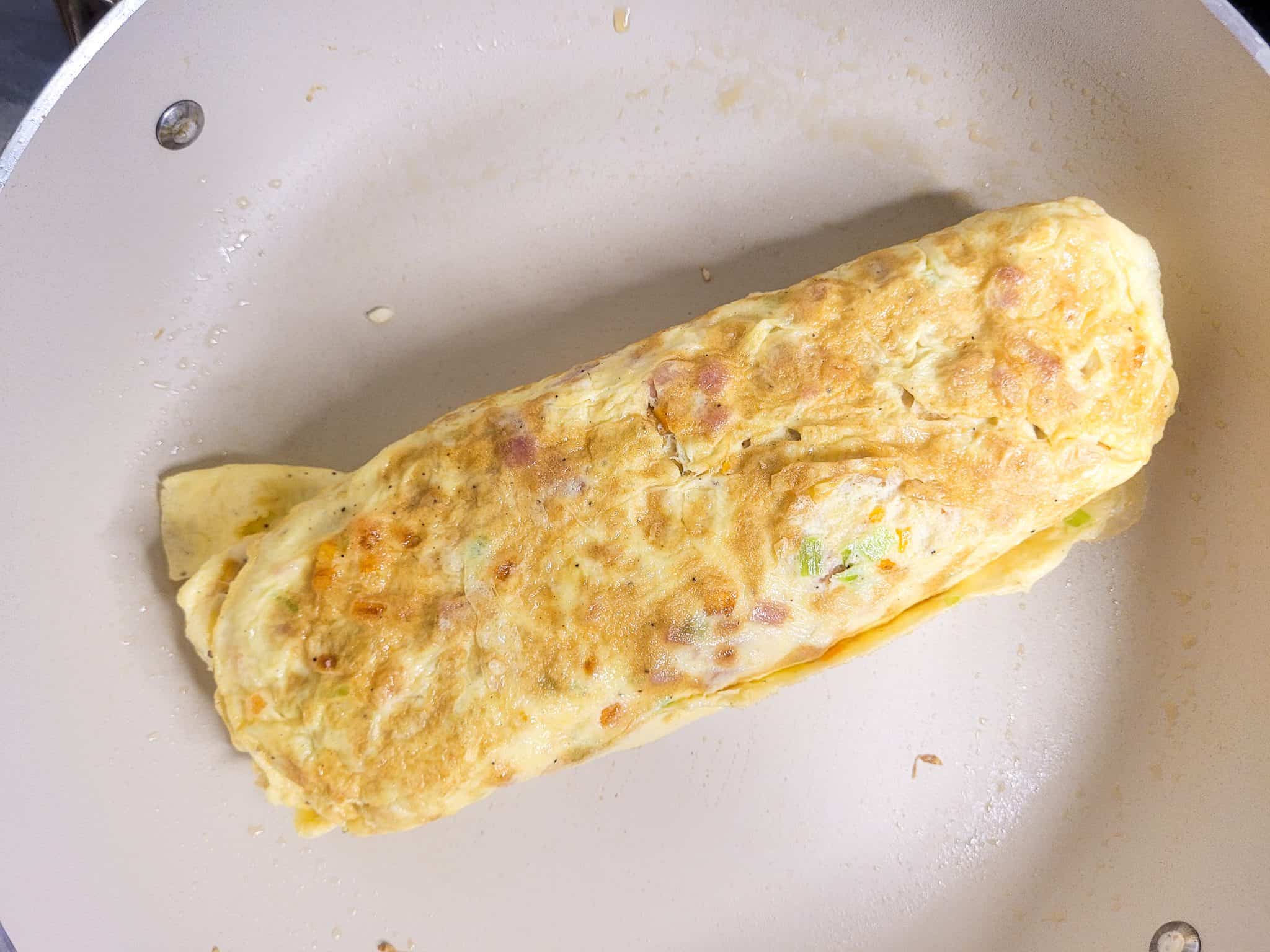 You are not quite done yet! You should now have a round, rectangular omelet log. Lock in the shape by carefully searing each side of the egg for about twenty seconds.
How to Serve
You can choose to top it with mayonnaise and ketchup. But my favorite thing to do is brush a bit of soy sauce and sesame oil along the top! Serve it as a drinking snack with somek, which is a mixture of three parts soju and seven parts beer. Orrrr... enjoy it as a simple breakfast for two!
Cheesy Gyeran Mari (Rolled Omelet) Recipe
A simple rolled omelet recipe with cheese in the middle.
Equipment
1 round cooking pan

1 spatula

1 mixing bowl
Ingredients
6

large eggs

40

grams

ham, diced small

optional

20

grams

carrots, diced small

20

grams

green onions (or leeks), diced small

salt & pepper, to taste

mozzarella or cheddar cheese

optional: use as little or as much as you want!
Instructions
In a large bowl, crack eggs. Add diced ham, carrots, green onions, and salt and pepper. Mix the ingredients together.

Lightly brush a pan with oil and set the heat on low. Add some egg mix to the pan, allowing it to spread. Make sure the egg mix makes a thin, solid layer that covers the bottom of the pan.

Add the cheese close to one side of the omelet leaving about a 3 cm (2 in) space from the edge.

When the egg has slightly solidified but still has a sticky surface, use a spatula to fold the edge over the cheese.

Continue to roll (or fold) the omelet until a few centimeters of the opposite edge remains, making a tail. Push the roll to one side, letting the tail face the open space of the pan.

Add more egg to the empty space and spread it across the pan making sure it touches the tail of the omelet. Allow the tail to connect with the raw egg as it cooks. Then continue rolling as the previous steps.

Repeat the step above until you use all the raw egg mixture. Lock the edges by searing each side of the omelet log for 20 seconds.

Slide onto a cutting board and slice across to make pieces. Serve immediately.
Nutrition
Calories:
122
kcal
Carbohydrates:
1
g
Protein:
11
g
Fat:
8
g
Saturated Fat:
3
g
Polyunsaturated Fat:
1
g
Monounsaturated Fat:
3
g
Trans Fat:
0.03
g
Cholesterol:
252
mg
Sodium:
217
mg
Potassium:
149
mg
Fiber:
0.3
g
Sugar:
1
g
Vitamin A:
1242
IU
Vitamin C:
1
mg
Calcium:
43
mg
Iron:
1
mg
Disclaimer: Nutritional values were calculated with the Spoonacular Food API and should be used for informational purposes only.
Have You Tried This Recipe?
Simply rate the recipe by clicking on the ⭐️s on the recipe card. Have something to say? Please leave me a comment down below telling me what you think of this recipe.
Bonus: Let me and other readers know what you did to make this recipe your own - 💫 let's inspire each other!
Also, follow me on Instagram [@seesfoodwilltravel] and send me a DM with a picture of what you made. I would love to share and celebrate YOUR creation with our budding community 💞
Check out Sees Food, Will Travel on Pinterest and Facebook for more delicious updates.