My friends and I recently returned from a brief weekend trip to Yerevan. Though I wish I had more time, I felt like I received a solid introduction to Armenia, its beauty, and its delicious food! This easy breakfast, lunch, and dinner guide represents Yerevan with its mix of old, new, and even (dare I say it?) hipster cuisine. All of them blend together to make an eccentric food scene that still supports its cultural values of generosity and friendliness.
Breakfast in Yerevan
We took the overnight train from Tbilisi to Yerevan in the middle of August - needless to say, it was hot! Although the train was pristine, the compartments were humid and warm due to the weather. Our sleep was very uncomfortable. We still wanted to make the most of the day when our train pulled into Yerevan at seven in the morning, so we decided to get some coffee for breakfast as soon as possible.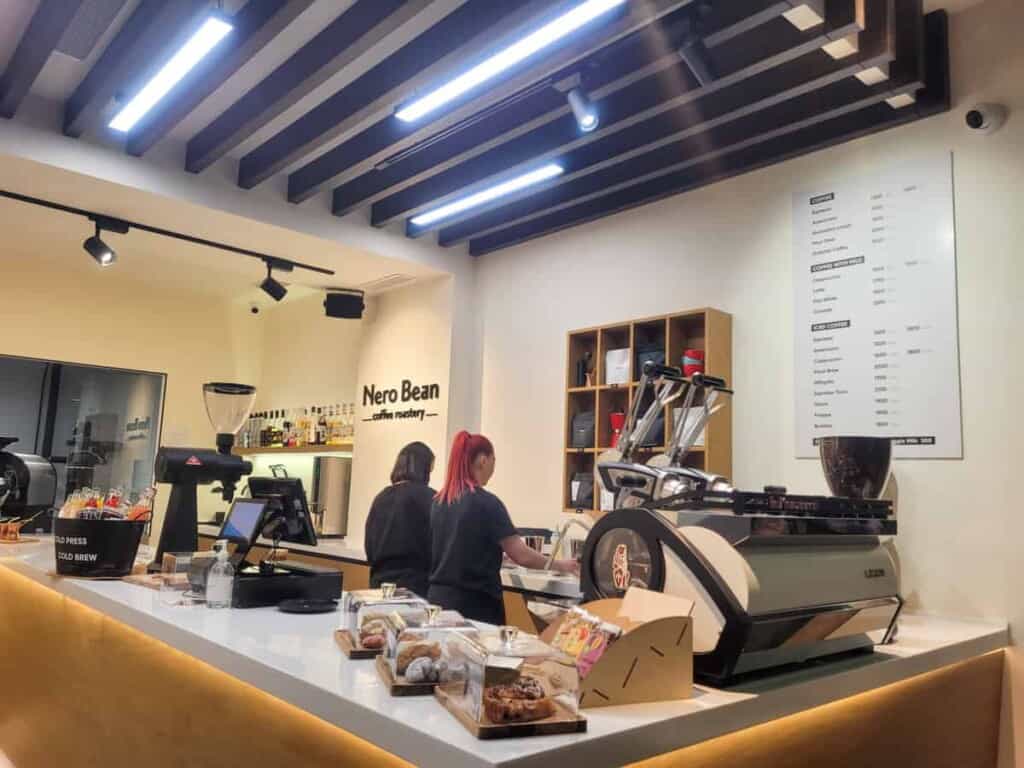 Nero Bean and Coffee Roastery is located in the basement of a business building, but don't let its location fool you. It is a full-blown roastery with a solid menu that includes technical coffee creations such as flash brew and Australian lungo. Our breakfast in this Yerevan cafe consisted of americanos over ice alongside a cookie as a palate cleanser. The air conditioning in the building also helped to keep us from melting in the early hours of the day. After sitting for a bit, we felt ready to take on the sights.
What to See Between Breakfast and Lunch
Yerevan's central area has a straightforward layout. You can walk the perimeter of the city center in less than a couple of hours if you are determined. But we decided to tackle the excursion by splitting the city area into halves. These are the landmarks we visited in the first half:
Republic Square - Way better at night, but a lot more crowded because of the fountain show. This city's center clearly depicts why Yerevan is nicknamed the "pink city." The towering buildings surrounding the fountain all exhibit a range of pink hues that delight.
Abovyan Street - From Republic Square, walk up Abovyan Street, and you can easily see why it may be the most interesting street in Yerevan. Stocked with cultural establishments, education, religious institutions, and shops, what is there not to see? My favorite stop was the historical Saint Katoghike Church.
The Cascades - Grab a bottle of water before heading up the Cascades. Check out the massive art installations at the base just before the ascent. As you climb, don't forget to stop now and then to catch the view of the city against Mount Ararat. When we visited that morning, it was quite cloudy so we couldn't see the mountain. But the view is still worth it!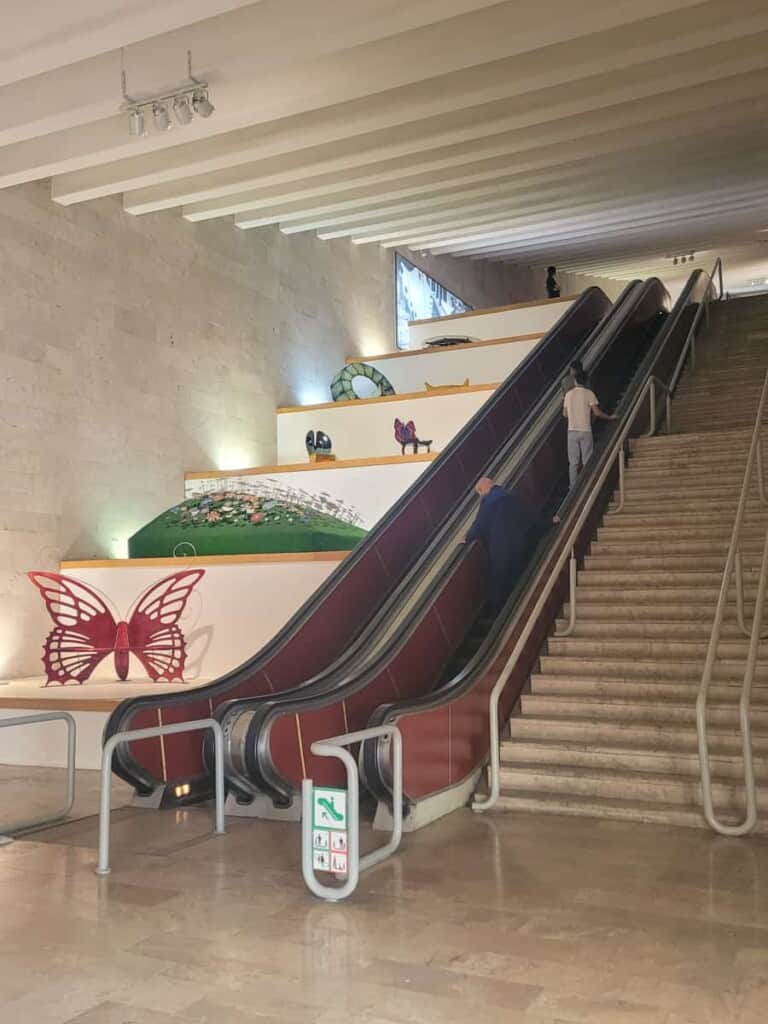 Tip You can walk up the outdoor steps of the Cascades, but there is a less torturous way to climb, especially on a hot day! Enter the building to the left of the Cascades, which is the entrance to the Cafesjian Center for the Arts. There, you will find escalators you can ride for free as you admire art installations along the way. Each escalator runs the equivalent of two outdoor levels and they will take you up to the second to the last completed level (The Cascades is still under construction). Use the outdoor steps to reach the top.
Lunch in Yerevan
If you have done all of the activities listed above, you might be famished by this point. Head back down towards Republic Square and stop at the Collective.
Several restaurants work in collaboration to service this conceptually developed space. We sat in the casual section for our first lunch in Yerevan, where we ate from Gallia and Afrolab Roastery's menus.
This meal was my first foray into Armenian food generosity. I ordered the chicken sandwich and an enormous flatbread panini arrived, large enough for two people! The salads and gourmet hot dogs were also large enough to share with two people. We finished our lunch with a second round of cold brew coffees for the day from Afrolab.
Explore the Other Half of City Central
Go Wine Tasting
Head northwest on Pushkin street and visit Voskevaz Wine Time. This Vozkevaz tasting room serves up some delicious Armenian grape varietals. Muscat grapes are plenty in Armenia, and they are fruity, bright, and crisp, making their wine easy to drink on a summer day. What you see on menus in Yerevan as 'white wine' are generally made up of Muscat varietals. For something unique, try Urzuna for flavors of berries and honey in a glass of dry white wine. Or you can go for the gold and try Voskhehat, also known as the Queen of Armenian grapes. It is a dry white wine with a distinct earthy flavor. Finally, try a red wine from Areni grapes, the oldest endemic type discovered in Armenia and full of red fruit notes.
We also shared some plates of nibbles including a basic meat charcuterie board and a delicious roasted pear with whipped blue cheese. Do not skip the pear!
See the Blue Mosque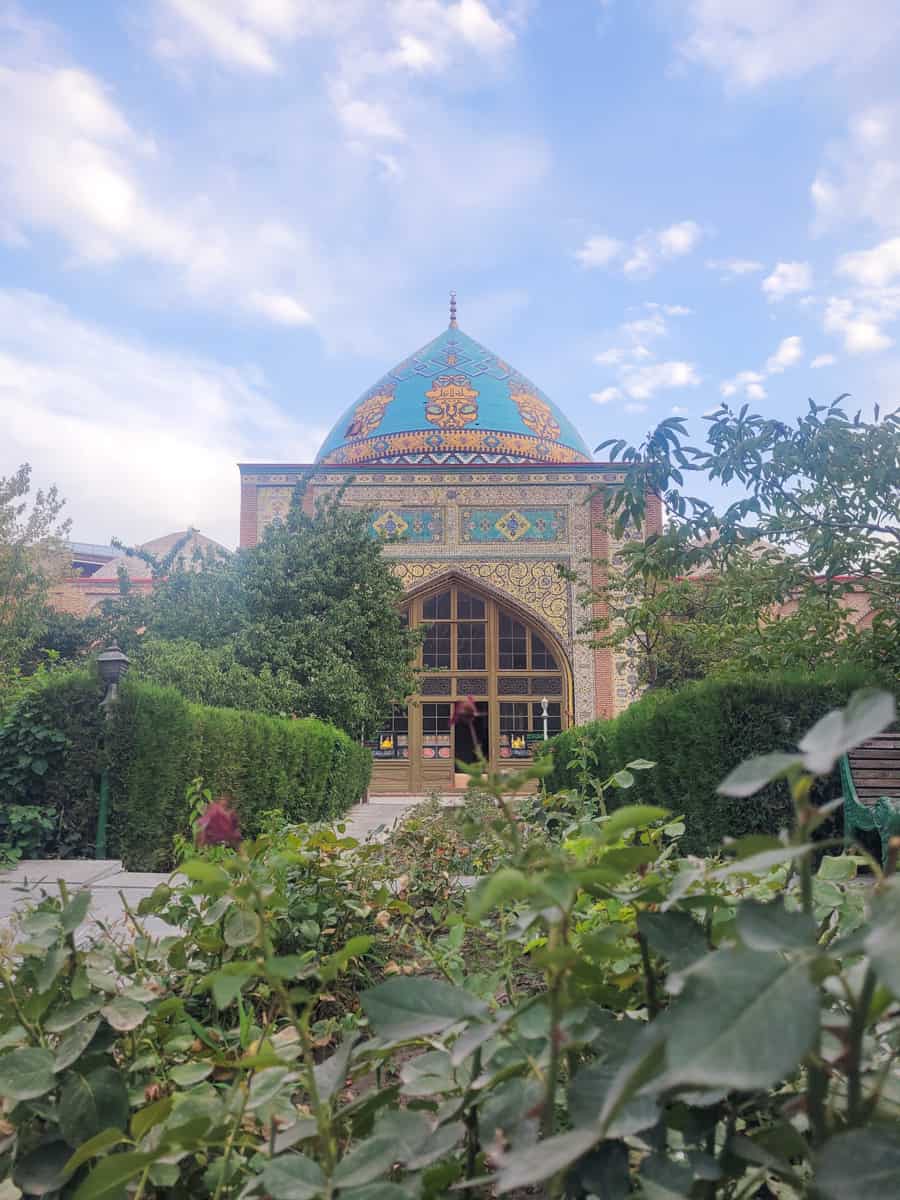 Suppose you have time (and energy!) to walk west towards the Blue Mosque. The mosque was closed when we reached this landmark at 7PM during our visit. You can still explore the gardens outside if you get to the Blue Mosque past closing as we did. Walking among the plants is a peaceful experience after a full day of activities.
Dinner in Yerevan
For dinner, we headed towards Yerevan Tavern, a chain restaurant that was the precursor to Yeremyan Projects. The restaurant aims to provide visitors with a cultural experience while allowing them to try traditional Armenian dishes. Given our short time in Yerevan, this was an excellent restaurant to try as many Armenian dishes as possible for dinner.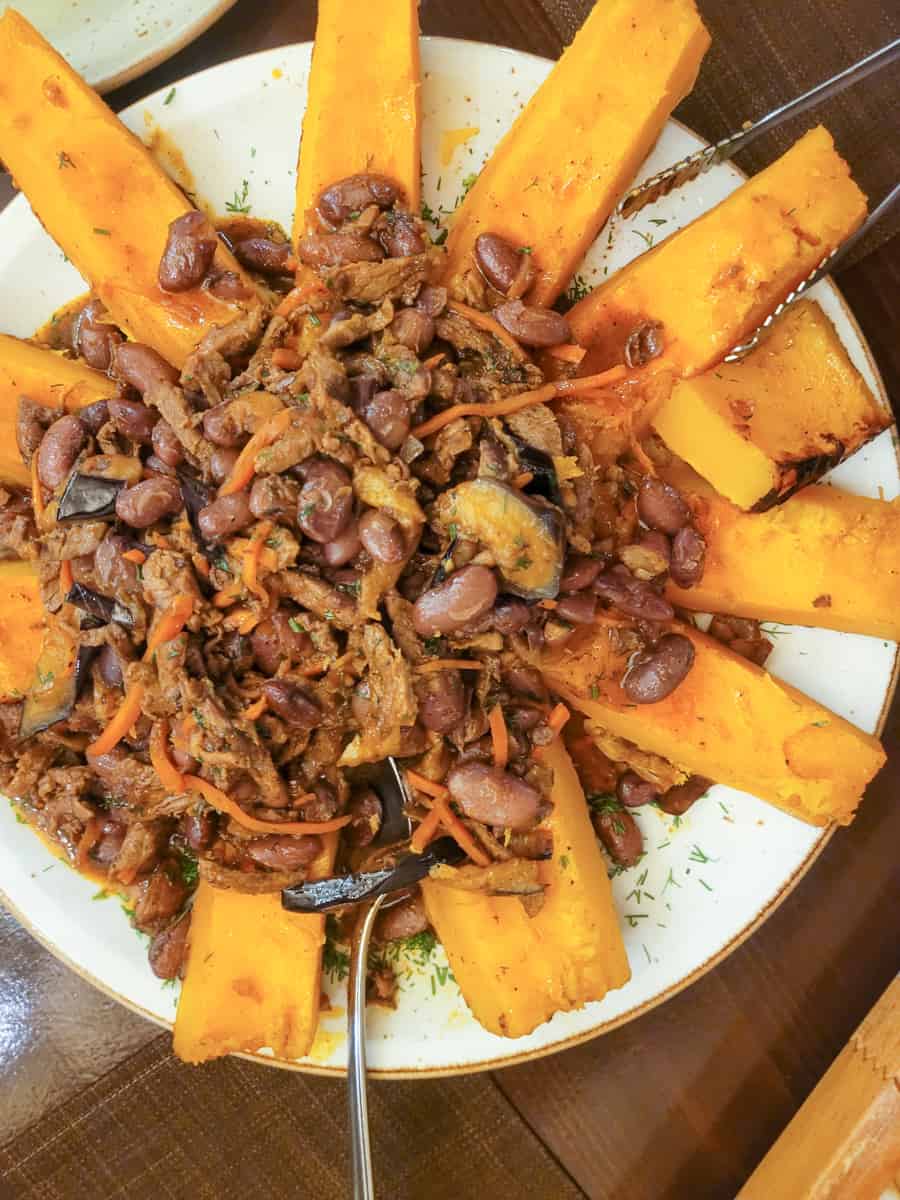 We ate the following Armenian dishes:
Ghapama of Erzurum - A pumpkin stuffed with meat and eggplant and then sliced apart before serving.
Khurjin - Also known as "bag knot," it's a large lavash bread wrapped around meat and vegetables.
Dolma - Armenian dolma separates itself from other nations' dolma with its juicy insides full of meat. The dolma consists of much less rice, and the taste is savory and rich, eliminating tangy notes other dolmas possess.
Arishta - A simple dish best described as noodles. Arishta is buttery with the texture of springy hand-pulled noodles.
Let me repeat that Armenian food portions are generous, and you do not need to order this much food! Needless to say, it was a challenge to finish all of the dishes. The four of us were nearly bursting after dinner. We felt like we had to walk the entirety of Yerevan all over again to burn it all off!
Yerevan has a vibrant food culture that continues to develop its own identity. In my short time visiting, I noticed more cosmopolitan eateries than traditional restaurants. This is understandable, given that most Armenians live abroad. Now, the younger generations are returning to the country, bringing with them their knowledge of international cuisine. In addition to up-and-coming fusion restaurants, I hope to also visit more traditional establishments on future visits.
So, although this is my first post on breakfast, lunch, and dinner in Yerevan, it won't be my last!
Breakfast, Lunch, and Dinner Yerevan, Armenia
Recommended:
Ice Americano
Cortado
Flash Brew
Bumble
Baked Goods
Recommended: (Gallia & Afrolab Menus)
Chicken Sandwich
Tropical Salad
Grilled Avocado Salad
Gallia Dogs
Angus Tartare
Coffee from Afrolab
Recommended:
Khurjin (lavash bread shaped like a bag knot filled with meat)
Tolma or Dolma (meat wrapped with grape leaves)
Ghapama of Erzurum (stuffed pumpkin with meat, vegetables, and beans)
Tried Some of These Places?
Please leave me a comment down below telling me how your trip went. Bonus: Let me and other readers know what you did to make this itinerary more interesting - 💫 let's inspire each other!
Also, follow me on Instagram [@seesfoodwilltravel] and send me a DM of the food you tried. I would love to share and celebrate YOUR experience with our budding community 💞
Check out Sees Food, Will Travel on Pinterest and Facebook for more delicious updates.