Churros - who doesn't like 'em? Quite a rhetorical question. Sugary, cinnamon-y, and crispy, it's a popular treat! Well, I decided to switch it up with this black sesame churro recipe that comes with a black sesame ganache dip!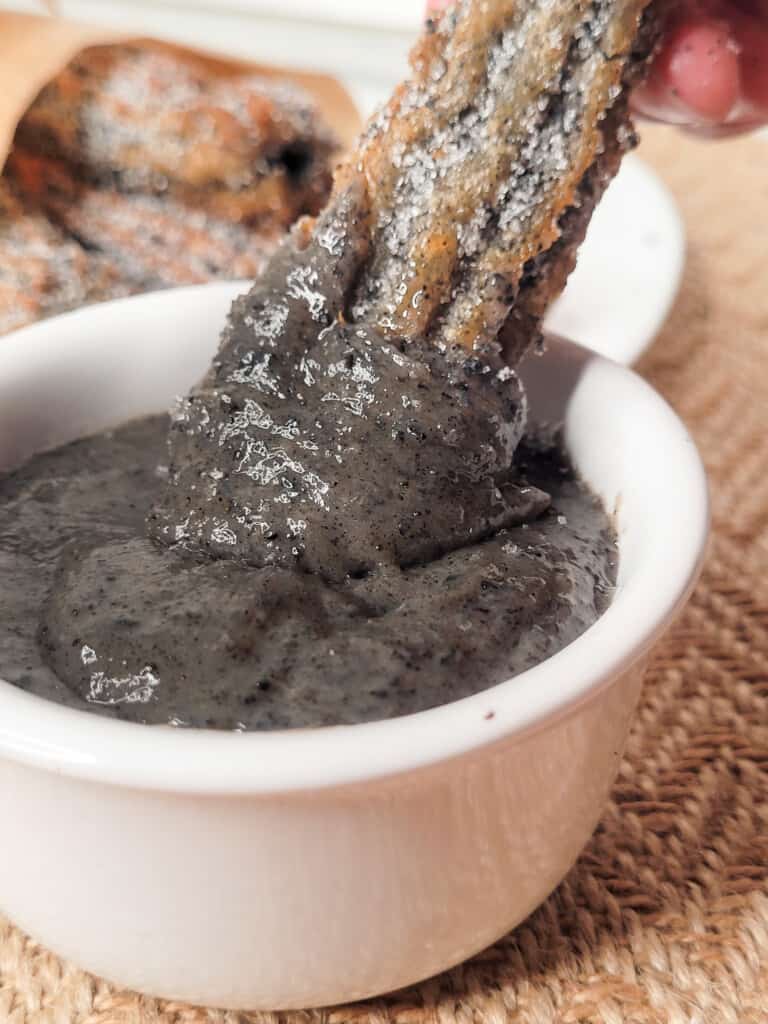 Jump to:
Why You'll Love It
I can give a few words on why this one might win you over: nutty, crispy, fluffy. 
If you are into black sesame seeds and its flavor, then I dedicate this churro recipe to you (but also see black sesame bun)!
The process and base ingredients are the same as your traditional beloved sticks of sugared dough - I didn't want to deviate too far. Then the black sesame gives it an interesting take. Plus the white chocolate black sesame ganache dip is just... chef's kiss!
Ingredients
Here are the ingredients you'll need:
Ground Black Sesame Seeds
All-Purpose Flour
Water
Egg
Unsalted Butter
Ground Black Sesame
Heavy Cream
White Chocolate Chips
Honey
Sunflower Oil, for frying
Substitutes
White Chocolate Chips: Try making a black chocolate ganache with the black sesame paste. Please note that this taste will result in a bolder flavor than using white chocolate chips.

Sunflower Oil: Any oil within the same smoke point that is also neutral should work just as well. Some options are: peanut, corn, or vegetable oil.
Equipment You'll Need
Churros are simple to make, but you do need some specific items to make them.
Piping Bag: You'll need one for piping the warm churro dough into its proper shape.

Cooking Thermometer: I was a non-thermometer user for a long time - but it does make a difference! Especially when it comes to frying. You want your oil to be within a certain temperature range to get crispy, well-cooked churros.
Piping End Tips for Churros
I decided to make this a section, since I wanted to get into it about what types of tips to use. Since I knew I was making bite-sized churros, I knew that I go could bigger on the tip. After some research, I decided to test out two that were recommended on several sites.

Ateco 869 Open Star (size 9): This tip was ginarmous. I also found the dough harder to control without a coupler because the opening was so big. The dough also expanded a bit when I fried pieces, so the ridges were shallower than I expected.


Ateco 849 Closed Star (.69" Opening): This is the one that worked well for this recipe. The dough was easier to control with the tip, which is helpful for beginners like me! The churros also kept their shape when fried, which maintained deep and crispy ridges.
Recipe Tips
Make Ground Black Sesame: You can make ground black sesame by throwing a bunch of black sesame seeds (about a cup) in a grinder and pulverizing them to a powder.
Go Manual: When you add the churro dough to a bowl and combine it with the egg, use a spatula to mix everything together. I say this from experience, using a spatula with your hand versus an electric beater will yield a softer dough that is easier to pipe.
Properly Size Your Churros: Your frying pot is only so big. So when piping churros, only pipe enough dough of each piece to a length that fits comfortably in your pot.
Bring Ganache to Room Temperature: After you make the black sesame ganache, you will refrigerate it to let it set. But before serving it up, take it out of the fridge and bring to room temperature. Mix it hard with a spoon to get a whipped ganache dip.
To Fill or Not to Fill: When the ganache is room temperature, the consistency is malleable and easy to pipe in the churros. Stuffed churros have more novelty, but listen - it takes more steps. So I recommend just using the black sesame ganache as a dip.
How to Make Black Sesame Churros
Here is a quick preview of the recipe steps:
Make black sesame powder.
Make churro dough in a pot.
Mix eggs and black sesame powder to churro dough.
Add churro dough to piping bag and pipe out churros. Freeze said churros.
Make black sesame ganache and refrigerate.
Fry the frozen churros and drain the oil.
Roll the churros in black sesame sugar.
How to Serve
Serve immediately with the ganache dip. These should be consumed right away so you can enjoy it while it's still warm and crispy. The best time to make them is for a party or with a group of friends!
Churros Frequently Asked Questions
Which piping tips should I buy to make churros?
The Ateco 849 closed star is a good choice for making short, medium-sized churros to fry in a medium pot.
What temperature should I fry frozen churros in?
A good range for frying frozen churros would be 330℉-350℉ (165℃-175℃). When you drop your first batch of frozen churros in the deep oil, keep the temperature range in mind and do not let the temperature drop too low or get too high.
Why do I have to freeze my churros?
Freezing churros before frying them makes sure you end up with a straight churro. When you pipe churro dough in the heated oil they tend to curl up as they cook.
Black Sesame Churros Recipe
It's an interesting combination, but it works oh-so well! If you like black sesame and crispy, doughy things then you'll like this as well!
Disclosure
The equipment and ingredients sections contain affiliate links to products I love to use as well as items that I personally believe make this recipe the best version of itself.
Ingredients
Churro Dough
56

grams

unsalted butter

2

tablespoon

granulated sugar

120

grams

all-purpose flour

235

grams

water

⅛

teaspoon

salt

1

large egg

2

tablespoon

ground black sesame seeds

sunflower oil

enough for deep frying
Black Sesame White Chocolate Ganache
120

grams

heavy cream

180

grams

white chocolate chips

4

tablespoon

ground black sesame seeds

½

teaspoon

honey
Rolling Sugar
100

grams

sugar

2

tablespoon

ground black sesame seeds
Instructions
Make Churro Dough
In a pot, add the sugar, salt, butter, and water. Place on medium low heat and let the butter and sugar melt.

Once the liquid just begins to simmer, turn off the heat and add the flour. Stir quickly to incorporate the flour until you have a dough that comes together.

Add the warm dough to a bowl and let it cool for about 5 mins. Add the egg and ground black sesame and mix together with a spatula until thoroughly combined.

Prepare a baking sheet and line it with parchment paper. Fill a piping bag with a star tip with the dough and pipe out churros about 3 to 5 inches (7 to 13 cm) on to the baking sheet. Place in the freezer for about 1 hour.
Make Black Sesame Ganache
In a small bowl, combine honey and ground black sesame to make a paste.

Make a double boiler by filling a pot with water and set it on medium heat. When it simmers, place a large glass bowl on top and add the white chocolate chips, black sesame paste, and heavy cream.

Gently mix everything as the chocolate melts. Keep mixing until you get a thick melted chocolate texture. Pour it into a bowl, cover, and let it set in the fridge.

After about an hour or before you fry the churros, take it out of the fridge. It will be very thick, like mousse. Bring it to room temperature by letting it sit on the countertop.
Make the Churros
Mix sugar and ground black sesame seeds on a plate to make the rolling sugar. Set aside for later.

In a pot, add enough oil to deep fry a few churros at a time. Heat the oil to a range 330℉-350℉ (165℃-175℃). Fry a few churros at a time while maintaining your temperature range, about 5 minutes or until a deep golden brown. Drain excess oil with sieve.

Roll the churros in the mixed sugar several times and set on a plate.

Whip the black sesame ganache dip until light and spoon some in a small bowl. Serve alongside the churros.
Nutrition
Calories:
261
kcal
Carbohydrates:
29
g
Protein:
4
g
Fat:
15
g
Saturated Fat:
8
g
Polyunsaturated Fat:
2
g
Monounsaturated Fat:
4
g
Trans Fat:
0.2
g
Cholesterol:
38
mg
Sodium:
48
mg
Potassium:
95
mg
Fiber:
1
g
Sugar:
20
g
Vitamin A:
288
IU
Vitamin C:
0.1
mg
Calcium:
94
mg
Iron:
1
mg
Disclaimer: Nutritional values were calculated with the Spoonacular Food API and should be used for informational purposes only.
Have You Tried This Recipe?
Simply rate the recipe by clicking on the ⭐️s on the recipe card. Have something to say? Please leave me a comment down below telling me what you think of this recipe.
Bonus: Let me and other readers know what you did to make this recipe your own - 💫 let's inspire each other!
Also, follow me on Instagram [@seesfoodwilltravel] and send me a DM with a picture of what you made. I would love to share and celebrate YOUR creation with our budding community 💞
Check out Sees Food, Will Travel on Pinterest and Facebook for more delicious updates.