These are a rendition of tea cakes, Mexican wedding cookies, or snowball cookies. What separates these cookies from other powdered sugar-dusted cookies is that they contain almond flour and extract. If you're into that enticing aromatic, nutty flavor, then these cookies will make your day.
Mexican Wedding Cookie vs. Russian Tea Cake vs. Something Else?
I originally came across these when I was eleven years old, and they were introduced to me as Russian tea cakes. I've since learned that these cookies have no true Russian origin. Over the years, I've heard names such as Mexican wedding cookies, snowballs, and shortbread balls used to address these dusty, sugary bites. I found a great breakdown of the origin of the Russian tea cake/Mexican wedding cookie. Since this is a flavored and tweaked version of this mysterious cookie, I will shamelessly add "almond tea cookie" to the mix.
Ingredients For Almond Tea Cookies
These are basically shortbread cookies (sans eggs) that include two types of flour. Their ingredient list is short but impactful.
Flour: All-purpose did well for this recipe.
Almond Flour: I use finely ground raw almond flour, so my cookies ended up with spots due to the ground almond skin from the plain flour. If you want a more uniform color, use blanched almond flour.
Butter: Using unsalted butter will control how much salt to add based on your preference.
Powdered Sugar: Using powdered sugar instead of granulated sugar will make a lighter cookie.
Almond and Vanilla Extract: We use the almond extract to flavor the cookies.
Chopped Pecans: Yup! I don't use chopped almonds for this recipe because I found them too hard and not as sweet as pecans. These nuts provide a softer and sweeter texture without overpowering the almond extract taste.
Salt: The recipe calls for a tiny amount of salt. Otherwise, it's to your taste.
How to Make Almond Tea Cookies
Preheat the oven to 325°F (160°C) and line a baking sheet with parchment paper.
In a bowl, cream the powdered sugar and butter together.
Combine the dry and wet ingredients and mix until you get a dough that comes together.
Add the extracts, and nuts, then use your hands to mix everything together. The nuts should be well incorporated throughout the dough.
Separate the dough into pieces that weigh about 20 grams. Then roll them between the palms of your hands to make a round shape.
Place the cookies on the lined baking sheet and bake them for about fifteen to twenty minutes.
Remove the cookies and let them cool before dusting them with powdered sugar.
Add some powdered sugar to a shallow bowl and roll the cookies in the sugar until fully covered.
How to Serve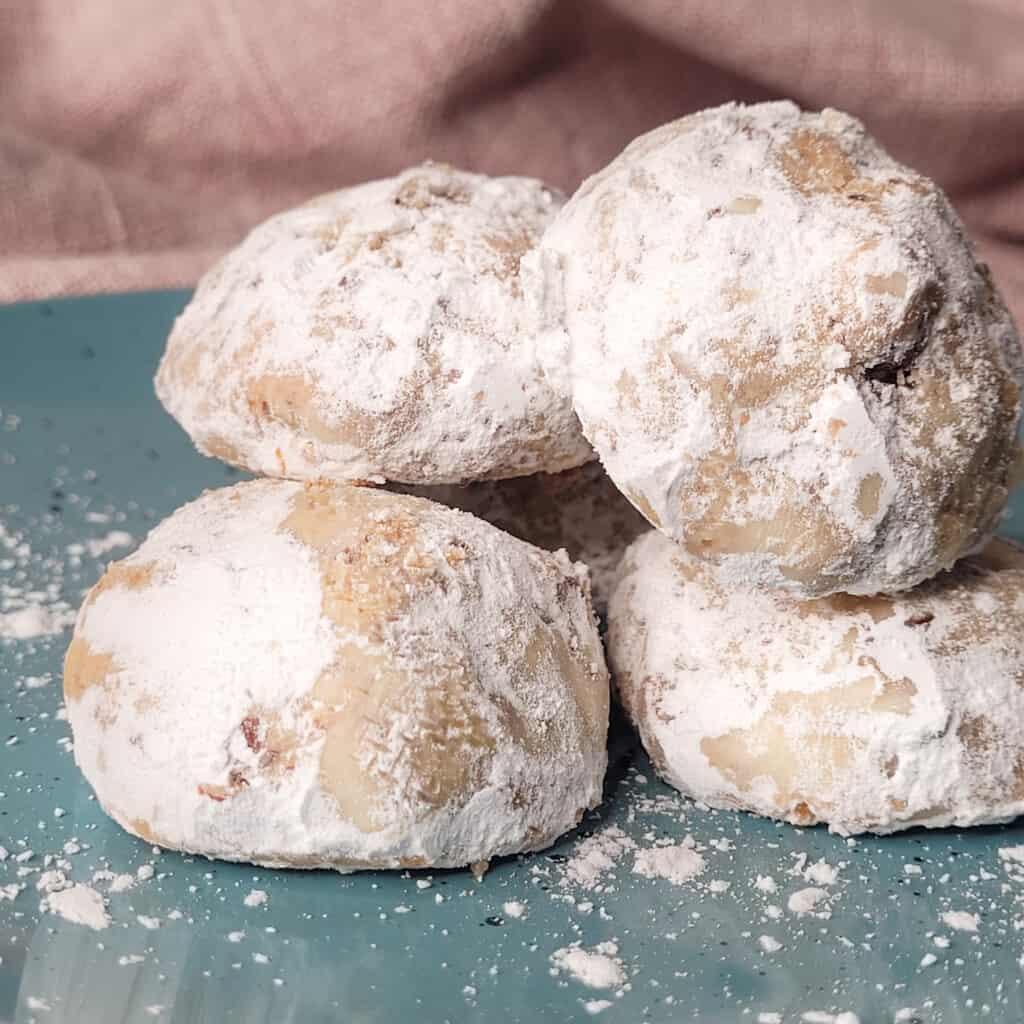 I love making a cup of tea or black coffee with these cookies. Since they are small, they are suitable for a short coffee break or a quick sweet pick me up. These cookies also last a long time since they don't have eggs in them.
Almond Tea Cookies
These cookies are a rendition of the more traditional Mexican Wedding Cookies or Tea Cakes that are basically shortbread with nuts and rolled in powdered sugar. They are perfect for pairing with a mug of tea or coffee.
Disclosure
The equipment and ingredients sections contain affiliate links to products I love to use as well as items that I personally believe make this recipe the best version of itself.
Ingredients
94

grams

all-purpose flour

24

grams

almond flour

113

grams

unsalted butter

25

grams

powdered sugar

75

grams

pecans, chopped

1

teaspoon

almond extract

½

teaspoon

vanilla extract

⅛

teaspoon

salt

powdered sugar for dusting
Instructions
Preheat oven to 325°F (160°C)

In a bowl cream together powdered sugar and butter.

Add all-purpose flour, almond flour, salt, and extracts. Then mix together.

Add nuts and mix gently. Dough should come together, refrigerate for at least 30 minutes until it's easier to form.

Weight out pieces of dough about 20 grams each and roll them into spheres with the your palms.

Place the shaped dough on a line baking sheet with parchment paper and bake for about 10-15 minutes. Allow cookies to cool completely before dusting with sugar.

In a shallow bowl, add powdered sugar. Then roll each cookie until well coated with powdered sugar.
Disclaimer: Nutritional values were calculated with the Spoonacular Food API and should be used for informational purposes only.
Have You Tried This Recipe?
Simply rate the recipe by clicking on the ⭐️s on the recipe card. Have something to say? Please leave me a comment down below telling me what you think of this recipe.
Bonus: Let me and other readers know what you did to make this recipe your own - 💫 let's inspire each other!
Also, follow me on Instagram [@seesfoodwilltravel] and send me a DM with a picture of what you made. I would love to share and celebrate YOUR creation with our budding community 💞
Check out Sees Food, Will Travel on Pinterest and Facebook for more delicious updates.