I was not too fond of tortang talong growing up. I admit that I was a picky eater who didn't eat her vegetables! But as an adult, I try to be creative with integrating vegetables into my daily diet. This dish has been a favorite of my adult life thus far because of how versatile it is! You can jump straight to three different ways of cooking tortang talong. I also have an easy hack on how to easily peel roasted eggplant here.
What is Tortang Talong
Tortang comes from the Spanish word torta, meaning omelet. Talong means eggplant in Tagalog. So "tortang talong" together means eggplant omelet. I think it's also a fun and amusing word to say in addition to how delicious and simple this dish is! I challenge you to try saying it five times fast. Another note, as you may have noticed, is that the eggplant stem stays on the entire time. This is the traditional mark of tortang talong.
Filipino eggplant omelet comes in many forms. It can be simply made with just eggplant and egg. Tortang talong can also be stuffed with additional protein such as ground pork (mostly giniling), seafood, and other types of meat. Its flattened shape is an excellent vessel for many additions.
Although I am not vegetarian, I find comfort in eating vegetable-filled Asian food. Tortang talong is one of the few Filipino foods that I consider vegetarian-friendly, next to monggo. Filipino cuisine dictates that meals include rice and ulam (meat protein accompaniment with rice). So if you are a vegetarian that eats eggs, tortang talong is a great Filipino food choice for you!
A Dish with Many Versions
This versatile dish can be as simple as you want it to be. Otherwise, you can add more ingredients to fill up on other vegetables or more protein. The simplest recipe of tortang talong is made by dipping the cooked eggplant in scrambled raw eggs before pan-frying it.
A second option for tortang talong is adding vegetables to your whisked eggs. While it cooks, pour some of the egg mixture over the eggplant. This is my favorite way to make tortang talong. I add tomatoes, green onions, and garlic. The different colors make the eggplant look pretty!
Elevate Tortang Talong with Giniling
I consider this third option a little more complicated because you need to make giniling ahead of time. Giniling is usually a sauteed mix of carrots, onions, potatoes, tomatoes, and ground pork. It is an adaptable dish used in many other Filipino dishes. But most of the time I eat it as ulam with white rice. Tortang talong with giniling is a thick and enriched version of the original. It has a lot of protein and vegetables added on top of your eggplant.
How to Make Giniling
A simple giniling includes the following:
400 grams ground pork
One small tomato, diced
One small onion, diced
One small potato, diced
One small carrot, diced
70 grams frozen peas
Three cloves garlic, minced
1 cup water
One cube chicken bouillon
2 tablespoon oil
Saute the pork, onion, and garlic on a hot pan with the oil. Then add water, chicken bouillon, peas, carrots, potatoes, and tomatoes. Simmer until almost all liquid has evaporated. You will end up with a basic giniling that you can add to your tortang talong when you cook it.
How to Make Tortang Talong
There are two main ways to prepare the eggplant before frying. The eggplant must be soft, so you can flatten it like an omelet.
Cooking the Eggplant
Option #1 You can boil your eggplant for 20-25 minutes and then let it cool. After cooling the eggplant, peel the skin. I found this method of cooking the eggplant tedious. The skin sticks to the eggplant, and it's hard to peel. I also found the eggplant taste too mild when cooked this way.
Option #2 Roast your eggplant via oven (broil) or on a grill for 20 minutes. Remember to flip the eggplant on its other side halfway through roasting, so that each side gets 10 minutes of direct heat. This method needs a watchful eye, but I found a trick that lets me peel eggplant easily with this technique. Make an X with your fork at the tip of the eggplant (non-stem end). This X will make it easier for you to peel the eggplant skin and save you a lot of time! Additionally, poke holes with a fork throughout your eggplant.
Make the Egg Bath
Crack eggs into a bowl and scramble with a whisk. Feel free to add whatever seasoning you want to include in the eggs. I typically go with soy sauce, but I have also used Chinese five spice and paprika. You can also add small diced vegetables, such as tomatoes, green onions, and garlic.
Three Ways To Cook
Simple Tortang Talong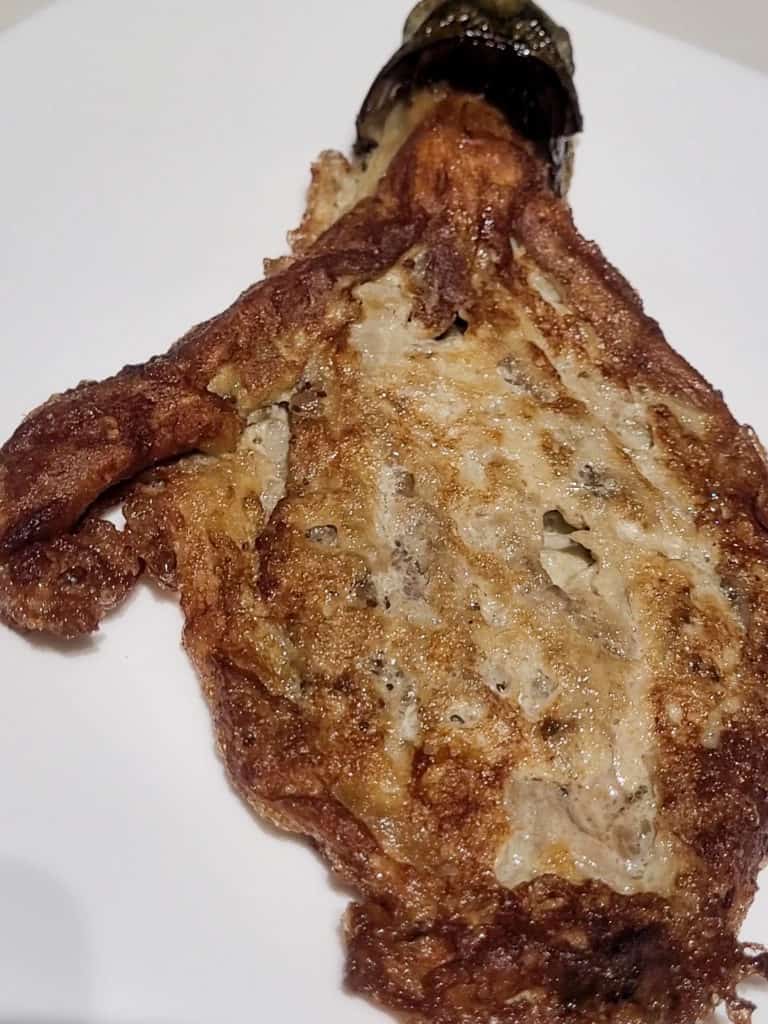 Whisk eggs in a shallow bowl
Add soy sauce and other seasonings to your taste
Smash the peeled eggplant into the egg, turn over and dip the other side
Pan-fry both sides
You may also end up with extra raw egg making tortang talong this way. So when you are cooking your last eggplant, feel free to pour the rest of the egg mixture on top of the eggplant. The eggs may spread quite a bit on the pan, so push the eggs towards the eggplant as it cooks.
Tortang Talong With Vegetables
In a shallow bowl, whisk eggs then add seasonings and vegetables of your choice.
Flatten the eggplant on a cutting board with a fork.
On a separate plate add some cornstarch and lightly dredge the eggplant.
Heat a skillet with oil and once it's heated, add about ¼ of the eggs and vegetable mix.
For the next step, layer the eggplant gently on top of the eggs. Fry the first side for two minutes and add more egg/vegetable on top of the eggplant, then continue frying for 30 seconds.
Then carefully flip it over and fry the other side for two minutes.
Tortang Talong With Giniling
Making eggplant omelet with giniling is similar to cooking it with vegetables. The main difference is that you won't add the giniling to the egg, nor will you need to add vegetables since giniling already has them. Follow the same steps of smashing the eggplant on a board and dredging it with cornstarch. Then follow the directions below on how to add giniling while cooking tortang talong.
Add about ¼ of the eggs and a spoonful of giniling in the center of the eggs.
Place the eggplant on top of the eggs.
Add more egg and giniling on top of the eggplant and continue to fry for another thirty seconds.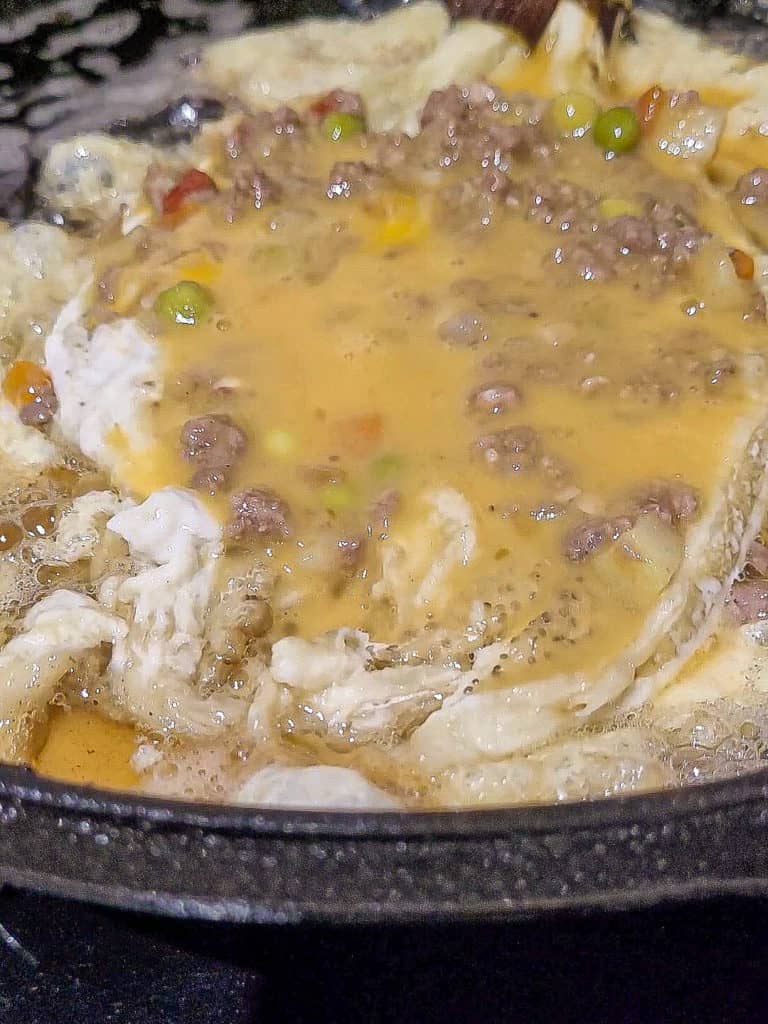 Gently flip the eggplant over and fry the other side for two minutes. You will have a crispy eggplant omelet that's soft and tender inside, filled with pork and vegetables.
How to Eat
Tortang talong is delicious by itself, but traditionally Filipinos eat it over steamed white rice. I also cannot eat tortang talong without a sauce made of two parts of all the following ingredients: soy sauce, vinegar, and lemon juice. Nowadays, I substitute calamansi juice for lemon juice since I cannot find calamansi where I live. But if you happen to come across calamansi in an Asian store, use it instead of lemon juice. The tortang talong is juicy, crispy, fleshy, and a little bit sweet. The sauce is tart, salty and savory. The eggplant omelet combined with the sauce is just a party of flavors!
Tortang talong is best eaten as soon as it is fried because the longer it sits, the softer it will become. I like to serve one eggplant per person when I make it with giniling. But if making the simple version, consider making two eggplants per person.
I hope you experiment and make your own additions to this tortang talong recipe. As with every other Filipino dish, everyone has their own version that creates a sense of familiarity and comfort. 
Have You Tried This Recipe?
Simply rate the recipe by clicking on the ⭐️s on the recipe card. Have something to say? Please leave me a comment down below telling me what you think of this recipe.
Bonus: Let me and other readers know what you did to make this recipe your own - 💫 let's inspire each other!
Also, follow me on Instagram [@seesfoodwilltravel] and send me a DM with a picture of what you made. I would love to share and celebrate YOUR creation with our budding community 💞
Check out Sees Food, Will Travel on Pinterest and Facebook for more delicious updates.
Tortang Talong
Tortang talong translates directly to "eggplant omelet" and is a favorite Filipino breakfast. It is simple to make, but delicious and filling. There are so many ways you make this dish your own so feel free to adjust as much as you please! You will be amazed after you eat an entire eggplant with this recipe.
Ingredients
2

large

Japanese eggplant

2

eggs

soy sauce or salt

to taste

other seasoning

suggestions: fish sauce, five spice, pepper, paprika, etc

diced vegetables

optional: green onions, garlic, tomatoes, etc

prepared giniling

optional
Tortang Talong Sauce
2

tablespoon

soy sauce

2

tbsp

fish sauce

2

tablespoon

lemon juice
Instructions
Roast Eggplant
Set oven to broil at 200°C (400°F)

Make an 'X' at the end of the eggplant with your fork

Poke additional holes in the eggplant and place in the oven on a lined baking sheet

Broil for 10 minutes then flip over and broil the other side for 10 minutes

Meanwhile, prep your egg bath by cracking eggs in a shallow bowl and whisking with your preferred seasonings. If you are making tortang talong with diced vegetables, add them to the egg at this step. Set aside.

Remove the eggplants from the oven and wait about 5 minutes to slightly cool the eggplants

Starting at where you made an X, peel the eggplant all the way to the stem and then cut all the skin off

Set a frying pan to medium heat and add oil, making sure the pan is about ¼ full.
Cooking with Just Eggs
Smash a peeled eggplant into the egg, turn over and dip the other side

Quickly transfer the eggplant to the pan and fry both sides for about 2 minutes
Cooking with Vegetables
Flatten the eggplant on a cutting board with a fork

Add 2 tablespoons of cornstarch to a plate, spread it around and lightly dredge the eggplant on both sides

Add about ¼ of the egg and vegetable mix in the pan, then place the eggplant on top

Fry the first side for 2 minutes

Add more egg/vegetable on top of the eggplant and fry for 30 more seconds, then carefully flip over and fry for another 2 minutes
Cooking with Giniling
Flatten the eggplant on a cutting board with a fork

Add 2 tablespoons of cornstarch to a plate, spread it around and lightly dredge the eggplant on both sides

Add about ¼ of the egg and giniling mix into the pan then place the eggplant on top

Fry the first side for 2 minutes

Add another spoonful of giniling on top of the eggplant and then pour some eggs on top

Continue frying for 30 seconds, then carefully flip over

Fry the other side for 2 minutes
How to Serve
Transfer the tortang talong to a paper towel-lined plate to drain the excess oil.

Make the sauce by combining the soy sauce, fish sauce, and lemon juice in a bowl and mix well

Serve the tortang talong while it's still hot and crispy

Eat with steamed, hot white rice and sauce