Tortang talong is a roasted eggplant dipped in whisked eggs then pan-fried until crispy. It's a popular Filipino breakfast that you eat with white rice. There are many different ways to make this Filipino eggplant omelet, so let me show you three of them!
Update Disclosure: This post has been updated for one or more of the following reasons: easier reading, updated photos, clearer instructions, and just plain ol' improvements to the recipe (as noted).
Jump to:
Ingredients
The basic tortang talong requires only a few ingredients:
Japanese Eggplant
Eggs
Soy Sauce
Neutral Oil, for frying
Yup! That's all you need to make a solid Filipino breakfast ulam!
Substitutes
Eggs: To truly make this a vegan dish, you can replace the eggs with vegan liquid eggs.


Soy Sauce: You can simply use salt and pepper to season your tortang talong instead of using soy sauce.
Recipe Tips
Roasting Eggplant: The traditional way is to grill eggplant in open fire. But it's tedious because the skin sticks to the flesh of the eggplant making it difficult to peel. You can roast the eggplants using the broil setting for twenty minutes in your oven instead.


How to Peel Eggplants Easily:



Perforate the Eggplant First: Take a paring knife and gently score an "X" at the base of the eggplant. Then score a line with the knife from each of the four points of the "X" along the sides of the eggplant. The eggplant should have four shallow perforations running down its length meeting at the base.


Roast in the Oven: Set the oven to broil at 200°C (400°F). Place the eggplants on a baking sheet then move the oven rack to the closest position to the top grills. Broil them for about twenty minutes or until tender.


Cool and Peel: Remove the eggplants from the oven and let them cool. Then slowly peel the skin like a banana. It should come off easily!



Have Rice Ready: I believe tortang talong tastes best alongside hot white rice. Traditionally, it is eaten this way along with a sauce. So make some rice ahead of doing this recipe.
How to Make Simple Tortang Talong
A traditional tortang talong involves the following steps:
Roast and peel eggplants, then smash them flat.
Whisk eggs and soy sauce in a bowl.
Heat a pan with some oil.
Dip both sides of the eggplant in the egg.
Transfer to the hot pan and fry both sides.
Two More Variations
Vegetable Tortang Talong
Dice some of your favorite vegetables and add it to the bowl of whisked eggs.
You will cook this version by pouring some eggs in the preheated pan first.
Place the eggplant on top as the eggs cook.
Add more of the vegetable-egg mix on top of the eggplant.
Flip it over to continue cooking.
Giniling Tortang Talong
Giniling is made by cooking a mix of carrots, onions, potatoes, tomatoes, and ground pork together. It's used as filling or as an ingredient in other Filipino dishes. Here, we use it as a topping to the tortang talong.
Make giniling and then let it cool.
Proceed to roast and flatten the eggplants.
Then whisk eggs and soy sauce in a bowl.
Dip the eggplant into the eggs.
Add a scoop of eggs to the heated oil in the pan.
Add a scoop of giniling, then place the eggplant on top.
Cook on that side until you can flip it over.
I consider this option a little more complicated because you need to make giniling ahead of time. Also, the eggplant will be heavier so it will be harder to flip. Proceed with caution on this one, but it's well worth it!
How to Eat
Tortang talong is delicious by itself, but traditionally Filipinos eat it over steamed white rice. This recipe also comes with a sauce that goes perfectly with it!
Tortang talong is best eaten as soon as it is fried because the longer it sits, the softer it will become losing its crispiness.
Let me know what style of tortang talong you end up making!
Frequently Asked Questions
What is tortang talong in English?
Tortang comes from the Spanish word torta, meaning omelet. Talong means eggplant in Tagalog. So tortang talong together means "eggplant omelet".

You may have noticed that the eggplant stem stays on the entire time. This is the traditional mark of tortang talong.
Filipino eggplant omelet comes in many forms. The simplest way to make it is with just eggplant and egg.

Do I have to grill tortang talong?
No! You can broil tortang talong in the oven for about twenty minutes until the flesh is soft. I added instructions on how to easily peel the skin in the tortang talong recipe below.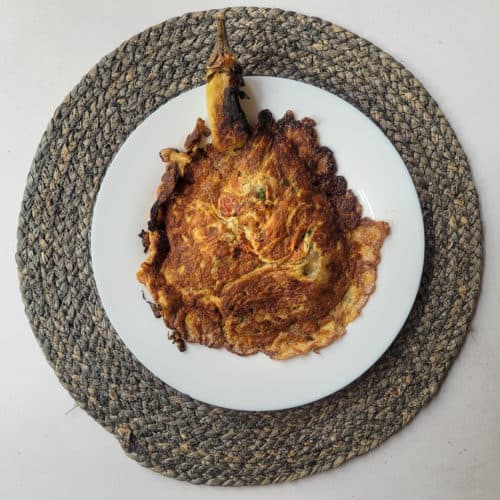 Filipino Eggplant Omelet (Tortang Talong) Recipe
Tortang talong translates directly to "eggplant omelet" and is a favorite Filipino breakfast. It is simple to make and the most basic version only needs four ingredients! There are so many ways you can make this dish your own so feel free to adjust as much as you please.
Ingredients
2

large

Japanese eggplants

3

eggs

soy sauce or salt

to taste

other seasoning

suggestions: fish sauce, five spice, pepper, paprika, etc

diced vegetables

optional: green onions, garlic, tomatoes, etc

prepared giniling

optional

2

cups

cooked white rice

to eat with

2

tablespoon

neutral oil, for frying
Tortang Talong Sauce
2

tablespoon

soy sauce

1

tbsp

fish sauce

1

tablespoon

lemon or calamansi juice
Instructions
Roast Eggplant and Make Egg Dip
Set oven to broil at 200°C (400°F). Make an "X" at the base of the eggplant with your knife.

Score the length of the eggplant by running lines from the four points of the "X". Repeat step #1 and #2 to the second eggplant. Place the scored eggplants on a baking sheet and broil for about 10 minutes on each side.

Meanwhile, prep the egg mix by cracking eggs in a shallow bowl and whisking in seasonings such as soy sauce. If you are making tortang talong with vegetables, add them to the egg at this step. Set aside.

Remove the eggplants from the oven and let them cool for about 5 minutes. Gently peel the eggplants like a banana.

Flatten the eggplant with a fork. Set a frying pan to medium heat and add oil, making sure the bottom of the pan is covered in oil.
Cooking with Just Eggs
Dip the smashed eggplants in the egg mix making sure both sides are coated.

Quickly transfer the eggplant to the pan and fry each side for about 2 minutes until crispy.
Cooking with Vegetables
Add about ¼ of the egg and vegetable mix in the pan.

As it cooks dip the flattened eggplant in the egg mix coating both sides, then place the eggplant on top of the eggs cooking in the pan.

As the first side fries, add more of the egg-veggie mix on top of the eggplant and fry for 30 more seconds. Spoon some oil on top of the eggplant to help the eggs cook and solidify.

Then carefully flip over and fry for another 2 minutes or until crispy and solid.
Cooking with Giniling
Add about ¼ of the egg and giniling mix into the pan and while the eggs are still watery, place the smashed eggplant on top. Fry the first side for 2 minutes.

Add another spoonful of giniling on top of the eggplant and then pour some eggs on top.

Continue frying for 30 seconds, then carefully flip over. Fry the other side for 2 minutes until crispy.
How to Serve
Transfer the tortang talong to a paper towel-lined plate to drain the excess oil.

Make the sauce by combining the soy sauce, fish sauce, and lemon juice in a bowl and mix well.

Serve the tortang talong while it's still hot and crispy alongside some cooked white rice.
Nutrition
Calories:
246
kcal
Carbohydrates:
30
g
Protein:
9
g
Fat:
10
g
Saturated Fat:
2
g
Polyunsaturated Fat:
5
g
Monounsaturated Fat:
3
g
Trans Fat:
0.1
g
Cholesterol:
123
mg
Sodium:
906
mg
Potassium:
368
mg
Fiber:
4
g
Sugar:
5
g
Vitamin A:
205
IU
Vitamin C:
4
mg
Calcium:
41
mg
Iron:
1
mg
Disclaimer: Nutritional values were calculated with the Spoonacular Food API and should be used for informational purposes only.
Have You Tried This Recipe?
Simply rate the recipe by clicking on the ⭐️s on the recipe card. Have something to say? Please leave me a comment down below telling me what you think of this recipe.
Bonus: Let me and other readers know what you did to make this recipe your own - 💫 let's inspire each other!
Also, follow me on Instagram [@seesfoodwilltravel] and send me a DM with a picture of what you made. I would love to share and celebrate YOUR creation with our budding community 💞
Check out Sees Food, Will Travel on Pinterest and Facebook for more delicious updates.