You may already know about lumpia, the Filipino spring roll filled with meat and vegetables. Today, I want to introduce to you a recipe of the cousin of Filipino lumpia called lumpiang sariwa (fresh lumpia). Full disclosure, it is called fresh because it's 'fresher' than the deep-fried version! I prefer the lumpia sariwa from other spring roll recipes because it has a pleasant texture and unique taste. Jump to the step-by-step guide on how to make lumpiang sariwa, from the filling to its wrapper, here.
What is Lumpiang Sariwa?
Lumpiang sariwa, otherwise known as fresh lumpia, is essentially a thin crepe wrap filled with partially cooked vegetables and meat. Partially cooked vegetables and a thin egg crepe wrapper make lumpiang sariwa distinct from fried lumpia. So yes, this 'fresh' lumpia is fresh relative only to the deep-fried lumpia, but you would still have to cook the vegetables. The final element of this fresh lumpia recipe is a brown sugar peanut sauce topping that needs to be spread on top of it before eating.
There are, of course, different versions of fresh lumpia, depending on the region of the Philippines. But the three main elements of lumpiang sariwa include the filling, the crepe wrapper, and a thickened brown sweet sauce.
The Filling for Lumpiang Sariwa
There are many assorted vegetables you can use. The vegetables I included in this lumpiang sariwa recipe can all be replaced with your own. A base medley usually contains carrots, onions, garlic, and cabbage. Then you can add whatever you'd like to stir fry. Snake beans would be traditionally included for an additional crisp, but sometimes they are not easy to find. You can use regular green beans, fresh or frozen (thawed before using) instead. Heart of palm is also another traditional filling, but it may be difficult to find. Other filling ingredients could also include tofu, chicken, or other chopped meat. 
The recipe at the bottom of this post calls for essential vegetables that you can find in most supermarkets. I included napa cabbage, carrots, wax beans, chicken, sweet potatoes, and green onions.
I challenge you to come up with your own combination! The best thing about stir-frying vegetables is that you can easily adapt this recipe to what is available for you.
How to Make Fresh Lumpia
Putting together this dish is a tedious process. Making sure that you have all three parts of lumpiang sariwa ready before assembling them will make this recipe easier. 
First, chop all of your vegetables and meat filling, and prepare a large frying pan to partially cook the food. If you are cooking it with meat, cook the meat first until all liquid has disappeared before adding the vegetables.
How to Cook the Lumpiang Sariwa Filling
Tip Cook your vegetables based on how quickly they take to cook. Hardy vegetables should go first. Cook them for no more than three minutes before adding in other vegetables.
Add the cabbage last and add a bit of water to slightly soften the cabbage and cook off all liquid. Then once all the filling elements are in the pan, add the fish sauce and salt and pepper to season the dish to your taste.
Tip Water could soak your vegetables. If you end up with a soggy filling, the crepe wrapper could break when you try to roll the lumpia. Wet vegetables will make wrapping difficult for you.
Make sure that your vegetables only have a little liquid left in the pan before transferring them to a bowl to set aside.
How to Make Lumpiang Sariwa Wrapper
Combine the cornstarch and flour and mix them into the bowl of cream. Crack the eggs into the mixture, whisk, and finally add the oil. Slowly add water to thin the consistency of the crepe batter - use more or less to your preference.
Tip The crepe batter should have a thin consistency, or else it would be difficult to spread across the pan. If you think the crepe batter is too thick, feel free to add water to thin the consistency.
Heat up a crepe pan or a frying pan and spread about a quarter cup of the batter onto the pan. Lift up the pan and swirl the batter around to cook the crepe. The crepe is ready to flip when you see that underside bubbling slightly. Flip it over and cook the other side for no longer than two minutes before transferring it to a plate.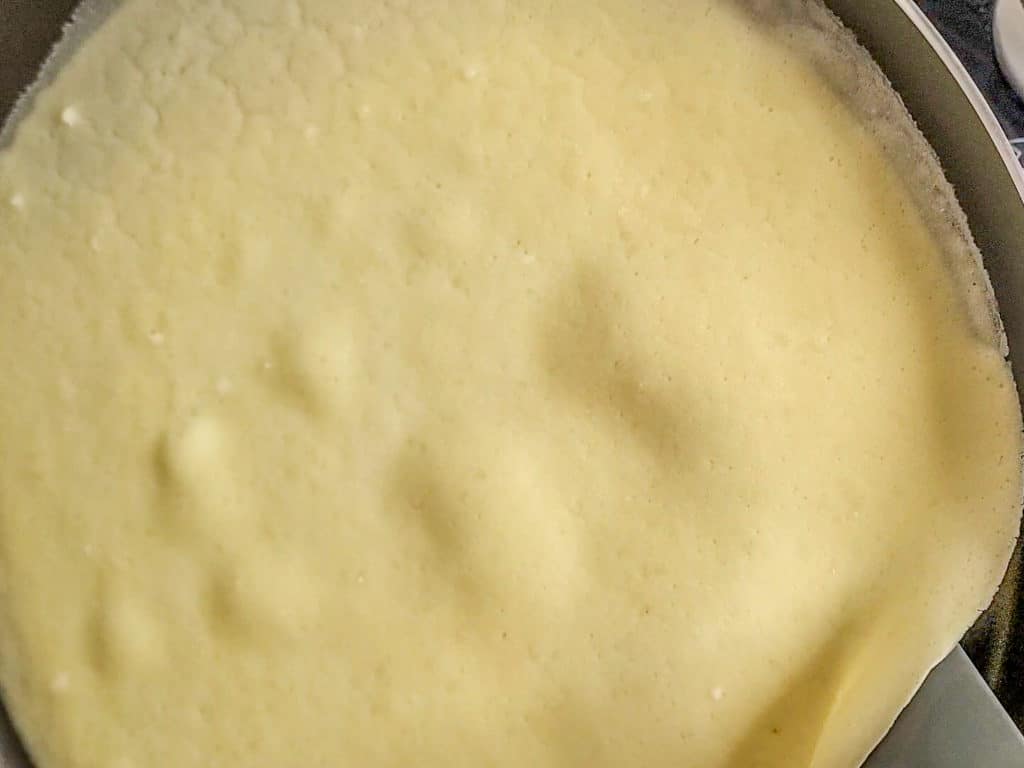 Make a stack of the crepes and set it aside.
Make the Lumpiang Sariwa Sauce
Mix soy sauce, brown sugar, garlic, cornstarch, water, and peanut butter. Whisk all of the ingredients together until cornstarch lumps have disappeared.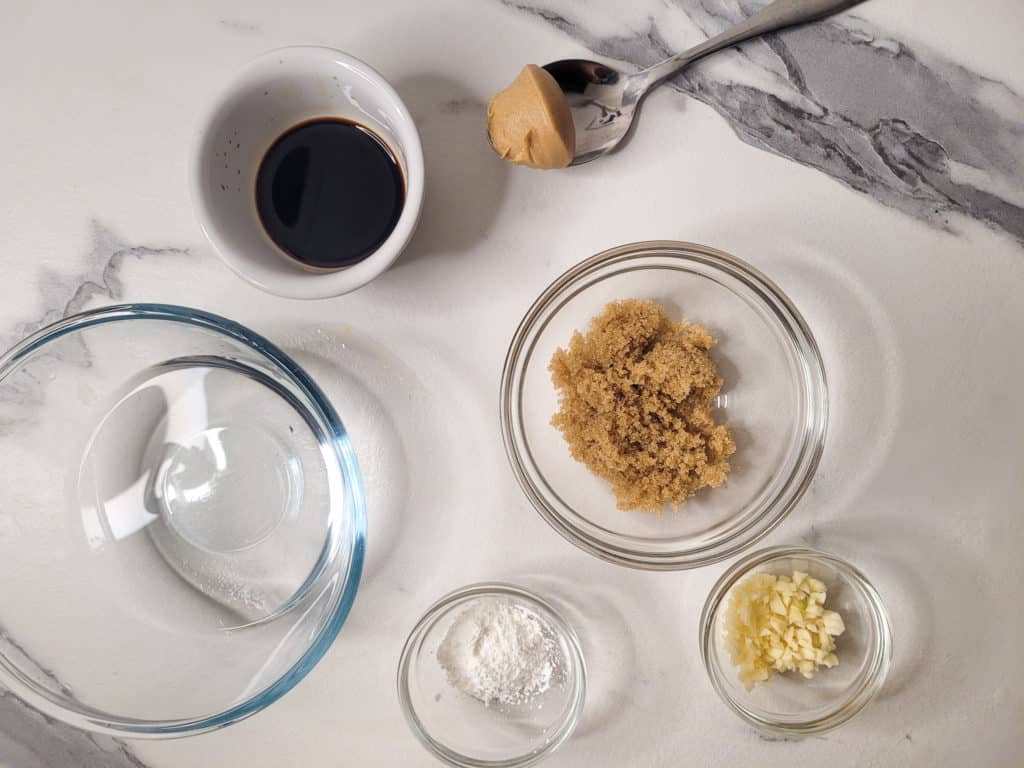 Pour the mixture into a saucepan and boil the mixture to thicken the sauce. Then when you reach your desired thick consistency, remove it from the pan and set it aside.
Putting Everything Together
Set up a workspace where you can easily reach for filling, wrapper, and sauce. On a flat surface, place a crepe and a piece of lettuce alongside one edge of the crepe.
Spoon some of the fillings in the center of the crepe. I like to add as much filling as possible because I enjoy a stuffed lumpiang sariwa. Just make sure that you can still roll the crepe without the filling tearing it open.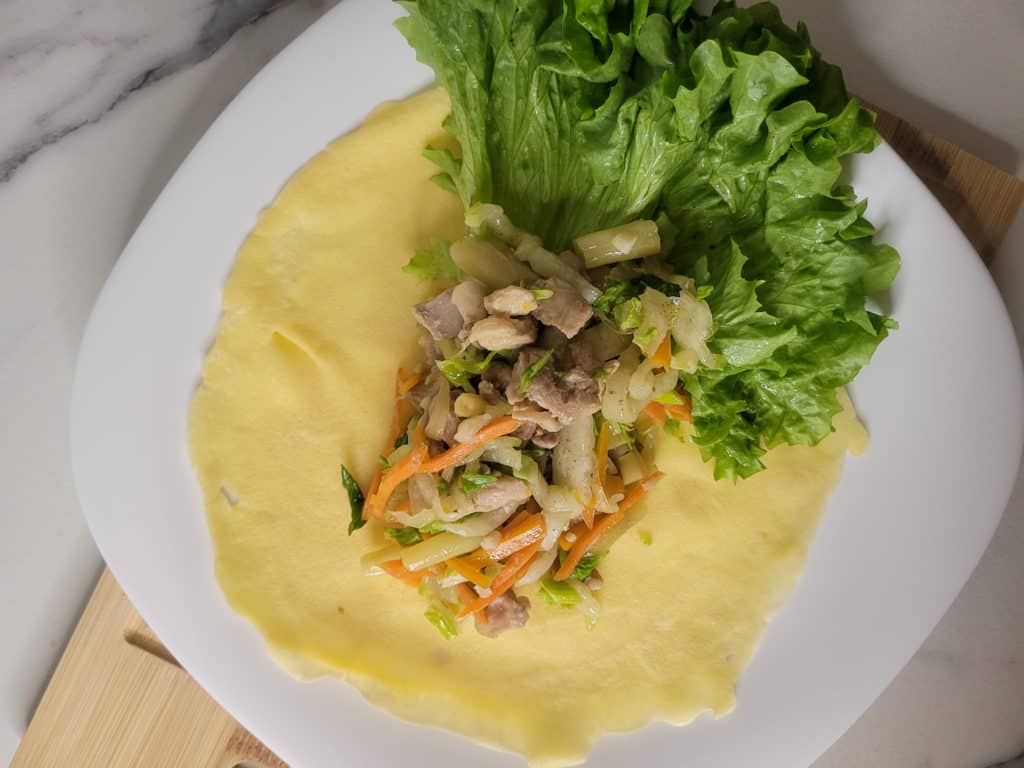 Gently begin to roll the crepe, similar to a burrito, and fold the edge opposite of the lettuce to keep the vegetables from falling out.
Repeat the process until you use up all of your crepe wrappers. Place the fresh lumpia rolls in a container if you are not eating them right away.
How to Eat Fresh Lumpia
Before serving fresh lumpia, spoon some brown sugar peanut sauce on the roll and add crushed peanuts as an additional optional topping. Unlike other spring rolls, fresh lumpia is not a finger food! It is placed on a plate and should be eaten with a fork and knife.
Storing Lumpiang Sariwa
Although fresh lumpia is best eaten as soon as it is put together, you can store fresh lumpia in a container in the fridge for a few days before serving. Before eating fresh lumpia from the refrigerator, take it out twenty minutes before serving to bring it to room temperature. Slightly warm up the brown sugar sauce before topping the roll with it.
If you are interested in other Filipino veggie-filled dishes such as this lumpiang sariwa recipe, check out the post on tortang talong!
Lumpiang Sariwa (Fresh Lumpia)
Fresh lumpia or lumpiang sariwa is a great alternative to fried lumpia. But full disclosure, this is a treat that it uniquely its own! Full of vegetables, protein and wrapped in a delicate soft egg crepe, you'll wish that you knew about lumpiang sariwa sooner!
Ingredients
Filling
500

grams

chicken thighs, deboned and skinless chopped into small pieces

1

medium

onion, julienned

3

cloves

garlic, minced

1

medium

carrot, julienned

½

head

napa cabbage, shredded

60

grams

green beans

optional

1

small

sweet potato, julienned

optional

60

grams

water

3

tablespoon

fish sauce

6

lettuce leaves

for wrapping
Wrapper
60

grams

all-purpose flour

30

grams

cornstarch

120

grams

cream

175

grams

water

1

teaspoon

salt

3

tablespoon

vegetable oil

2

eggs
Sauce
3

tablespoon

brown sugar

2

teaspoon

soy sauce

175

grams

water

1½

teaspoon

minced garlic

1½

teaspoon

cornstarch

1

tablespoon

peanut butter
Instructions
Make Filling
Heat some oil in frying pan

Add the chicken and fry the chicken until all liquid has disppeared and chicken is browned

Add minced garlic, onions and cook with the chicken together

Add carrots and sweet potato then cook for 3 minutes

Add green beans and cook for 2 minutes

Add napa cabbage, fish sauce, and water then cook for 2 minutes

Make sure liquid has evaporated and put the filling in a bowl then set aside
Make Wrapper
Mix flour and cornstarch in a bowl with cream

Add egg, salt, oil and whisk until lumps disappear

Slowly add water a little at a time to thin the crepe

Pour a quarter cup of the batter onto a heated crepe pan and cook until bubbles form on the underside

Flip the crepe and cook for another 1 minute then place on a plate

Repeat the process until you use all of the batter
Make Sauce
In a bowl, whisk together brown sugar, garlic, soy sauce, water, cornstarch, and peanut butter

Pour the mixture into a sauce pan and boil to thicken the sauce. When the sauce has thickened remove from the heat.
Assemble
Place crepe on a flat surface

Add a piece of lettuce leaf on the edge of a crepe

Add filling in the middle, then roll the crepe like a burrito

Spoon some sauce on top of the lumpiang sariwa
Disclaimer: Nutritional values were calculated with the Spoonacular Food API and should be used for informational purposes only.
Have You Tried This Recipe?
Simply rate the recipe by clicking on the ⭐️s on the recipe card. Have something to say? Please leave me a comment down below telling me what you think of this recipe.
Bonus: Let me and other readers know what you did to make this recipe your own - 💫 let's inspire each other!
Also, follow me on Instagram [@seesfoodwilltravel] and send me a DM with a picture of what you made. I would love to share and celebrate YOUR creation with our budding community 💞
Check out Sees Food, Will Travel on Pinterest and Facebook for more delicious updates.