Siopao asado is a term used for a Filipino steamed bun filled with braised meat in a deliciously sticky, sweet, and savory sauce. I'll get into the origins of Filipino steamed buns later. Still, I want you to know that it does distinguish itself from its cousin, the charsiu bun. I like to believe that this siopao asado recipe, with its easy-to-make sauce, is easier to make than charsiu buns. My favorite type of buns are either baked (for empanadas) or steamed (filled with just about anything!). The bun dough also doesn't require too much time proofing, but they are still fluffy and structured enough to keep the filling from spilling out. Go here if you want to jump to the recipe with a step-by-step guide with pictures.
History of Siopao Asado
The two names of this bun are the perfect example of the Philippines' diverse historical influences. Siopao asado means "steamed bun with braised meat." The first word, siopao, is a word that has Chinese roots, while asado comes from Spain. Siopao comes from the word baozi which means "steamed bun" in Chinese. There are two meanings for the word asado in Tagalog: grilled and braised meat. But asado in the Philippines is a given name to specific Filipino dishes instead of how the Spanish use the word asado, as an adjective that means "roasted."
In this bun, asado is the braised meat dish cooked and cooled before being added to the bun dough. You can add other fillings to siopao, which is the steamed bun. Another popular siopao filling is called bola-bola, which I can best describe as a meatball in a bun.
Siopao Asado vs. Charsiu Bao
There is a tendency to compare siopao asado to the Chinese charsiu bao. The taste is similar, but the process of making the filling is very different. Charsiu bao is made with charsiu, a style of barbecued pork that takes some time to make, then braised in a sauce. The siopao asado recipe entails a more straightforward process: take some fatty pork, brown it, and then braise it in a sauce.
Another distinguishable difference that sets Filipino buns apart is their significant size. One siopao is the size of about two or three charsiu bao. Because an individual piece is a substantial size, you don't need to sit down and eat multiple portions. We make Filipino siopao to be eaten as a snack on the go. You would purchase a piece or two from a street vendor and go on your way. Char siu bao are dim dum dishes where you sit in a banquet hall, hail down ladies pushing carts, and eat them as you take a purposeful break from the day.
How to Make Siopao Asado
There are two parts to this siopao asado recipe. First, you must start cooking the filling because it needs to be cooled down before adding it to the dough. The second part is making the bun dough while making the filling. You will need to set some time in your day to make these buns, but they are worth it! You will be rewarded with a soft fluffy bun filled with tasty sweet pork.
Make the Filling
Before cooking, make a slurry by taking cornstarch and mixing it in the portioned water. This slurry will be the thickener to the sauce later on when cooking.
Heat some oil in a pan and brown the pork pieces until all liquid has evaporated. The pork should be thoroughly browned, and some pieces could have a seared side. This will help create a flavor with more depth in the end result.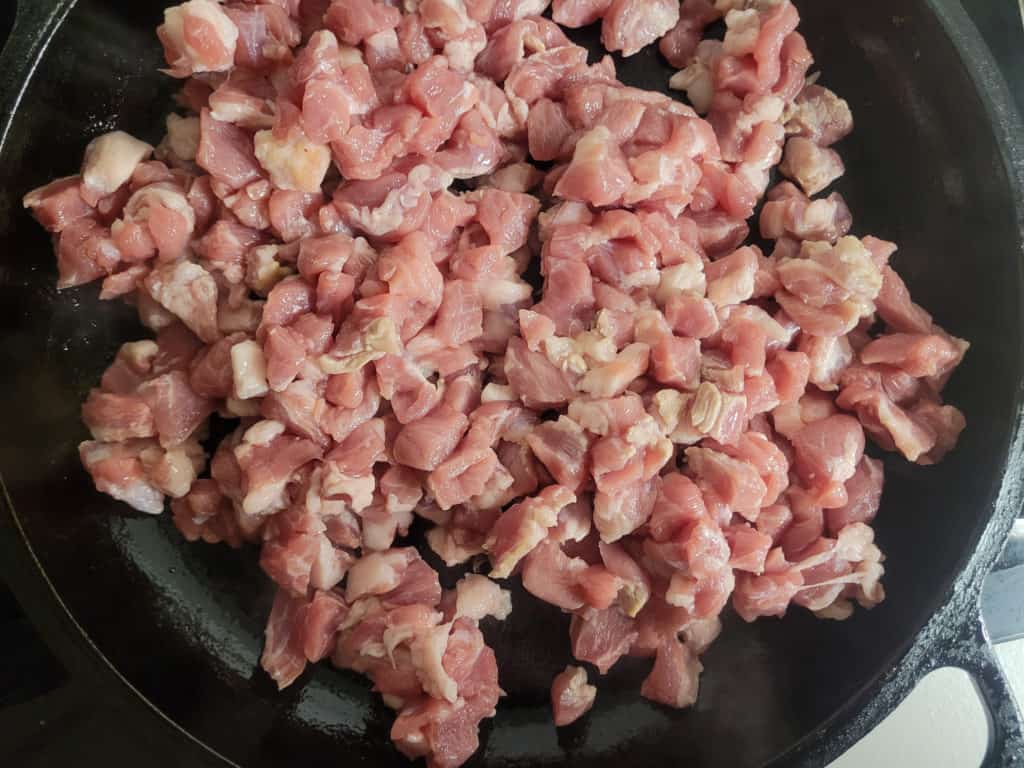 Add the garlic and onion to the pork and mix them in. Cook them together for about two minutes on medium heat. The onions and garlic shouldn't burn or shrink. We want the texture of both onions and garlic to be present in the filling.
Next, add soy sauces, oyster sauce, and sugar, then mix them with the pork pieces and aromatics.
After making sure that the pork is coated with the sauces, add the water and cornstarch slurry, then set the heat to a low setting. Allow the meat to braise on the low heat for about forty to fifty minutes. If the sauce is drying up in the middle of braising, add some more water to continue braising. Continue braising until the sauce is thick and the soft.
Tip Test the meat for tenderness after about thirty minutes. If you find that it's still too hard, add another ten minutes to your braising time. Add more time if you feel like it's not tender to your liking after forty minutes. I actually like a bit of bite to my filling, so it provides a contrast to the soft fluffy dough!
After you finish braising the meat and it is tender to your liking, remove the filling from the heat. Pour it into a bowl and set it aside at room temperature to cool for about an hour.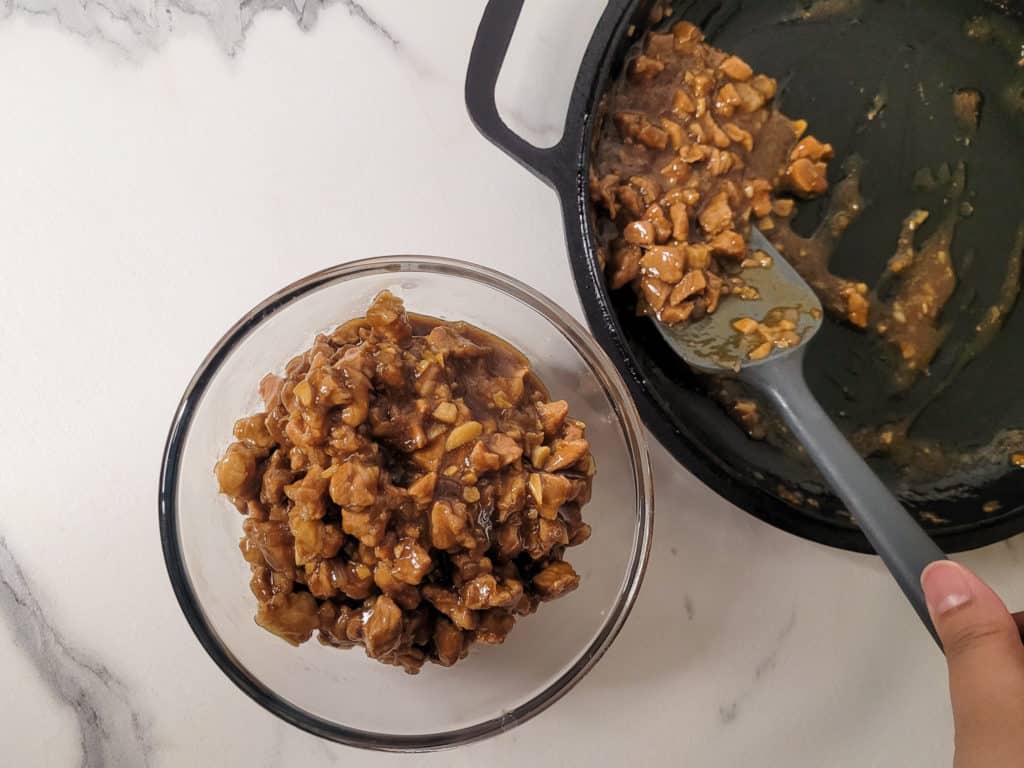 Make the Dough
Prepare two bowls, one large and one small. Add the yeast, one tablespoon of sugar, and warm water to the small bowl. Mix together vigorously, then cover it and set it aside to bloom for about ten minutes. In the meantime, add the flour, the rest of the sugar, and the baking powder, and whisk the dry ingredients to incorporate them together.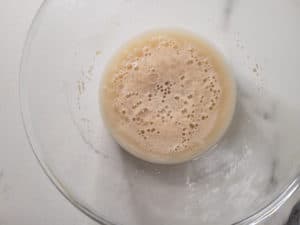 Add the bloomed yeast to the flour mixture and mix them together until the dough comes together. Start by kneading in the bowl to ensure no pieces or flour stick on the sides. Then move the dough to a clean flat surface to knead for about ten minutes until it becomes smooth when you form a ball. Split the dough into eight equal pieces and shape them into round balls.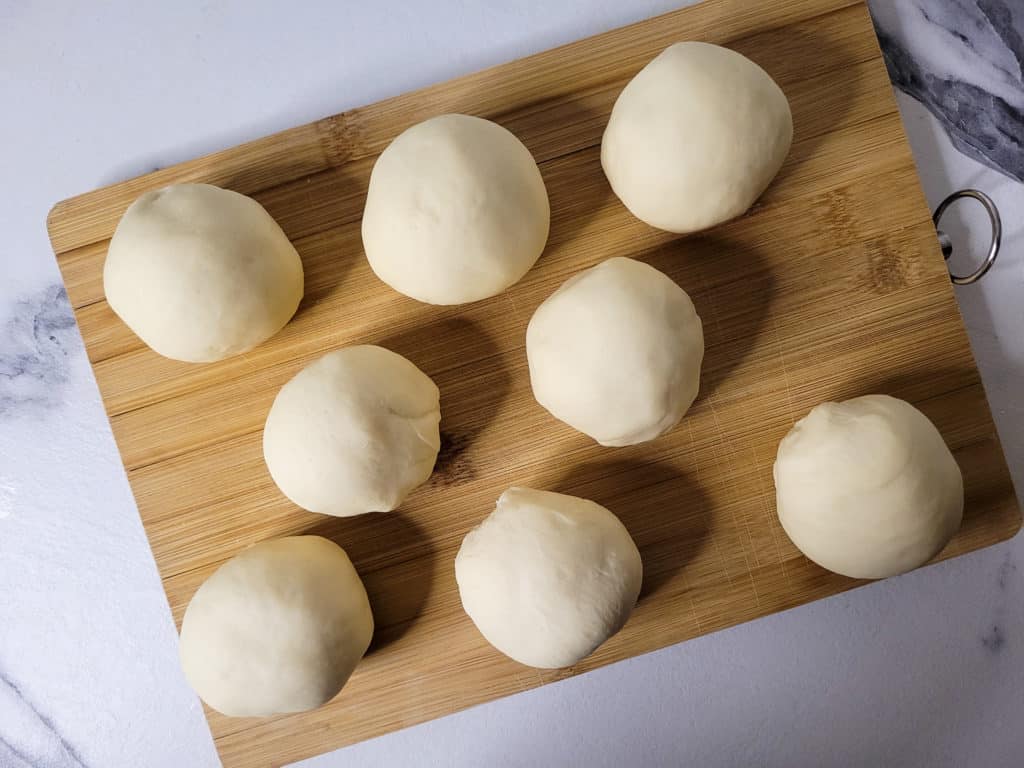 Build the Siopao Asado
Work with each dough one at a time and keep the rest of the dough covered so they don't dry out. Take one ball and roll it into a flat circle keeping the middle part of the dough thick so it doesn't break when you make the bun.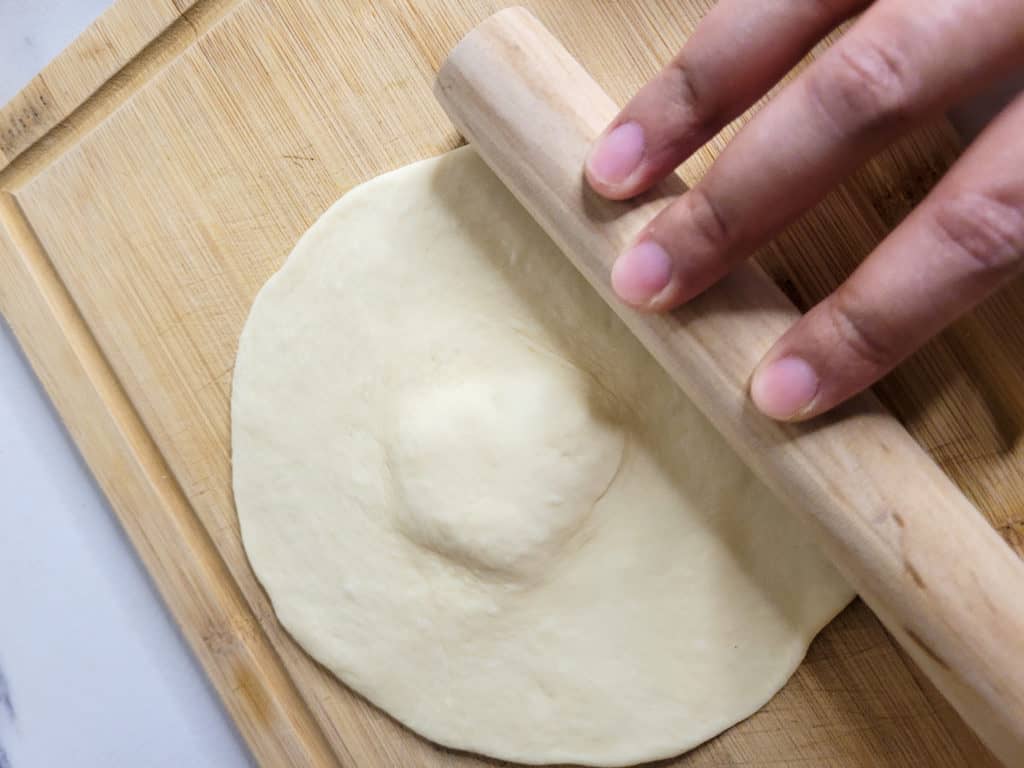 Place some filling in the middle and pinch the edges together to close the bun. You can also pleat the edges to seal them to make a rippled look on top of the bun.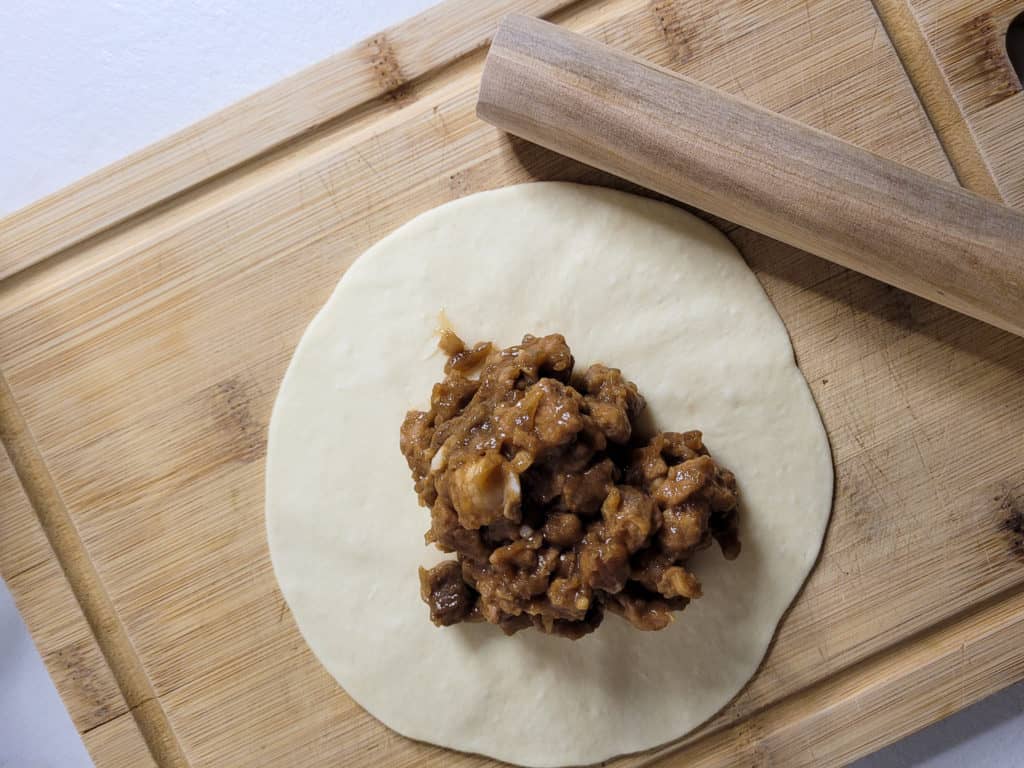 Filipino buns typically have a slice of boiled chicken egg or salted duck egg. It's an optional ingredient to add to the filling. Still, because I grew up seeing a piece of boiled egg in steamed buns, I associated them with Filipino buns! Feel free to add a slice of a boiled egg at this step.
Tip Before building the buns, take some parchment paper and cut them into squares so you can stick them at the bottom of each bun.
When you finish constructing all the buns, cover them to let them proof for forty minutes, up to an hour. Once they are proofed, you are ready to steam!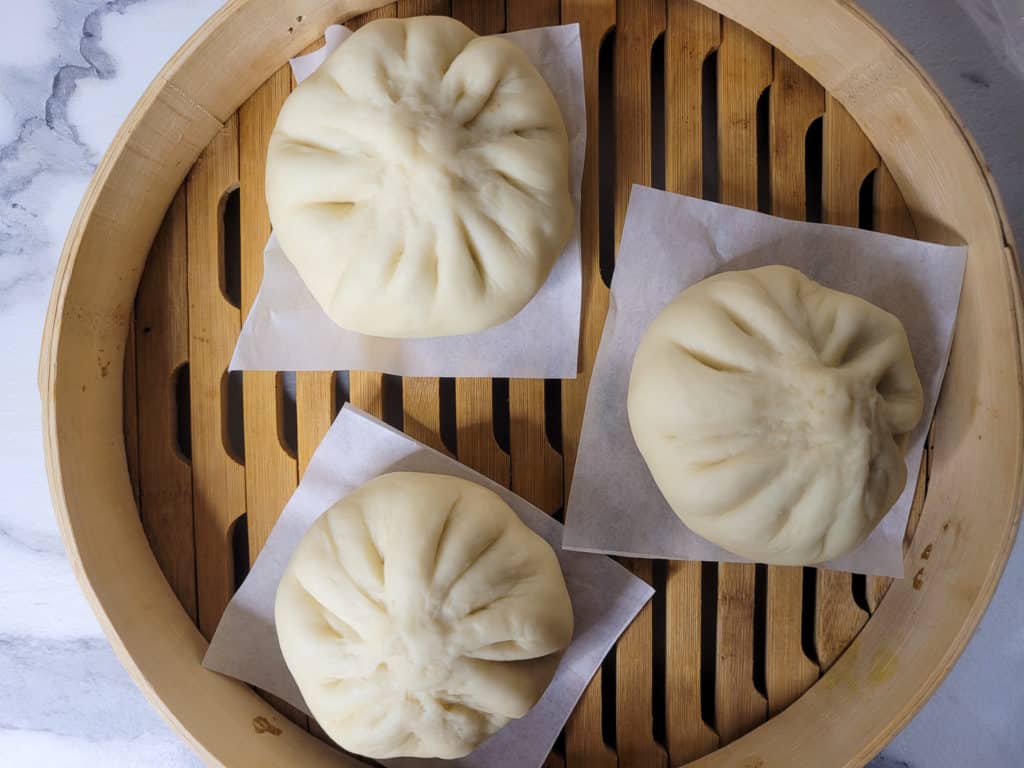 Steaming Siopao
Fill a large stockpot with water about halfway and bring it to a low boil. Once it's boiling, place some proofed buns in a bamboo steamer about one inch apart. You will need the space between the buns because they will grow in size when you steam them.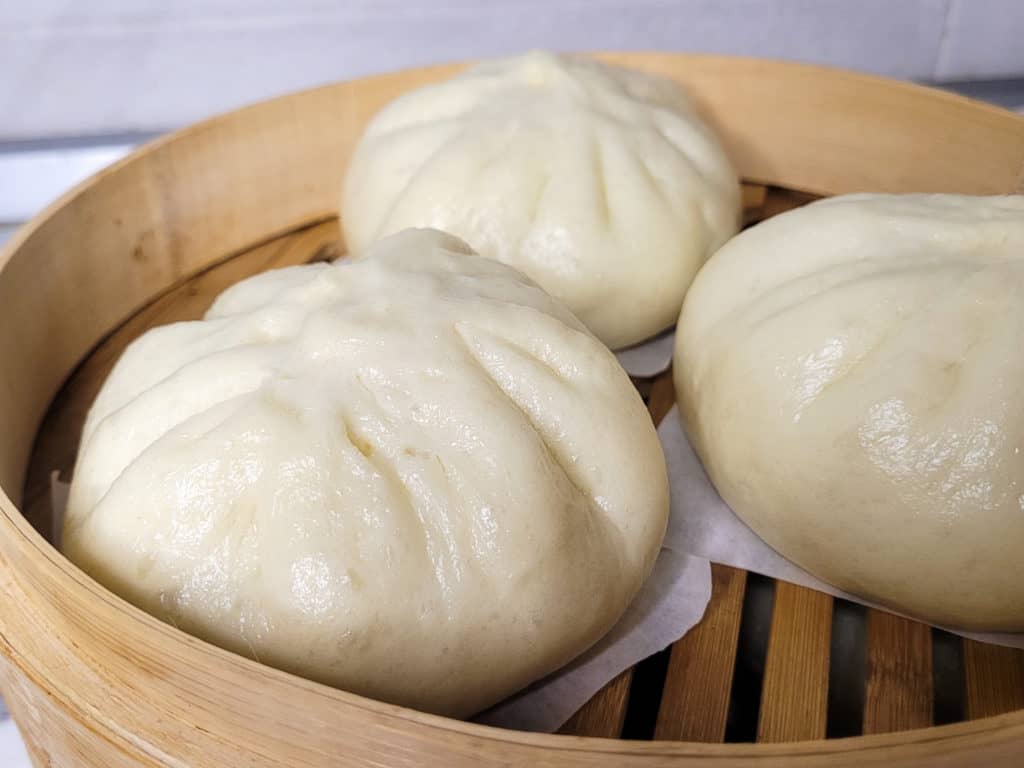 Steam the buns for about fifteen to twenty minutes. For the buns to stay fluffy, remove the bamboo steamer with the buns inside without removing the lid. Let it sit on the counter covered for three minutes before opening the steamer. The gradual release of the hot air from the steam will keep the buns fluffy.
Storing Siopao Asado
If you plan to make a batch and save the rest, let the steamed buns cool to room temperature and place them in a ziplock bag. Put the bag in the freezer. Just place a frozen bun in the steamer and steam it for about fifteen to twenty minutes when you want to enjoy one. I like to freeze a lot of buns and re-steam them. I think the flavors meld together over the period spent in the freezer. Maybe it's just me, but these buns taste better after being frozen!
Have You Tried This Recipe?
Simply rate the recipe by clicking on the ⭐️s on the recipe card. Have something to say? Please leave me a comment down below telling me what you think of this recipe.
Bonus: Let me and other readers know what you did to make this recipe your own - 💫 let's inspire each other!
Also, follow me on Instagram [@seesfoodwilltravel] and send me a DM with a picture of what you made. I would love to share and celebrate YOUR creation with our budding community 💞
Check out Sees Food, Will Travel on Pinterest and Facebook for more delicious updates.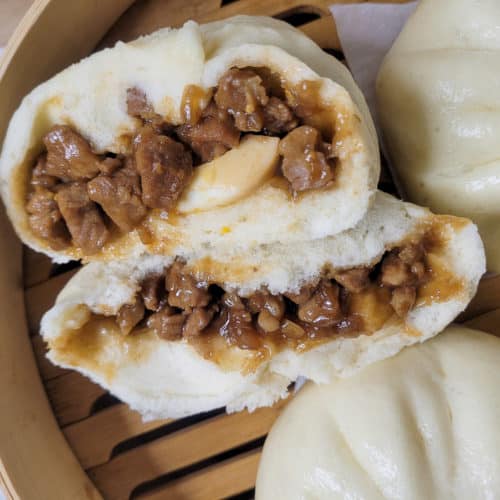 Sio Pao Asado
If you want an easy alternative to the more laborious char siu bao, this siopao asado is for you! It's basically tasty, savory, and sweet pork encased in a fluffy white steamed bun. These buns are HUGE and very filling, but I always manage to finish a few in one sitting!
Ingredients
Bun
400

grams

all-purpose flour

4

grams

baking powder

4

grams

yeast

60

grams

granulated sugar

215

grams

warm water
Filling
500

grams

(~ 1 pound) pork shoulder, diced small

6

cloves

garlic

½

medium onion, diced small

2

tablespoon

soy sauce

2

tbso

oyster sauce

3

tablespoon

granulated sugar

1

tbsp

dark soy sauce

1

tbsp

cornstarch

350

grams

water

2

boiled eggs, quartered

optional
Instructions
Make Filling
Add cornstarch and water in a small bowl, mix until clumps disappear, set aside

Heat a bit of oil in a pan and add the pork. Cook until browned and liquid has evaporated.

Add garlic and onion, cook for two minutes with browned pork.

Add soy sauce, dark soy sauce, sugar, and oyster sauce, mix well and cook for another 2 minutes.

Add cornstarch slurry and braise on low heat for 40 - 50 minutes or until the meat reaches a tenderness to your liking. Add some more water if the sauce gets too thick and you want to continue braising.

When the meat is tender and the sauce has a thick consistency, remove from heat and add to bowl and set it aside to cool to room temperature. About 1 hour.
Make Bun Dough
In a bowl add yeast, warm water and 1 tablespoon of the measured sugar, mix well and set aside to activate for 10 minutes

In a large bowl, add flour, baking powder, and the rest of the sugar then whisk the dry ingredients to mix

Add the activated yeast and mix to the flour mixture until the the dough comes together

Place the dough on a flat surface and knead for about 10 minutes or dough is smooth when rolled to a ball. Split the dough into 8 equal parts and set aside covered with cling wrap to keep them from drying.
Assembly
Take one dough and flatten with a rolling pin, then shape into a large circle.

Place some filling in the center (add a slice of egg if you are using the boiled eggs) and close the bun by pinching the edges together. Gently roll under your palm to reshape to a ball if necessary

Place a small square of parchment paper under the bun

Repeat the steps above until all dough balls are filled.

Cover and set the buns aside to proof for 40 minutes
Steaming the Buns
Fill a pot about halfway with water. Place it on the stove and bring it to a low boil

Place the buns in a steamer with a space of about 1 inch (2.5 cm) between them because they will increase in size.

Steam the buns for about 15 minutes and then remove the steamer from the heat while it's still covered.

Let the covered steamer sit on the counter for about 3 minutes before eating.
Notes
You can freeze the buns after you steam them. To reheat, simply place a frozen bun on a steamer and steam for 20 minutes.