Biko is a Filipino dessert and potluck favorite made from an easy recipe. You'll find a pan at every Filipino party, crowned with coconut milk crisps or a sweet syrupy topping. Biko was also my favorite leftover dessert growing up because this sweet rice heats up quickly in the microwave. It consistently tastes freshly made, even after sitting in the fridge for a few days. My favorite part about biko is the topping called latik, which adds a nutty flavor to the sweetened rice. Jump to step-by-step instructions with pictures in this section.
What is Biko? Filipino Snack or Dessert?
Biko is essentially a dark caramel-colored baked rice cake cooked with brown sugar and coconut milk. It uses glutinous rice or sweet rice, making for the biko's sticky texture. Biko is part of a group of rice items called kakanin, a term created for sweets made from either glutinous rice or glutinous rice flour. Biko is considered a Filipino dessert because of its sweetness. Too heavy for a snack, it's something to indulge in once in a while!
As a Filipino food, biko's origination has a diverse past. Since the primary ingredient is sweet rice, it most likely has roots in China's Eastern Asian influence on the Philippines. My deep-dive research into this dessert told me that biko comes from bee koh, a borrowed (Chinese) Hokkien word for a sweetened cake-shaped glutinous rice. Filipinos aptly named it biko, adding coconut milk and brown sugar.
Different Types of Biko
I doubt all Filipinos would be able to trace back biko's exact origins, but they can tell you about their respective regional takes on making this sweetened rice dessert. There are also many new-age styles of biko with added ingredients and fusion favorites.
Biko with munggo is biko made with mung beans. It can also include adzuki red beans for added color. This style of biko is also made with brown sugar, yet is lighter in color than the traditional version. Biko with munggo requires an extra step of soaking the mung beans or boiling them before mixing them with the glutinous rice.
Ube biko is an answer to the growing popularity of ube flavor! During the cooking process, ube gets mixed with the glutinous rice. It adds an earthy flavor profile to the biko's caramel taste.
Biko de Leche is another fusion favorite. It provides two of the best Filipino desserts - biko and Filipino flan. You cook the sticky rice and let it cool in a pan. While the glutinous rice sets, you make the flan batter and pour it onto the rice. To cook the flan, you use a steamer so the rice doesn't overcook during the process.
How to Make Filipino Biko
Traditional biko is made with coconut milk, brown sugar, salt, water, and glutinous sweet rice. There is also a topping called latik included, made by cooking coconut cream for an extended period of time until all the liquid has evaporated. At the end of boiling, all you are left with is oil and brown bits. The remaining brown bits or byproduct is latik. In the Visayan islands, locals use latik to describe a syrup made with thickened coconut milk and brown sugar.
I was born in Luzon, the northern island of the Philippines, so I grew up eating biko with the byproduct latik version. This recipe will call for both, because why not? Biko may be indulgent, but this easily adaptable recipe lets you choose your preferred topping!
Prepare the Latik Topping
Take an entire can of coconut cream and boil it while taking care to make sure that it doesn't overflow from the pot.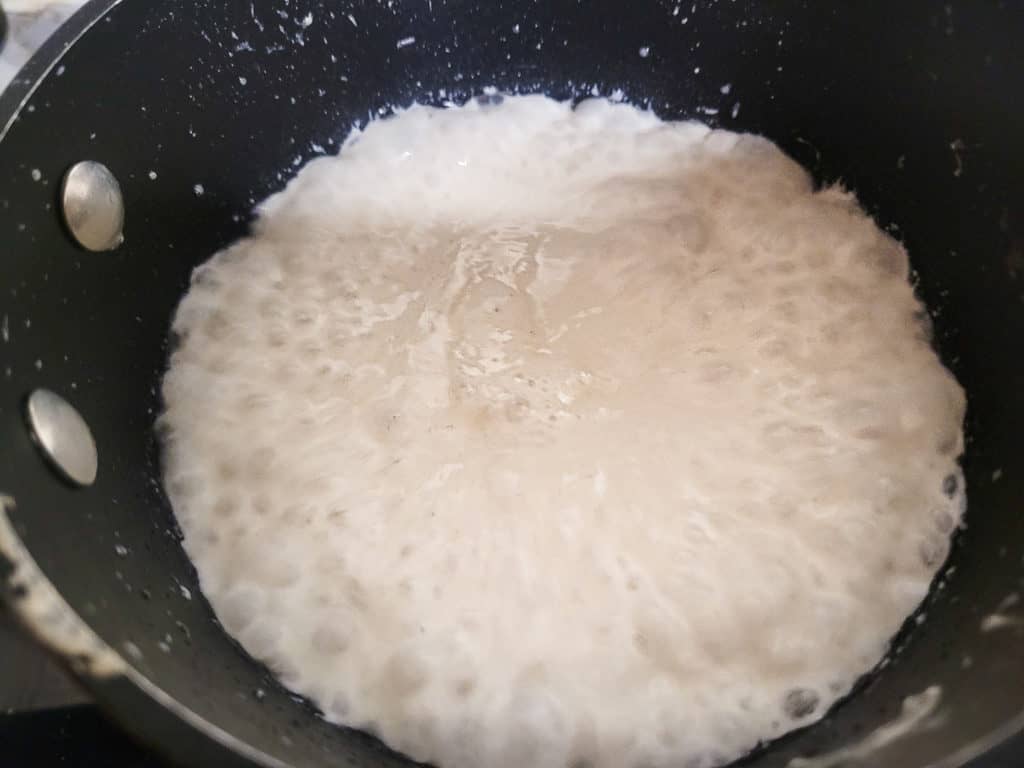 After a while, you will start to see golden brown bits of coconut cream curdling in the hot coconut oil. You can choose to stop cooking when you get the color your desire.
These can still burn, so do not overcook them until they are very dark. You know you have cooked latik correctly when the taste is nutty and creamy - but not bitter. Remove from the heat and pour into the bowl through a sieve. The sieve will catch the latik while draining out excess coconut oil. You can brush your baking pan with the leftover coconut oil.
Cook the Glutinous Rice
I have a confession: I do not own a rice cooker! I make glutinous rice the old-fashioned way in a pot. Wash the rice four to five times before cooking. Add the rice and water together in a pot on medium heat and bring it to a boil.
Once it starts boiling, turn the heat to a low setting, and then cover it to continue cooking for about five to eight minutes. You can tell the rice has finished cooking when all the liquid has disappeared, and you no longer see bubbles coming out of the rice.
Remove the rice from the heat to keep it from cooking any further. Preheat the oven and set it to 150°C or 300°F. On medium heat, pour salt, coconut milk, and brown sugar into a separate pot. Stir until salt and brown sugar have dissolved.
When the sauce has thickened and turned a deep caramel color, turn off the heat and set aside about a half cup of the sauce in a separate bowl.
Add the sticky rice to the pot. Fold the rice gently until the rice has fully integrated with the sauce.
Tip Be careful while folding the glutinous rice. It can easily break down, and you'll end up with a mushy biko. The result of the folding should feature visibly separate grains that stick together.
Biko Assembly
Continue to let it simmer on a low heat setting until the rice with sauce pulls away from the sides of the pot. It should not look soupy. The rice should come together like kneaded dough. Remove the pot from the heat, then spread the rice onto the prepared baking pan.
Spread the caramel topping on top of the sticky rice in the baking dish.
Bake the biko for about fifteen to twenty-five minutes until the topping looks solid but still sticky. Let it cool for up to an hour and then cut into even squares.
Add latik to the center of each square before serving.
How to Store Biko
You can store biko in the fridge for a few days. After that, I recommend freezing it, then bringing it to room temperature before microwaving it to eat. If you want to eat this Filipino dessert as leftovers, heat the biko in the microwave for a few seconds to bring back the sticky texture. 
Have You Tried This Recipe?
Simply rate the recipe by clicking on the ⭐️s on the recipe card. Have something to say? Please leave me a comment down below telling me what you think of this recipe.
Bonus: Let me and other readers know what you did to make this recipe your own - 💫 let's inspire each other!
Also, follow me on Instagram [@seesfoodwilltravel] and send me a DM with a picture of what you made. I would love to share and celebrate YOUR creation with our budding community 💞
Check out Sees Food, Will Travel on Pinterest and Facebook for more delicious updates.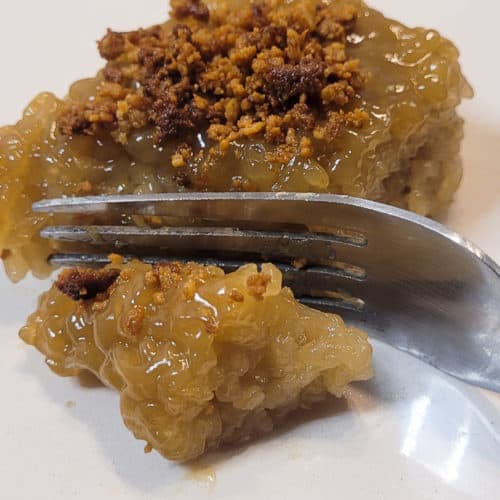 Biko
Biko is a delicious Filipino dessert that you can easily make with a few simple ingredients. Make it for the next potluck to indulge in the sweet coconut taste!
Ingredients
Rice
380

ml

water

375

grams

glutinous white rice
Caramel Sauce
½

teaspoon

salt

1

can

coconut milk, 400 ml/ 14 fl oz

170

grams

dark brown sugar
Latik (Topping)
1

can

coconut cream, 400 ml / 14 fl oz
Instructions
Make Latik
In a sauce pan or a shallow pan, pour out the coconut cream.

Bring the pan to a boil and continue boiling until it starts separating.

Watch the boiling cream carefully as it forms brown bits in separated oil.

Turn off the heat and pour into a deep bowl through a sieve. The sieve will catch the latik. Place the latik in a separate bowl and set aside.
Make Rice
Wash the rice 5 times. Then add the measured water to the white rice in a pot. Set the pot to high heat, and bring it to a boil.

When it starts to boil, change the heat setting to low and cover the pot to let it continue cooking.

The rice is cooked when all the liquid in the pot has evaporated.
Make Sauce
In another pot, pour out coconut milk and add brown sugar then whisk.

Set the pot on medium heat and bring the mixture to a boil. Continue boiling until thickened and turned a dark brown color.

Add the salt and mix until dissolved. Remove about ½ cup to reserve for the topping.
Cooking Biko
Preheat the oven to 150°C (300°F) and prep a baking dish by brushing it with the coconut oil filtered from the latik.

Set the pot of caramel sauce on low heat. Add the cooked rice to the pot of caramel sauce. Then fold the rice into the sauce carefully until well integrated.

Continue folding until the rice comes together. Remove from the heat and pour onto the prepared baking dish.

Take the bowl of caramel sauce you set aside and spread it onto the sticky rice.

Bake in the oven for 15-20 minutes. Allow it to cool after baking.

Slice the biko into even squares and add some latik on top before serving.