A trip to the Czech Republic inspired this ube dessert recipe with mini buns and cream sauce. In Czech, the dessert can also be called dukátové buchtičky s krémem or mini buns in cream. I adjusted this dessert recipe to include ube (Filipino purple yam), and this recipe is the result! If you love sweet comfort food and ube, I suggest you try this recipe! This dessert has two main components, the bread and cream sauce.
The original Czech dish consists of simple morsels of fluffy bread in a vanilla cream sauce. I loved eating this dessert when I traveled through the Czech Republic. It made me feel like I was sitting in someone's kitchen instead of a restaurant. It has a homemade rustic aesthetic, and I loved that the mini buns were of different shapes and sizes.
What is Ube Halaya and How to Get It
Ube halaya is a mix of sugar, butter, and ube flesh. You could eat halayang ube on its own as a dessert or use it as a spread on Filipino baked goods such as pandesal. The most authentic versions of halaya would also consist of coconut milk. But I have to settle for jarred ube halaya because I have to order them online. You can also find ube halaya in Asian stores, specifically Filipino ones.
How to Make Ube Mini Buns with Ube Sauce
Making this dessert takes time, so make sure you have carved out at least three hours from your day for this recipe.
Prep the Dough
Start by blooming the active yeast in a bowl with warm milk and sugar. Use a tablespoon of granulated sugar from the measured ingredients and add it to yeast and warm milk.
Tip Make sure your milk is not too hot, or it may kill the yeast. In a microwave, heat the milk for no less than forty seconds.
Mix the sugar, yeast, and milk together, and then cover the bowl. Set it aside for no more than ten minutes as it blooms.
In the meantime, sift the flour, remaining sugar, and salt into a large bowl. When the yeast is ready, add the egg plus one egg yolk and melted butter to the bowl. Mix all the liquid ingredients together.
Then make a well in the middle of the bowl of dry ingredients, and the liquid ingredients into it.
I developed the recipe using a hand mixer with hook extensions for kneading dough. I kneaded the dough for about eight minutes and did a windowpane test.
Tip The windowpane test helps to check if you will end up with fluffy bread by developing enough gluten. Here is a helpful video on how to do the windowpane test.
After kneading, cover the bowl and set it aside for about one hour or until it has doubled in size.
Set Up the Mini Buns
When is dough has been proofed for sufficient time, punch the air out with your fist. Then on a flat surface, sprinkle just a bit of flour.
Split the dough into two equal pieces. Then roll each piece to a length that would fit the longest side of your rectangle baking dish (or pan).
On one piece, add some ube halaya. The halaya I used was quite dry, so I sprinkled them onto the dough. Don't worry if you don't cover the entire surface. This dish is supposed to have a homemade imperfect feel, so not all buns will look the same and have the same amount of filling!
Take second piece of dough and lay it on the one topped with ube halaya. Pinch the edges closed.
With a pastry cutter, cut thin strips of dough of roughly equal widths. Then pinch the edges of the strips closed, making sure the ube halaya doesn't spill out. You now have thin strips of filled dough. Roll them gently with your palm to ensure the sealed parts don't open when you bake.
Place the strips of dough side by side in your baking dish. Then using the pastry cutter or a knife, slice across the width of the strips so you end up with little squares of dough. Cover and proof for another twenty minutes.
Bake Mini Ube Buns
In the meantime, preheat your oven to 180°C (350°F). When the second proofing has been completed, brush the tops with some melted butter.
Place the baking dish in the oven. Bake the buns for about twenty to twenty-five minutes.
Once baked, remove the buns from the oven and set them aside. Let these cool for some time because you need to use your hands to pull them apart!
Make Ube Cream Sauce
Whisk egg yolks, cornstarch, and sugar in a bowl until all the ingredients are incorporated.
Add coconut milk and milk to a medium pot, then mix them together. Place on low heat and heat the pot until it just starts to steam.
Tip Do not let the milk boil! There is a bigger chance that excessive heat will cook the egg yolks when you try to temper the milk into the egg yolk mixture.
Slowly add one-third of the milk to the egg yolk bowl as you whisk. Once everything is mixed together, add another third and whisk. Repeat these steps until you use up all the milk. Pour the combined ingredients back into the pot and place on low heat to thicken.
Whisk the liquid as it heats up and watch carefully as it thickens. You want something a little more runny than pudding but is thick enough that it looks creamy. Immediately remove from the heat to stop the cooking process.
Strain into a bowl and add the butter. Mix it all together until the butter has disappeared. Add the ube extract here and mix until the cream sauce is a uniform purple color.
Tip If you think the cream sauce is too thick, you can add some milk one tablespoon at a time to thin out the sauce.
How to Serve This Ube Bun Dessert
Pull apart some buns in the baking dish and place them on a plate. I like mixing the shapes and sizes of the buns. But play around with what you have. You probably ended up with a lot of mini buns!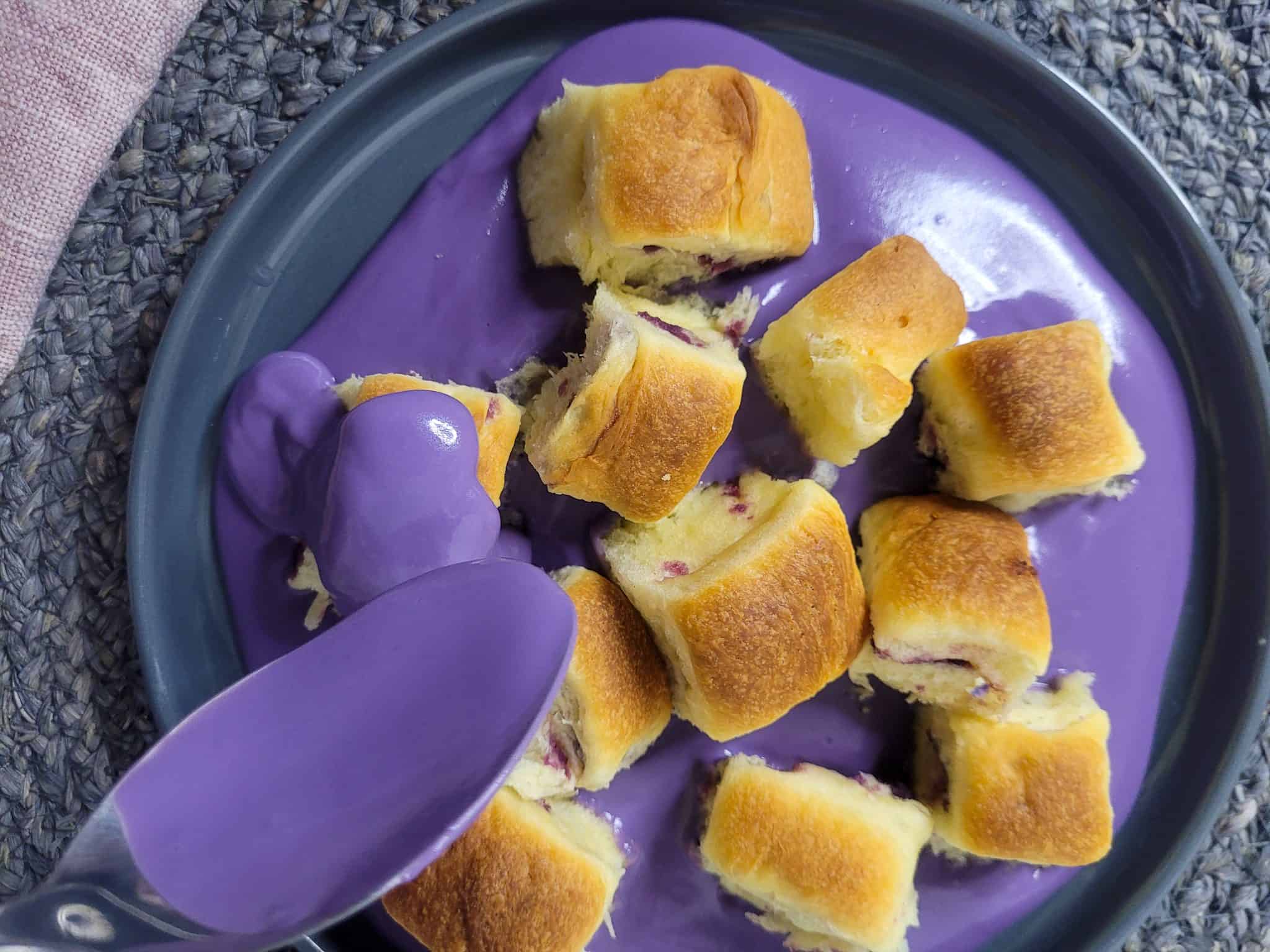 I dress these ube mini buns with the sauce in two different, but simple ways. The first way would be adding sauce first, then placing the mini buns on top or placing the buns first, then adding the sauce on top of the buns. Either way, this ube dessert is creamy and comforting!
Have You Tried This Recipe?
Simply rate the recipe by clicking on the ⭐️s on the recipe card. Have something to say? Please leave me a comment down below telling me what you think of this recipe.
Bonus: Let me and other readers know what you did to make this recipe your own - 💫 let's inspire each other!
Also, follow me on Instagram [@seesfoodwilltravel] and send me a DM with a picture of what you made. I would love to share and celebrate YOUR creation with our budding community 💞
Check out Sees Food, Will Travel on Pinterest and Facebook for more delicious updates.
Ube Mini Buns with Ube Sauce
This ube dessert recipe inspired by a Czech dessert called buchtičky s krémem that means buns in cream sauce. I added ube halaya inside the buns and then used ube extract in the cream sauce. It's perfect for a cozy night when you are craving comfort food!
Ingredients
Ube Mini Buns
1

tablespoon

+ ¾ teaspoon active dry yeast

100

grams

granulated sugar

1 tablespoon reserved for yeast blooming

125

grams

milk

300

grams

all-purpose flour

100

grams

unsalted butter, melted

1½ tablespoon reserved for brushing

1

egg

1

egg yolk

⅛

teaspoon

salt

130

grams

ube halaya

for filling
Ube Cream Sauce
150

grams

coconut milk

300

grams

milk

80

grams

sugar

20

grams

butter

25

grams

cornstarch

4

egg yolks

¼

teaspoon

+ ⅛ teaspoon ube extract

use more if preferred
Instructions
Make Buns
Add active dry yeast, 1 tablespoon sugar, and warm milk. Mix well. Cover and set aside to bloom for ten minutes.

In a big bowl sift and add flour, remaining sugar, and salt.

When the yeast is bubbly and frothy, add egg plus one egg yolk, and melted butter. Mix together then pour into the bowl of dry ingredients.

Using an electric mixer with dough hooks, mix and knead the dough for 8 mins until it passes windowpane test. Cover and set aside for 1 hour or until double in size.

Once proofed, punch the air out of dough and split in two equal halves. Roll out the dough pieces to a similar shape and size of your baking dish.

On one flat piece of dough, top with ube halaya. Cover the ube halaya topping with the second piece. Pinch the edges closed.

Make thin strips by slicing along the long side of the rectangle dough. Pinch the edges of the strips closed then gently roll each one under your palms.

Place the strips next to each other in a baking dish.

Use a pastry cutter to cut slice down the width of the dough strips. You should end up with squares of dough.

Cover and proof for 20 minutes. Preheat your oven to 180°C (350°F)

Once second proof is done, brush with melted butter. Bake for 20 - 30 minutes until the tops are nice and golden brown. Remove and set aside to cool.
Make Sauce
In a bowl, whisk together egg yolks, sugar, and cornstarch. Set aside.

In a pot, add milk and coconut milk. Mix then place on the stove on low heat until it starts to steam. Remove from the heat.

Add one third of the milk mix to the egg yolk mix and mix well. Repeat this step until you use the remaining two thirds of the steamed milk.

Add the combined sauce back into the pot and place on low heat to thicken.

Whisk as it thickens and look for a consistency that is looser than a pudding. Remove from the heat as you continue to whisk to prevent clumps.

Strain to a bowl and add the ube extract. Whisk until you get one solid color. Add more extract if you prefer.
Assembly
Pull apart the ube buns and put them on a plate. Then add some sauce onto the plate. Eat with a spoon. Enjoy!
Check Out Other Ube Desserts Here: