It's all Trader Joe's fault for revealing ube to the masses. I won't lie, I was amused to see a popular grocery store stock ube flavored merchandise. And now, it is one of the most popular flavors on the internet. So to add to the madness, I developed this ube cinnamon roll recipe that integrates the flavor of ube in yet another friendly form.
Update Disclosure: This post has been updated for one or more of the following reasons: easier reading, updated photos, clearer instructions, and just plain ol' improvements to the recipe (as noted).
Jump to:
What is Ube?
Ube is the name for a commonly found purple yam in the Philippines. For us Filipinos, ube is about as common as your red potato. They are used for special occasions but most notably integrated into some form of dessert. Ube halaya, or purple yam jam (say that five times fast!), is made through a process of boiling down ube and mashing it. Then the mashed yams are cooked with coconut milk, evaporated milk, brown sugar, and butter. This paste would then be mixed into sweet dishes like ice cream and pastries. The resulting dessert would end up with a gorgeous purple hue that ranges from lavender to dark violet.
Ingredients
This recipe makes a unique treat and you will need the following:
Milk
All-Purpose Flour
Active Dry Yeast
Eggs
Unsalted Butter
Ube Extract
Salt
Granulated Sugar
Brown Sugar
Cinnamon Powder
Powdered Sugar
Heavy Cream
Coconut milk
Substitutes
Heavy Cream: For the frosting you can choose to use all coconut milk or all heavy cream. But if you don't have either, milk is a good alternative.


Active Dry Yeast: You can use the same amount of instant dry yeast and skip the step of blooming it in the warm milk.
Recipe Tips
Change Frosting Consistency: You can thicken the frosting by using less heavy cream and coconut milk. Alternatively, make a thinner frosting similar to a glaze by using more liquid.


Don't Stain Your Hands: Use an electric mixer with hook attachments to knead the dough so you don't stain your hands purple from the extract.


Do The Windowpane Test: Check that your dough is ready for proofing by doing the windowpane test. This is an easy way to tell if you developed enough gluten!
How to Make Ube Cinnamon Rolls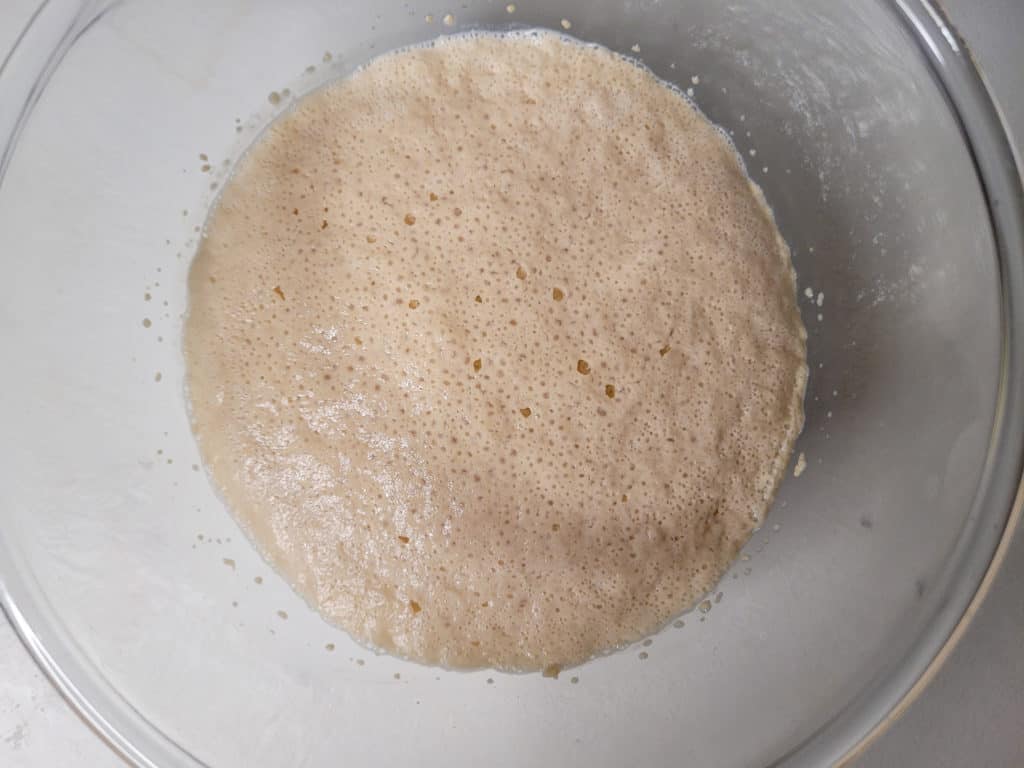 Give yourself about two days for these rolls because they have to proof overnight! In the morning you can bake them and they come out so fluffy!
Bloom yeast in a bowl with warm milk and sugar.
Meanwhile add the cinnamon roll dry ingredients in a bowl and whisk them together.
Add butter, eggs, and ube extract to the bloomed yeast.
Knead until you get a dough. Proof overnight!
Spread out proofed dough and spread cinnamon sugar all over it.
Use dental floss to make rolls.
Proof again!
Bake them in the oven and in the meantime, make the ube icing.
Top the warm cinnamon rolls with the icing!
How to Serve
Serve the cinnamon rolls while they are still warm. Once they cool down to room temperature, you can keep them covered in the fridge for a few days. Quickly heat them up in the microwave for twenty seconds to enjoy.
Frequently Asked Questions
How does ube taste?
Ube, the tuber, has an earthy, sweet, nutty flavor profile with aromatic notes. The taste is mild and not as strong as sweet yam but still distinct. When it's boiled and cooked with coconut milk and sugar to make ube jam, the coconut milk acts as a fortifier to the taste producing a sweeter vanilla flavor along with the nuttiness of ube.
Why use ube extract instead of real ube?
Ube extract is a great flavor and color stand-in for real ube. Because fresh ube is not easy to find around the globe, the portable extract provides cooks like us a suitable option to achieve its unique flavor.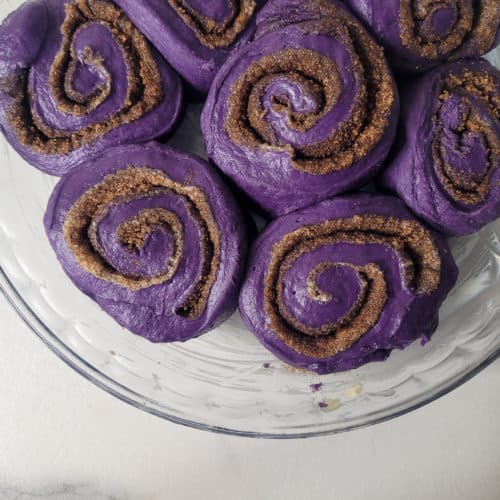 Ube Cinnamon Rolls Recipe
These ube cinnamon rolls will make a statement at your breakfast table! The rolls are a bright purple and the topping is a deep violet color full of flavor.
Ingredients
Ube Cinnamon Dough
155

grams

milk

warmed in microwave for 30 seconds, use more if dough looks dry, add 1 tablespoon at a time

2¼

teaspoon

active dry yeast

50

grams

granulated sugar

1 tablespoon set aside for yeast

1

egg + 1 egg yolk

optional: use two whole eggs

60

grams

unsalted butter, melted

2 - 3

teaspoon

ube extract

400

grams

all-purpose flour

1

teaspoon

salt
Cinnamon Roll Filling
55

grams

brown sugar

¾

teaspoon

cinnamon powder

60

grams

unsalted butter

room temperature
Ube Frosting
220

grams

powdered sugar

75

grams

melted butter

2

tablespoon

heavy cream

1

tablespoon

coconut milk

2

teaspoon

ube extract
Instructions
Make Cinnamon Ube Rolls
In a small bowl, add warm milk, yeast, and 1 tablespoon of measured sugar. Let it bloom for 10 mins.

In a big mixing bowl, add flour, salt, and the rest of the sugar. Whisk to mix the dry ingredients. Set aside. When the yeast has bloomed, add eggs, melted butter, and ube extract. Whisk, then add to the flour mixture.

Mix to bring a shaggy dough together. The dough should be sticky. Knead for 10 minutes by hand or 5 mins by electric mixture. Cover and set aside to proof for 1 hour.
Assemble Cinnamon Rolls
While the dough is proofing, make the filling for the cinnamon rolls. In a small bowl, add brown sugar and cinnamon then mix together. Set aside.

Once the dough is proofed, punch out the air of the dough. Place on a lightly floured surface and roll it out to an 8 inch x 12 inch rectangle.

Take the room temperature butter and spread it along the rectangle leaving a half inch or 1 cm space from the edge. Spread the cinnamon/brown sugar mix on top.

Roll the rectangle into a log. Trim about 1 inch or 3 cm from both ends of the log using unflavored dental floss.

Slice 8 equal pieces using floss. Place on a buttered 9 in (23 cm) diameter pie pan or 9x13 in (23x33 cm) baking pan. Cover and place in the fridge to proof overnight.

The next day, remove the cinnamon rolls from the fridge and bring it to room temperature for about 30 mins. Pre-heat the oven to 180°C (350°F).

Bake the cinnamon rolls for 23-27 mins. Cool on a countertop.
Make Ube Frosting
In a bowl, mix together powdered sugar, melted butter, heavy cream, ube extract, and coconut cream.

The icing will be thick. If you want it to be more like a glaze, add more heavy cream, 1 teaspoon at a time.

Drizzle some of the ube frosting on top of the warm cinnamon rolls allowing the heat from the rolls to some frosting along its open spaces. Carefully spread the rest of the frosting all over.
Nutrition
Calories:
553
kcal
Carbohydrates:
80
g
Protein:
7
g
Fat:
23
g
Saturated Fat:
14
g
Polyunsaturated Fat:
1
g
Monounsaturated Fat:
6
g
Trans Fat:
1
g
Cholesterol:
79
mg
Sodium:
373
mg
Potassium:
123
mg
Fiber:
2
g
Sugar:
41
g
Vitamin A:
726
IU
Vitamin C:
0.1
mg
Calcium:
51
mg
Iron:
3
mg
Disclaimer: Nutritional values were calculated with the Spoonacular Food API and should be used for informational purposes only.
Have You Tried This Recipe?
Simply rate the recipe by clicking on the ⭐️s on the recipe card. Have something to say? Please leave me a comment down below telling me what you think of this recipe.
Bonus: Let me and other readers know what you did to make this recipe your own - 💫 let's inspire each other!
Also, follow me on Instagram [@seesfoodwilltravel] and send me a DM with a picture of what you made. I would love to share and celebrate YOUR creation with our budding community 💞
Check out Sees Food, Will Travel on Pinterest and Facebook for more delicious updates.