It's all Trader Joe's fault for revealing ube to the masses. I won't lie, it was impressive to see a popular grocery store stock ube flavored ice cream and pancake mixes. I saw how the colorful packaging and entry-level products introduced this purple yam to non-Filipinos in fun familiar forms. And now, it is one of the most popular flavors on the internet. So to add to the madness, I developed this ube cinnamon rolls recipe that integrates the flavor of ube in yet another friendly form. Jump to this section for full instructions with pictures.
What is Ube?
Ube is the name for a commonly found purple yam in the Philippines. For us Filipinos, ube is about as common as your red potato. They are used for special occasions but most notably integrated into some form of dessert. Ube halaya, or purple yam jam (say that five times fast), is made through a process of boiling down ube and then mashing it. Then the mashed yams are cooked with coconut milk, evaporated milk, brown sugar, and butter. This paste would then be mixed into sweet dishes like ice cream and pastries. The resulting dessert would end up with a gorgeous purple hue that ranges from lavender to dark violet.
How Does Ube Taste?
Ube, the tuber, has an earthy, sweet, nutty flavor profile with aromatic vanilla notes. The taste is mild and not as strong as something like the orange-skinned sweet yam. When it's boiled and cooked to become halaya, the coconut milk acts as a fortifier to the taste producing a sweeter vanilla flavor along with the nuttiness of ube. So things ube ice cream and cakes have a creamy, nutty, and delicately sweet flavor. Nowadays, we can also buy ube extract at Asian grocery stores to garner the same effect in homemade treats.
Using Ube Extract in Cinnamon Rolls
I live abroad, so making ube halaya from scratch is not a viable option. Instead, I ordered some ube extract and used it to build up the recipe. I wanted to preserve the yeasty, soft texture of the bread, and ube extract wouldn't affect the texture of the cinnamon rolls. The issue with ube extracts is the color. A little bit of color means you can only add so much ube taste to the rolls, but adding too much will cause your rolls to look nearly black. I love the taste of ube, which meant I had to develop something flavorful yet wouldn't stain my tongue.
How to Make Ube Cinnamon Rolls
These cinnamon rolls are full of ube flavor, from the bread to the frosting. I kept the filling of the cinnamon rolls in its original and simple form - cinnamon powder mixed with brown sugar. Over several rounds of testing, I found a satisfyingly realistic ratio in using ube extract.
Tip Before I let you go with the recipe, please handle the ube extract carefully. You'll find that it easily stains fingers and hands. If you find that inconvenient, skip the ube extract and use this recipe to make plain cinnamon rolls instead!
Set up Your Yeast Mix
In a small bowl, activate the dry yeast by mixing it with milk heated in the microwave for thirty seconds. Add about one tablespoon of sugar and mix together. Cover the bowl to bloom the yeast for ten minutes.
While the yeast is blooming, mix the flour, salt, and the rest of the sugar in a large bowl. Then set it aside.
Make the Dough
When the yeast mixture is bubbly and frothy, add the eggs, melted butter, and ube extract. Then whisk together before adding it to the dry ingredients. Combine the ingredients using a spatula until you get a shaggy dough.
I recommend kneading with an electric mixer for five minutes. Otherwise, you will need to knead the dough for ten minutes. Since you are using extract, doing this with your hands may cause temporary staining. Put on plastic gloves and knead the dough in the bowl if you want to do this part manually.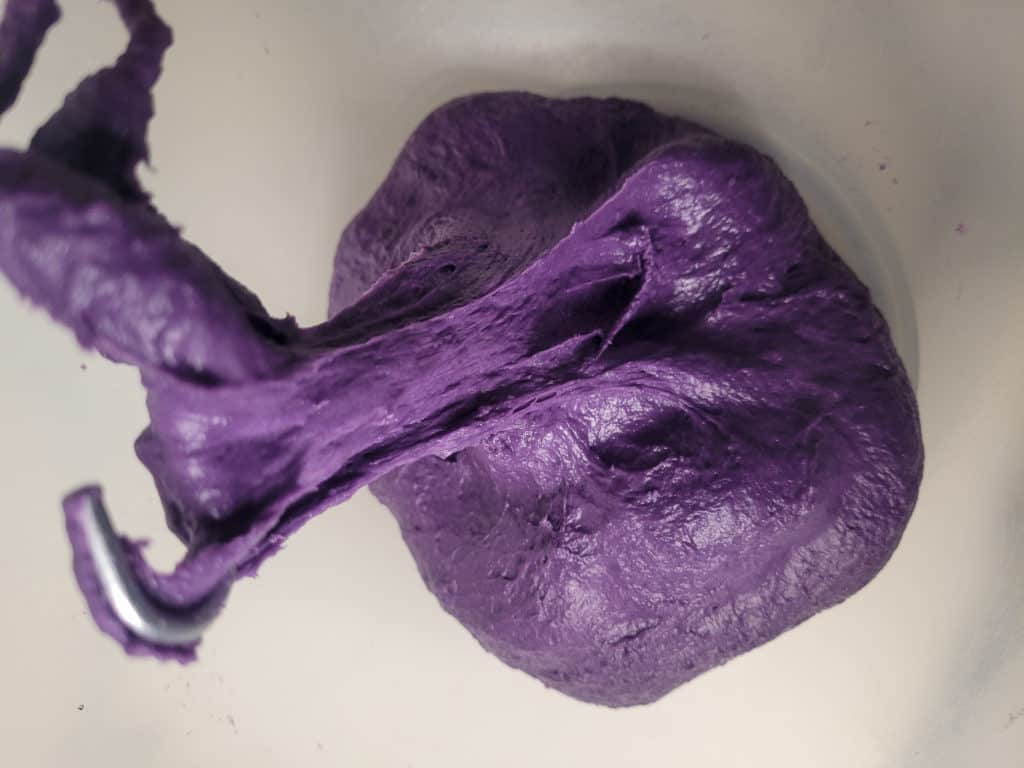 The dough will become a little less sticky when you are finished kneading. It should also pass the windowpane test - when you stretch a piece of dough, it becomes thin and transparent but doesn't tear. Cover the dough and let it rest to proof for one hour.
Assemble the Ube Rolls
Grease a baking dish with butter and set it aside. Mix the cinnamon powder and brown sugar in another bowl and set that aside.
Then, place the proofed dough onto a lightly floured flat surface. Roll out the dough to a rectangle. Spread the softened butter on top, leaving space between it and the edges (about 2 cm or half an inch). Apply a layer of the cinnamon powder and brown sugar mix on top of the butter.
From its longer side, roll the rectangle to a log. When you are finished rolling, check that it is laying seam-side down. Take dental floss and trim the ube cinnamon roll log by removing about half an inch on each end.
Using the same floss, measure and slice eight equal pieces. Then place them in the prepared baking dish.
This ube cinnamon roll recipe is not quick! I discovered slowly proofing the cinnamon rolls in the fridge overnight yields a better flavor. So, for this recipe, cover and place the raw dough rolls in the fridge to proof overnight (at least eight hours).
The next day (hopefully in the morning!), remove the pan of cinnamon rolls from the fridge. Let it sit on the counter to bring it to room temperature. Meanwhile, pre-heat the oven to 180°C (350°F).
Bake
Bake the ube rolls for about twenty-five minutes. The outside of the cinnamon rolls will look brown the inside will be purple! Let it sit on the counter to cool slightly.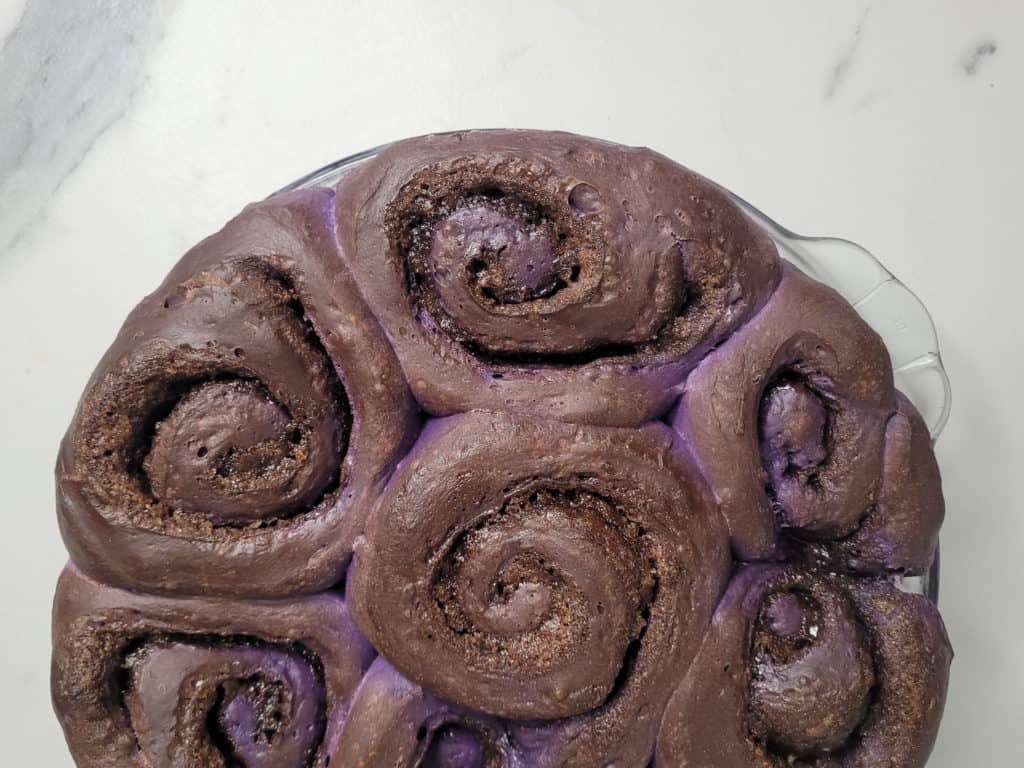 Frost Ube Cinnamons Rolls
In the meantime, it's time to make your ube frosting! Add powdered sugar, heavy cream, coconut milk, melted butter, and ube extract in a bowl. Beat them together until it is smooth.
Tips If you find that the frosting is too thick, you can choose to add more coconut milk or whipping cream to thin the consistency. It's also up to you on how much ube-flavor you want to add to this frosting - use less, and you will get a lighter color/less flavor. Use more, and the color will get darker, but the flavor will be richer. For thinning the frosting and altering flavor, use a half tablespoon for each ingredient at a time.
Add a thin layer of ube frosting to the cinnamon rolls while they are slightly warm, and let it seep into the rolls for about five minutes. Then add additional layers of frosting as you please!
Get to More Baking Down Below!
Have You Tried This Recipe?
Simply rate the recipe by clicking on the ⭐️s on the recipe card. Have something to say? Please leave me a comment down below telling me what you think of this recipe.
Bonus: Let me and other readers know what you did to make this recipe your own - 💫 let's inspire each other!
Also, follow me on Instagram [@seesfoodwilltravel] and send me a DM with a picture of what you made. I would love to share and celebrate YOUR creation with our budding community 💞
Check out Sees Food, Will Travel on Pinterest and Facebook for more delicious updates.
Ube Cinnamon Rolls
These ube cinnamon rolls were developed to impress. The rolls are a bright purple and the topping is a deep violet full of flavor. Give it a try and get ready to be addicted.
Ingredients
Ube Cinnamon Dough
155

grams

milk, warmed in microwave for 30 seconds

use more if dough looks dry, add 1 tablespoon at a time

2¼

teaspoon

active dry yeast

50

grams

granulated sugar

1 tablespoon set aside for yeast

1

egg + 1 egg yolk

optional: use two whole eggs

60

grams

unsalted butter, melted

2 - 3

teaspoon

ube extract

400

grams

all-purpose flour

1

teaspoon

salt
Cinnamon Roll Filling
55

grams

brown sugar

¾

teaspoon

cinnamon powder

60

grams

room temperature butter (softened)
Ube Frosting
220

grams

powdered sugar

75

grams

melted butter

2

tablespoon

heavy cream

1

tablespoon

coconut milk

2

teaspoon

ube extract
Instructions
Make Cinnamon Ube Rolls
In a small bowl, add warm milk, yeast, and 1 tablespoon of measured sugar. Let it bloom for 10 mins.

In a big mixing bowl, add flour, salt, and the rest of the sugar. Whisk to mix the dry ingredients. Set aside.

When the yeast has bloomed, add eggs, melted butter, and ube extract. Whisk, then add to the flour mixture.

Mix to bring a shaggy dough together. The dough should be sticky. Knead for 10 minutes by hand or 5 mins by electric mixture. Cover and aside to proof for 1 hour.
Assemble Cinnamon Rolls
While the dough is proofing, make the filling for the cinnamon roll. In a small bowl, add brown sugar and cinnamon then mix together. Set aside.

Once the dough is proofed, punch out the air of the dough. Place on a lightly floured surface and roll it out to an 8 inch x 12 inch rectangle.

Take the room temperature butter and spread it along the rectangle leaving a half inch or 1 cm space from the edge. Sprinkle the cinnamon/brown sugar mix on top.

Roll the rectangle into a log. Trim about 1 inch or 3 cm from both ends of the log using dental floss.

Slice 8 equal pieces using floss gently. Place on a buttered 9 in (23 cm) diameter pie pan or 9x13 in (23x33 cm) baking pan. Cover and place in the fridge to proof overnight.

The next day, remove the cinnamon rolls from the fridge and bring it to room temperature for about 30 mins. Pre-heat the oven to 180°C (350°F).

Bake the cinnamon rolls for 23-27 mins. Cool on a countertop.
Make Ube Frosting
In a bowl, mix together powdered sugar, melted butter, heavy cream, ube extract, and coconut cream.

The icing will be thick, if you want it to be more like a glaze, add more heavy cream, 1 teaspoon at a time.

Drizzle the ube frosting on top of the warm cinnamon rolls a little bit at a time. Let the cinnamon rolls absorb the first layer, before adding more on top.