You have probably heard of meatloaf, but have you heard of Filipino-style meatloaf? I would like to believe that this is the best way to describe embutido. It's a thin log of steamed meat with many different add-ins, most of which you can choose to add or leave out! This embutido recipe is surprisingly easy to put together as long as you gather the ingredients and prepare them correctly! Suppose you haven't heard of Filipino embutido. In that case, you are in for a treat, and it's probably unlike any other taste you've encountered previously and will, at the very least, make an impression. Go here for the step-by-step instructions with pictures.
What is Embutido in English?
Embutido in Spanish translates directly to sausage. And while the Filipino embutido resembles the shape of a sausage, its texture and preparation happen to align more similarly with the American meatloaf. Spanish sausages cure over a number of days as they slowly dry and develop flavors. The Filipino version has enough work involved but kind of genius. You won't have to wait long to eat it! People consume embutidos during Christmas time as part of the festive celebrations.
The straightforward way of making embutidos is throwing seasonings, vegetables, and raisins (totally optional) into a bowl with ground meat. After mixing, you would spread out the meat and then carefully roll it into a log with aluminum foil for steaming. What you end up with is something that looks like a thick sausage with the taste of a meatloaf that is slightly more on the sweet side. 
How to Make Filipino Embutido
Pickled sweet relish is the surprise ingredient in embutido. But alas, there isn't any available in Tbilisi. But I managed to get close to the original taste by chopping up some cornichons and mixing sugar with the pickle juice. All of the ingredients in embutido can be replaced. But just make sure that they are chopped into tiny pieces because you want to feature the meat and not the filling. 
The ground meat I used in this embutido recipe is a mix of pork and beef, which I believe makes it a little bit tastier because of the beef. The additions include breadcrumbs, carrots, cornichons, sweet onion, red bell pepper, raisins, milk, and eggs. The center of the embutido also usually contains sliced boiled eggs.
Mix All Ingredients
Start with prepping all the ingredients that will be mixed together. Prepare a large bowl and add the ground beef, then all of the mixings. Then add the whisked eggs and breadcrumbs.
Mix everything by hand until well incorporated. Don't forget to add in your seasonings here as well. Tip To be sure that you like the taste of your embutido, fry a small piece of mixed meat and taste it. If you are happy, move on to the next step.
Spread the Meat
Lay out a large piece of aluminum foil on a flat surface. Spread some of the meat across the length of the foil, about a quarter-inch thick. The shape should look like a square of twenty to twenty-five centimeters with a clearance of about 5 centimeters from the edges.
Place some sliced boiled eggs in the middle of the spread out meat.
Roll Like Sushi
When you are ready, gently roll the meat like you would a sushi roll. Be careful not to roll the aluminum foil into the meat, so slowly pull away from the foil you began rolling with.
Squeeze and shape the log as you finish rolling, then wrap the foil around and twist the ends close. The foil should be tight enough to keep the meat from spilling out but loose enough to allow some steam inside.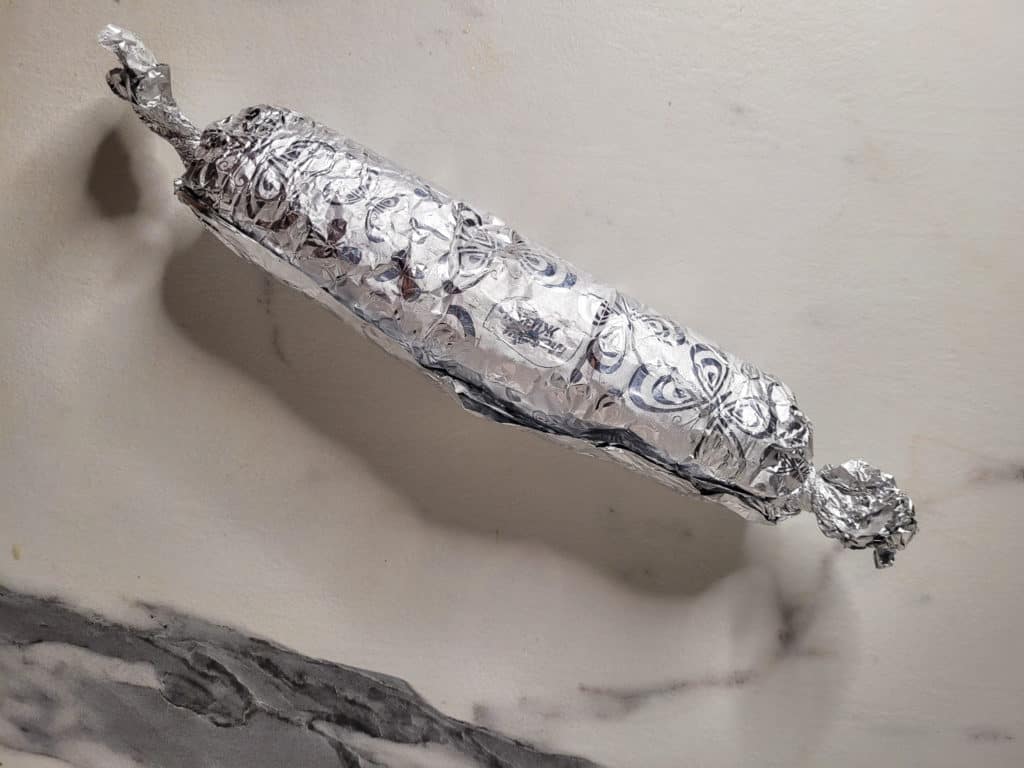 Place the wrapped embutido in a steamer with space for the steam to cook the entire roll. Based on the size of the embutido and the steamer, that might just be one embutido roll to one steamer. I used a stacked bamboo steamer, so I could steam multiple rolls.
Tip If you don't mind rolling multiple embutidos make shorter pieces, and then you should be able to steam them all at once. Otherwise, you will need to steam at staggered times.
Add water to a large pot and bring it to a boil. Place the steamer on top of the pot. Steam the embutido for about forty to fifty minutes.
Tip The center of the embutido has to be cooked through without any pinkness in the middle. You can check if the embutido is cooked by carefully opening up the aluminum and using a meat thermometer to measure the inside temperature. It should read about 75°C (165°F).
Once the embutido is thoroughly steamed, remove it from the steamer and allow it to rest on the counter for about ten minutes. Based on my preference, I love eating embutido right out of the steamer. All that's left to do is carefully unwrap a log and make even slices.
How to Eat Embutido
You can serve embutido lukewarm to warm. You usually wouldn't eat embutido with rice (surprise!) and just eat it on its own as finger food. If you are familiar with Filipino banana ketchup, you would most likely know that many people enjoy eating embutido with this condiment.
My other favorite sauce to pair it with is a mix of half tomato ketchup and half mayonnaise. If you are not the type to have sauce, it is also excellent!
Storing Embutido
One of the many benefits of making embutido is the ability to store it for a long time. After steaming, you can leave it to cool to room temperature for about two to three hours before placing it in the freezer. Take it out of the freezer and re-steam it for ten minutes or until no longer frozen in the middle.
Make Your Own Style
Just like other types of meatloaf, you can choose to add in various vegetables and other mix-ins. It is really up to you! I know that not everyone likes raisins. So that ingredient might be the first one out of this recipe for those thinking of altering it. If you plan to add more hardy vegetables, just make sure you mince them. That way you don't affect the steaming time. If you have a jar of sweet relish in your kitchen, replace the cornichons and sugar with the sweet relish.
As for the middle part of the embutido, you can opt to use hotdog slices instead of boiled egg. But if you want something protein-packed, add both eggs and hotdog slices!
Have You Tried This Recipe?
Simply rate the recipe by clicking on the ⭐️s on the recipe card. Have something to say? Please leave me a comment down below telling me what you think of this recipe.
Bonus: Let me and other readers know what you did to make this recipe your own - 💫 let's inspire each other!
Also, follow me on Instagram [@seesfoodwilltravel] and send me a DM with a picture of what you made. I would love to share and celebrate YOUR creation with our budding community 💞
Check out Sees Food, Will Travel on Pinterest and Facebook for more delicious updates.
Simple Embutido
A simple way of making embutido or sliced Filipino meatloaf. Give it a shot with whatever you have available in your kitchen or your pantry.
Ingredients
500

grams

ground meat (pork or beef)

use a mix of beef & pork for a deeper taste

½

onion, minced

½

red bell pepper, minced

½

carrot, minced

2

tablespoon

pickled cornichons with some brine, minced

2-3

teaspoon

granulated sugar

2

eggs, whisked

60

grams

milk

1

teaspoon

ground black pepper

1

teaspoon

salt

30

grams

breadcrumbs

2-3

tablespoon

raisins

optional
Instructions
In a large bowl, add ground meat, and all other ingredients together.

Using your hands, gently mix all of the ingredients until they are well incorporated. Do not overmix.

Spread aluminum foil onto a flat surface and spread the meat mixture on top making a square about 20x20cm (8x8in) leaving some space between the edge of the meat and the edge of the aluminum foil.

Add fillings such as strips of hotdogs or slices of boiled eggs on the middle.

Begin slowly rolling the meat, similar to a sushi roll, by carefully pulling at the aluminum foil on top so it doesn't fold into the meatloaf.

When you are finished rolling and shaping, twist the ends of the embutido. Place inside a steamer basket.

Bring a pot of water to boil and put the steamer with embutido on top. Steam for 40 - 50 minutes until the inside temperature of the meat reaches 75°C (~165°F)

Remove from the aluminum and slice to serve