I discovered liu sha bao (流沙包) or salted egg yolk lava bun many years ago at a dim sum restaurant in Daly City, California. John's dad, who grew up in Hong Kong, enjoys taking over the ordering at Chinese restaurants. We always end up with more than we can consume in one sitting, but I love watching him order off the menu or ask for specific things. He usually orders various steamed dessert dumplings for dessert, and that's how I discovered liu sha bao.
Developing this salted egg yolk bun recipe has been a journey for me. Ever since I had my first bite of liu sha bao, I knew I wanted to try to make this steamy golden egg yolk bun at home one day. Well, that day finally came, which quickly turned into multiple days, and eventually numerous weeks of experimentation. I sought to ensure the center filling was consistently runny when I opened the bun. The recipes I found seemed straightforward enough, but there are nuances to account for, such as the melting point of the butter that you use or how long you steam the buns.
The process is meticulous but worth it because it ensures a gooey lava-like texture when you make it. I just know that you will impress everyone who tries these egg yolk buns! Click here to go straight to those steps with tips.
What is Salted Egg Yolk Lava Bun?
This bun is a relatively newer dim sum creation, first introduced in Hong Kong in 2009. Salted egg yolk lava bun or liu sha bao holds a flowing surprise inside its fluffy white walls. Liu sha means "quicksand", and bao refers to baozi (包子), the term for steamed buns. This equates to "quicksand bun", which perfectly describes what happens when opening one of these buns. It is always fun to watch the yellow egg yolk filling slowly dribble out of the bun as you gently tear down the middle.
Liu Sha Bao vs. Nai Wong Bao
Now that liu sha bao exists, we must not mistake it for the ever-popular nai wong bao (奶黄包 - egg custard bun). Nai wong bao is the more familiar dim sum dessert bun of the two. A set custard fills this sweet white bun instead of the runny center of liu sha bao.
A liu sha bao (salted egg yolk lava bun) filling will flow, and you must be careful when eating it. The golden filling is hot and may burn you if opened too soon after steaming. Additionally, the highlight ingredient of liu sha bao is salted egg yolk. The savory flavor of salted egg yolk combined with the milk sugar mixture makes the taste of liu sha bao more complex.
How to Make Salted Egg Yolk
You can make salted egg yolks at home! Simply put egg yolks in a bed of salt. Then cover the yolks with more salt and put them in the fridge for 1 - 2 days. After your desired time, remove the eggs yolks and wash them gently with cold water. Salted egg yolks have long been a staple in various Asian households such as China and the Philippines. I typically make this quick version when I want to use salted egg yolks that do not require the yolk in its spherical form.
If you want your egg yolks to be saltier, prepare the yolk two days ahead, so it has more time to rest in the salt. I suggest making a few because, from my experience, it takes a few tries to get the filling to gush out just right.
My Trial And Error in Making the Filling Flow
When I first decided to try making liu sha bao a few years ago, it was satisfying enough for me to see the filling slightly jiggle to establish that it wasn't custard. Fast forward to now, when I watch other recipe videos of liu sha bao I notice the filling nowadays is runnier and runnier, with a slicker texture. Since this is a recent dim sum creation, restaurants worldwide are more flexible in their variations. Not to mention, the runny and smooth version makes for an awesome Instagram-worthy picture and a fun experience ripping open a bun filled with golden salted egg yolk goodness!
Vital Salted Egg Yolk Recipe Tips
So I decided to make a runnier liu sha bao than the original viscous texture I first encountered. The common way to make it with room temperature butter may not work for you. It took me over thirteen attempts (yes, thirteen!) to make the filling runny. I learned a few crucial steps needed to guarantee the signature velvety salted egg yolk flow.
Melt Your Butter
Before doing anything else, as you gather your ingredients make sure to melt your butter in the microwave for 45 seconds on 50% strength. This will break down the large fat crystals, making the structure of the butter after this point easier to melt when you steam the buns. If you don't do this before making the filling and then cook the bun, the fat crystals will maintain the butter form. You could end up with a slightly loose custard consistency.
Use a Food Processor
After steaming the salted egg yolks, some recipes require you to smash them with the back of a knife to crush them into tiny pieces. Depending on your knife's weight and strength, this may or may not work. To get a smoother consistency:
Use a food processor to pulse the yolks before adding the rest of the ingredients.
Add the ingredients to the food processor to blend them together.
If you want to have that classic 'sand' texture, put aside a bit of pulsed egg yolk and fold it in after mixing the rest of the ingredients together.
Do a 'Melt Test'
A melt test is the most crucial step to ensure a well-mixed liu sha bao filling with the right consistency you want in your bun. Place a heat-safe bowl in a pot of boiling water and place your liu sha bao mixture in the bowl. Mix until the filling melts to a thick liquid and check the consistency. Add more butter to the mix if you want it more fluid, or add more cornstarch to make it denser. When satisfied with the texture, remove it from the heat and cool on the counter. After it has cooled down, put a plastic cover on it and put it in the fridge to let it harden again for a few hours.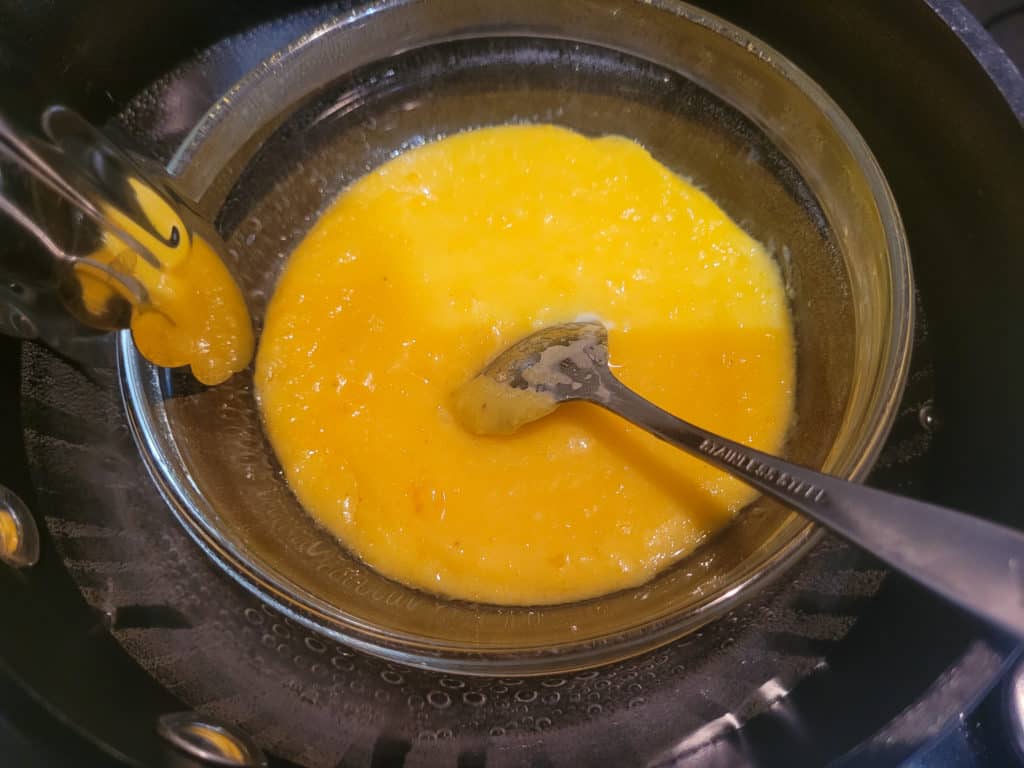 These steps were essential to my experience of making a successful liu sha bao. I repeated these steps multiple times, and it hasn't failed me yet! I hope it works just as well for you too.
Use a Kitchen Scale
It is best to use a kitchen scale for this recipe. Measuring the ingredients as precisely as possible will help you achieve a flowy filling and fluffy bun. The resulting consistency is very sensitive to even slight changes in ingredient ratios. For example, adding just a few more millimeters of milk to my recipe ruined my egg yolk filling.
Don't Get Discouraged With Each Attempt
Though I am rooting for you to get this recipe right on the first try, it may take several trials to achieve that flowy filling. But don't give up on yourself! Over time, you will feel the type of consistency you should aim for during the melt test. You will also notice that your steam time may differ from the recipe.
Ensure a Fluffy Bun
The fluffy white bun is part of the magnificent experience of the salted egg yolk bun! Consider the following tips for creating a soft, airy bun for your liu sha bao.
Use warm water for your dough. Turn off the heat when you boil water and wait 3 minutes before adding it to your dough.
Use your hands. This is the part where you can let people know you made these buns with love.
Knead for eight minutes straight. As soon as you finish kneading, break the dough into pieces.
Flatten the dough with a rolling pin. This will release bubbles and create a smooth surface.
When proofing, cover the dough to avoid dry, cracked skin.
Tips For Cooking Egg Yolk Buns
To steam the buns, boil water in a pot and place the steamer with the buns on top. Turn on your timer and set it to 5 minutes. After 5 minutes, immediately remove it from the pot and leave it on the counter to rest for 2 minutes. Allowing the steamer to rest before opening it will help ensure your buns are fluffy and prevent overcooking or curdling the filling.
How to Store Egg Yolk Buns
These buns have stayed in our fridge for a week. After steaming the buns, I let them cool completely and put them in a plastic container with a lid for storage in the refrigerator. When we want something sweet throughout the week, we just steam the buns again to get our sugar fix. The filling becomes less flowy over time, so the buns are best eaten fresh.
More Sweet Cantonese Food
If you have a sweet tooth, try pairing these buns with Hong Kong style milk tea! Another great steamed bun to try are black sesame seed buns.
Have You Tried This Recipe?
Simply rate the recipe by clicking on the ⭐️s on the recipe card. Have something to say? Please leave me a comment down below telling me what you think of this recipe.
Bonus: Let me and other readers know what you did to make this recipe your own - 💫 let's inspire each other!
Also, follow me on Instagram [@seesfoodwilltravel] and send me a DM with a picture of what you made. I would love to share and celebrate YOUR creation with our budding community 💞
Check out Sees Food, Will Travel on Pinterest and Facebook for more delicious updates.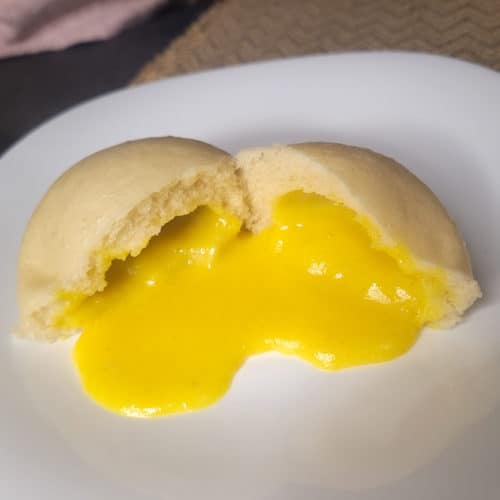 Liu Sha Bao (Salted Egg Yolk Lava Bun)
This liu sha bao recipe is worth the effort and will result in a delicious bun that will be very fun to eat! Make sure to serve it fresh so everyone can experience its lava-like filling!
Ingredients
Salted Egg Yolk Filling
3

salted egg yolks, steamed for 10 minutes

30

grams

cornstarch

30

grams

milk powder

60-70

grams

unsalted butter, melted

use more if needed

40

grams

granulated sugar

10-20

ml

whole milk

use more if needed

pinch

turmeric

optional: for coloring
Bun Dough
200

grams

all-purpose flour

2

grams

baking powder

2

grams

instant yeast

35

grams

granulated sugar

135

grams

warm water
Instructions
Make Filling
After steaming the egg yolks, add egg yolks to a food processor and pulse for 10 seconds.

Add melted butter, cornstarch, milk powder, sugar and turmeric, then pulse again for 10 seconds.

Add milk and pulse until you get a paste-like consistency.

Add water to a pot and bring to boil, then place a heat-safe bowl over the pot (you have made a double-boiler) and transfer the filling to the bowl.

Start stirring the filling as the water heats up, melting the filling. Keep stirring until you get the consistency you desire. If the filling is too thick, add milk ¼ teaspoon at a time to make it runnier.

Remove from the heat and place it in the fridge to harden for 2 hours.

When the filling has hardened, shape into balls weighing 14-18 grams each, then put it back in the fridge while you assemble the bun dough.
Make Bun Dough
In a bowl, add flour, baking powder, instant yeast and sugar then mix.

Incrementally add the warm water to the mixture until the dough comes together.

Move the dough to a flat surface and knead for 8 minutes while folding the dough over itself.

Cut the dough into 10 pieces weighing about 35 grams each and shape into balls.
Assemble Liu Sha Bao
Take a dough ball and flatten it out with a rolling pin, rolling out the edges to keep the middle thick.

Add a filling ball to the center and wrap the dough around the filling, pinching it closed.

Place on a square piece of wax paper and set aside in a steamer basket.

When all the buns have been assembled, proof for 30-40 minutes.
Cooking Buns
Heat water in a big pot and bring to boil.

Place steamer basket on top of the pot and set the timer to 5 minutes.

After 5 minutes, remove the steamer without opening and place on counter to cool for 2 minutes.
Disclaimer: Nutritional values were calculated with the Spoonacular Food API and should be used for informational purposes only.