After making Polish apple fritters, I was inspired to make Filipino banana fritters with bits of apple. Filipino fritters with bananas are called maruya, and there are different versions throughout the country. Ingredients also differ from place to place. This recipe calls for glutinous rice instead of all-purpose flour because I wanted to make something with a mochi-like consistency. Deep-fried glutinous rice produces a cake that is crispy on the outside and chewy on the inside. As it cools, the exterior also turns chewy.
The recipe is made with three ingredients and is easy to make! The only difficulty you might encounter is holding yourself back from devouring these apple banana fritters!
Before I begin, let me acknowledge that there are different versions of maruya throughout the Philippines. There are also other names based on similar ingredients and preparation. I'm here to add another variation to the mix.
What is Maruya (Filipino Fritter)
Maruya translates to fritter, an appropriate term for all the different maruya recipes available in the Philippines. The main components of any maruya recipe include overripe bananas and flour to make a batter fried in hot oil. In the Philippines, the most common type of banana used is saba. But I do not have saba bananas, so I used whatever bananas were available at my closest grocery store.
Traditional Filipino fritters or maruya would consist of other fruits, such as jackfruit, in addition to bananas. In some places, you would put coconut milk to the batter to add flavor. Another popular option is sprinkling maruya with granulated sugar if you desire something sweeter. You can easily add your own unique element to Filipino-style fritter!
How to Make Apple Banana Maruya or Fritters
Making apple banana fritters is a quick process, and you only need one bowl. Fewer dishes!
Peel and break apart ripe bananas and place them in a bowl. Then take your apple and peel the skin. Slice the apple into thin pieces.
Add the apple slices to the bowl of bananas. Mash them together.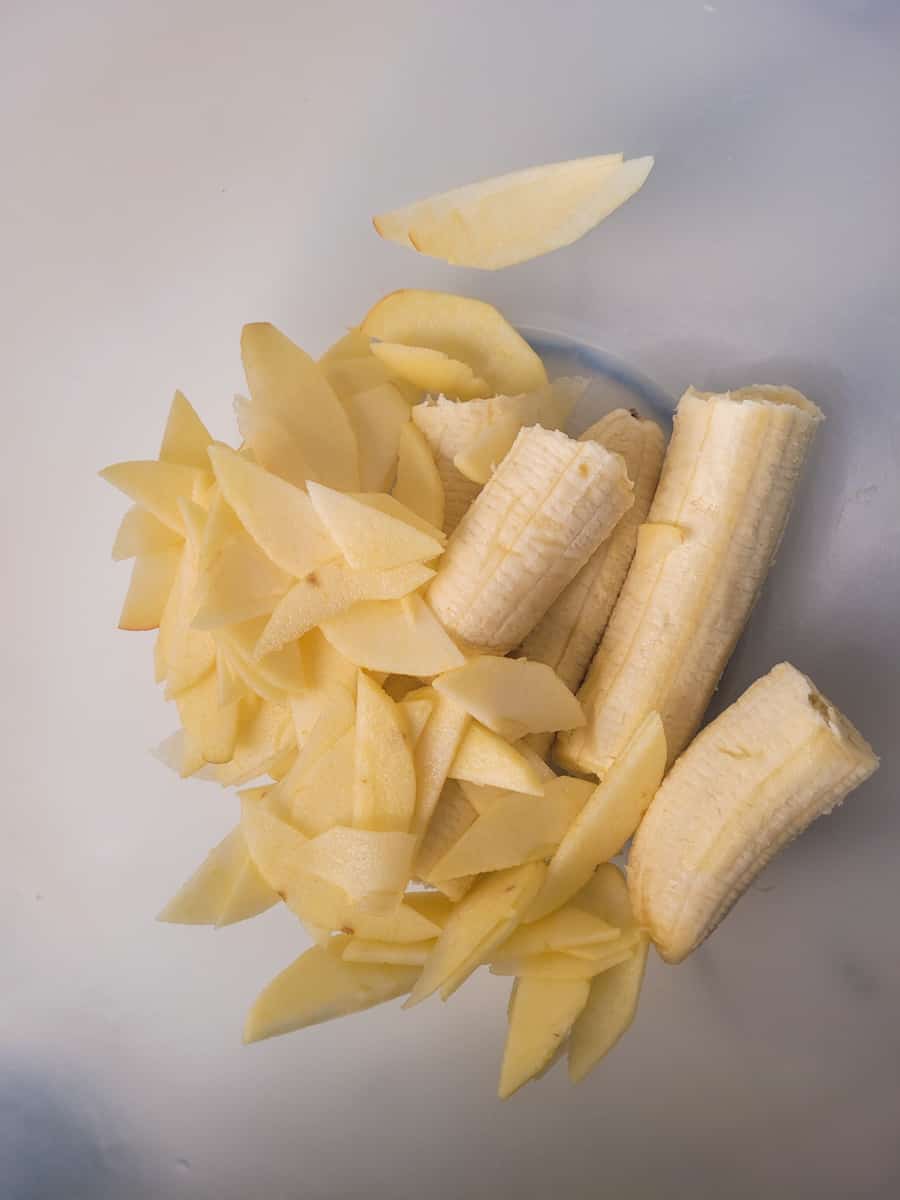 Tip The sweeter the apples, the better. They can integrate better with the batter as their sugars break down.
Measure glutinous rice flour and add to the bowl along with vanilla, salt, and othher optional spices. Use a silicone or wooden spatula to mix the ingredients until they become batter.
Tip The rice flour will absorb any liquid that is exposed to it. So at first, you might think you are only getting shaggy dough, but keep mixing! Eventually it will soak all the moisture and turn into a sticky batter.
Add some neutral oil to a pan and set it on medium heat. Then once hot, spoon some Filipino fritter batter into the pan. You can make the size bigger if you want. As long as you can flatten and flip it to continue cooking on the other side.
Cook each side until one side is crispy, and place it on a metal colander to drain the oil. Once drained of oil, place the fritter on a plate lined with a paper towel.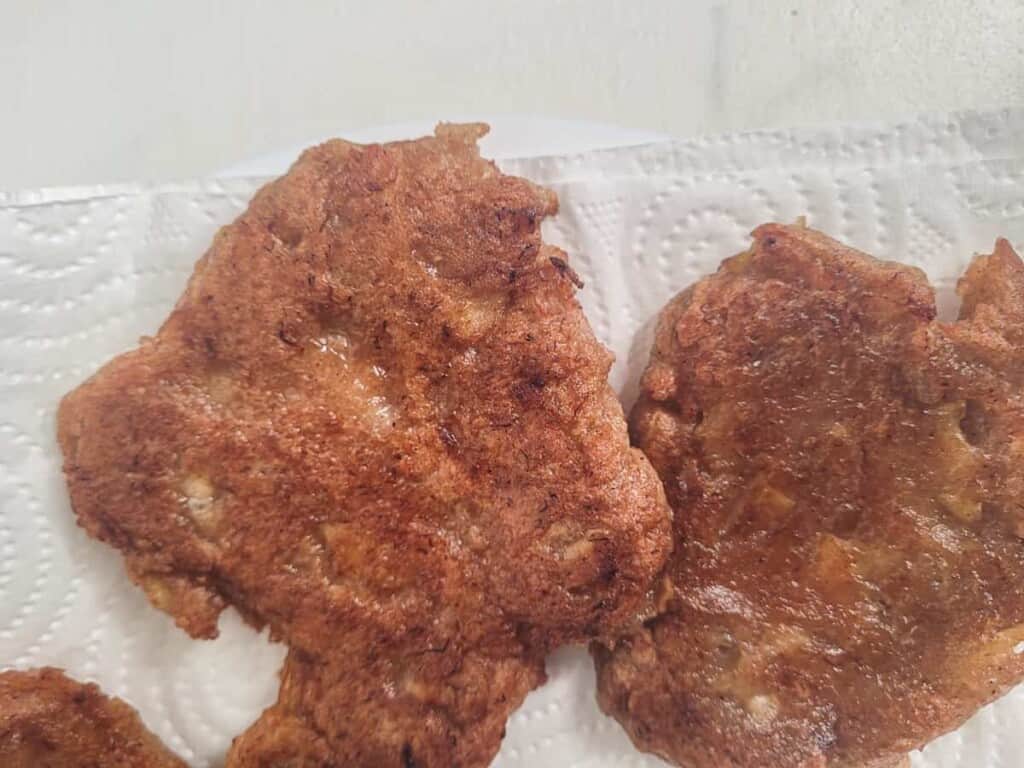 Let the apple banana fritters cool for about ten minutes because they will be hot! Be careful not to burn your fingers. Once cooled, serve immediately to enjoy its crispy edges and chewy interior!
Have You Tried This Recipe?
Simply rate the recipe by clicking on the ⭐️s on the recipe card. Have something to say? Please leave me a comment down below telling me what you think of this recipe.
Bonus: Let me and other readers know what you did to make this recipe your own - 💫 let's inspire each other!
Also, follow me on Instagram [@seesfoodwilltravel] and send me a DM with a picture of what you made. I would love to share and celebrate YOUR creation with our budding community 💞
Check out Sees Food, Will Travel on Pinterest and Facebook for more delicious updates.
Filipino Banana Apple Fritter (Maruya)
This Filipino-style fritter is made with glutinous rice so you end up with a crispy outer skin and a chewy inside. Feel free to use this recipe as a base for your own take on maruya!
Ingredients
1

ripe banana

optional: use 2 if you want more banana flavor

1

apple (gala or similar), peeled and sliced in thin pieces

130

grams

glutinous rice flour

¼

teaspoon

salt

optional

1

teaspoon

vanilla extract

optional

½

teaspoon

cinnamon powder

optional

⅛

teaspoon

ground cloves

optional

⅛

teaspoon

nutmeg powder

optional

neutral oil, for frying
Instructions
In a bowl, add banana and mash it. Then add thinly sliced apples.

Add glutinous rice and optional ingredients. Then using a spatula, mix all of the ingredients together. Keep mixing until you get a thick batter.

In a pan add some neutral oil and set to medium heat

Add large spoonfuls of the batter to the heated oil and gently flatten as it cooks. Fry first side until brown and crispy - about 1 - 2 mins. Flip to the other side and fry for 1 - 2 mins.

Place on a paper-towel lined plate to drain the oil.

Let cool for 10 minutes before eating.
Disclaimer: Nutritional values were calculated with the Spoonacular Food API and should be used for informational purposes only.