If you love Korean BBQ, I got something for you that is a game changer. This recipe is for suyuk, otherwise known as boiled meat. Yes, it's not KBBQ, but hear me out! Suyuk is a delicious alternative to KBBQ. You don't need special grilling ingredients to make it. You would also eat it with the similar sides and sauces as KBBQ!
Update Disclosure: This post has been updated for one or more of the following reasons: easier reading, updated photos, clearer instructions, and just plain ol' improvements to the recipe (as noted).
Jump to:
What is Suyuk vs. Bossam?
In Korean, there are multiple words for water and meat, depending on the context, but these two words refer to meat boiled in water. Suyuk means "water meat." Su means water, and yuk means meat. This is a catch-all name for these dishes, but most of the time, when you hear suyuk, you can expect boiled pork.
Bossam is a boiled pork eaten in a specific way, wrapped with leaves. I've seen pork neck and pork shoulder served as bossam, so for this particular dish, you need a fatty cut of pork with salted cabbage or simply lettuce for wrapping.
In general, all bossam is suyuk, but not all suyuk is bossam!
Ingredients for Suyuk
I love Korean food because there are many variations available across the cuisine. This recipe refers to a shorter list of easily sourced ingredients to make suyuk. Boiled meat won't typically give off a lot of flavor. The ingredients listed after pork are what makes a savory broth.
Pork Belly
Green and White Onion
Garlic Cloves
Ginger
Doenjang (Korean Soy Bean Paste)
Black Peppercorns
Ground Coffee (instant or finely ground)
Bay Leaves (optional)
Soju (optional)
Substitutes
Pork Belly: You can use different fatty cuts of pork that do not contain bones. Another great alternative would be pork neck.


Doenjang: If you can't find doenjang in a Korean grocery store, you can use miso paste instead. Add more salt if you want a tastier stock.

Soju: You can use sake or a bit of vodka in place of soju. Using these types of alcohol will lessen the porky smell and mellow out the flavors.
Recipe Tips
Keep Pork Juicy: After cooking the pork, do not rinse the pork! Let it rest in the juicy goodness before slicing into it so it absorbs as much liquid as it can.

Check For Tenderness: Check the pork after thirty minutes to measure the tenderness of the pork. Depending on how soft it is, you can cook it for longer or shorter than the recommended hour.
How to Make Suyuk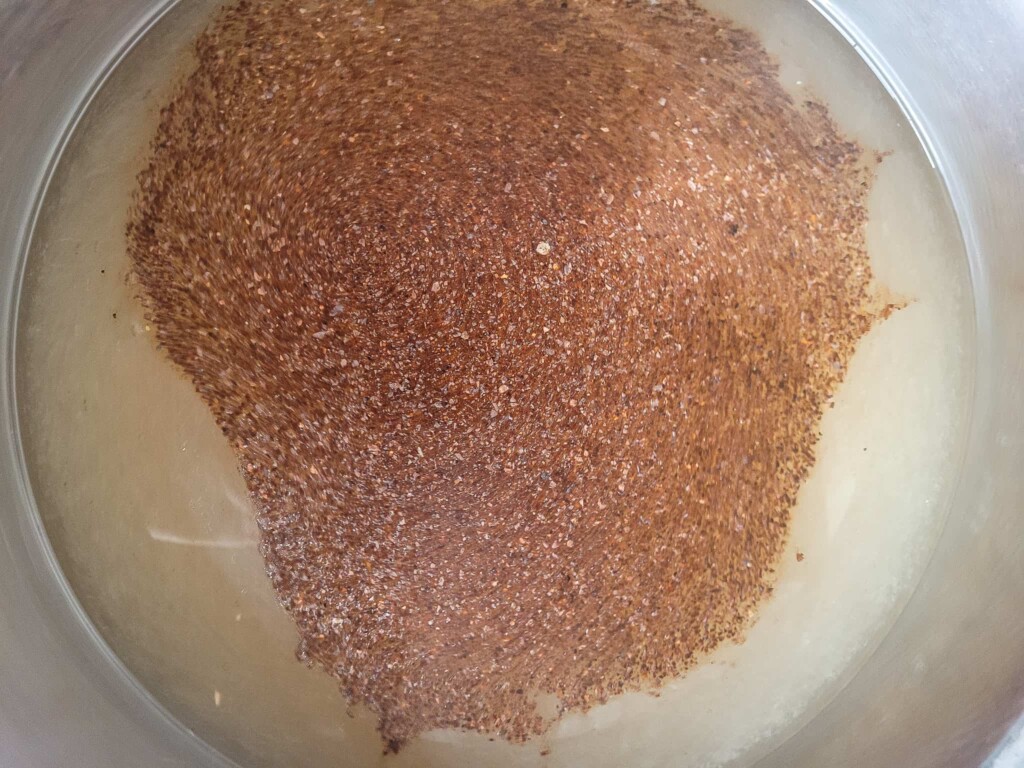 Suyuk is surprisingly easy to make and this rendition of mine is inspired by this Korean cooking show. There are more intricately made suyuk, in particular those made for bossam that involves fruit and shallow braising. But this recipe is a straightforward one that gets you great results.
First wash the pork belly, and prep the vegetables. Then add water to a large pot, and fill about three quarters full or to a point you think will cover the pork belly.
Add the vegetables, water, coffee, doenjang (soybean paste), seasonings, and pork belly. Boil everything together for ten minutes.
Bring the heat to a low simmer, then cover and let it cook for about an hour.
The pork belly is done once you can easily poke it with a blunt chopstick. Alternatively, you can slice a piece and bite into it to decide if it's tender enough.
Pull the pork belly out of the pot and set it aside on a dry chopping board for about five minutes before slicing.
How to Make Salted Cabbage Leaves
The ssam in bossam means "wrap" and in Korean cuisine usually means wrapped in a type of leaf. Traditionally bossam is wrapped with prepared cabbage leaves. But restaurants also offer perilla leaves and fresh lettuce. Feel free to use lettuce leaves such as romaine that are not too big. They are an excellent option for when you're pressed on time.
You will need the following:
1 pound napa cabbage leaves, separated

inner leaves only and dark green leaves removed

table salt; about half cup
water
The classic salted cabbage leaves take a little longer to make - hours! But the preparation method is simple.
Add a little water (1 cup) in a large bowl then add salt and mix until it dissolves.
Add the leaves and fill with more water until they are slightly submerged.
Let it sit in the salty brine for two hours.
They are ready when you can bend the hard white part just a little, but they still snap.
Rinse with water and pat dry.
Serve alongside bossam on a plate.
How to Serve and Eat
Slice the boiled meat and serve with fresh lettuce leaves. To serve this as proper bossam, make salted cabbage to serve it along the pork belly.
There are some special sauces to present with bossam which would include this shrimp sauce and simple mince garlic. But another sauce I like to use for suyuk, or boiled meat, in general is ssamjang.
Boiled Pork Belly (Suyuk) Wraps (Bossam) Recipe
Suyuk is a Korean term for boiled pork traditionally made after making kimchi. Bossam is a way to eating pork by wrapping it in salted cabbage.
Ingredients
1

kg

pork belly, sliced into 4 pieces

2

tablespoon

doenjang (Korean-style soybean paste)

+2 tablespoon to your taste

1

whole onion, cut in half

4-6

green onion stalks

100

grams

ginger, sliced in large pieces

4-6

pieces

garlic cloves, peeled

1

tablespoon

black peppercorns

2

teaspoon

instant or finely ground black coffee

3

pieces bay leaves

optional

45

ml

plain soju

optional

salt & pepper

to taste
Instructions
Fill a pot with water that will cover the pork belly completely. Mix in doenjang (Korean-style soybean paste) until it melts in the water.

Taste to see if the water is salty enough to your taste. Add more doenjang if necessary. Mix in ground or instant coffee.

Add sliced onion, green onion, ginger, garlic, black peppercorns, and bay leaves. Bring the water mixture to a boil.

Add pork belly. If using soju, add at this step.

Boil on high heat for 10 mins. Then lower to a simmer and cover. Simmer for 50-60 mins or until tender.

Eat with salted napa cabbage or fresh lettuce.
Nutrition
Calories:
1354
kcal
Carbohydrates:
13
g
Protein:
25
g
Fat:
133
g
Saturated Fat:
48
g
Polyunsaturated Fat:
14
g
Monounsaturated Fat:
62
g
Cholesterol:
180
mg
Sodium:
279
mg
Potassium:
695
mg
Fiber:
2
g
Sugar:
3
g
Vitamin A:
164
IU
Vitamin C:
7
mg
Calcium:
46
mg
Iron:
2
mg
Disclaimer: Nutritional values were calculated with the Spoonacular Food API and should be used for informational purposes only.
Have You Tried This Recipe?
Simply rate the recipe by clicking on the ⭐️s on the recipe card. Have something to say? Please leave me a comment down below telling me what you think of this recipe.
Bonus: Let me and other readers know what you did to make this recipe your own - 💫 let's inspire each other!
Also, follow me on Instagram [@seesfoodwilltravel] and send me a DM with a picture of what you made. I would love to share and celebrate YOUR creation with our budding community 💞
Check out Sees Food, Will Travel on Pinterest and Facebook for more delicious updates.