Monggo (stewed mung beans) is famous for being a Filipino comfort food recipe. It's a simple and hearty dish that I grew up with, and as a child who didn't like vegetables, everyone was happy that I loved it. I feel like monggo deserves a place in the more popular section of Filipino food like adobo or lumpia. Every Filipino family makes it often and has their own version. This monggo recipe is a variation of the authentic Filipino version by replacing malunggay (moringa leaves) with spinach.
Update Disclosure: This post has been updated for one or more of the following reasons: easier reading, updated photos, clearer instructions, and just plain ol' improvements to the recipe (as noted).
Jump to:
In the Philippines, monggo is considered ulam, a food item consisting of protein that is eaten with rice. When I first made this for John, he wanted to skip the rice and decided to eat it like soup. It was uncomfortable for me to watch him eat an entire bowl of monggo without rice! Regardless of his preference, I was glad that he found it as comforting as I did.
What is in Monggo?
It's a good thing monggo is a flexible dish! Since I live abroad, my resources are limited, and I work around what is available. My Filipino version of monggo recipe consists of a few ingredients, including mung beans, pork, tomatoes, onions, garlic, spinach, and bouillon.
If you want to take the more traditional route, look for a leafy vegetable called malunggay and replace the spinach with it. Malunggay is considered a "superfood" packed with even more vitamins and minerals.
Overall, I consider monggo a relatively healthy dish that provides you with a solid amount of fiber, vitamins, and minerals.
Adapt This Dish to Your Desire
A great thing about monggo is that it is a very flexible dish. You can choose to substitute your dark leafy vegetable in this Filipino monggo recipe with whatever is available to you. Besides malunggay or spinach, you can also use watercress, kale, or swiss chard. If you want a stronger vegetal taste, try adding bitter melon.
You could also replace pork belly with chicken or beef. My family makes monggo with shrimp and pork, which is typical in other Filipino households. So feel free to mix and match proteins as long as you don't add too much of it. Take some deep-fried pork rinds or chicharron and put it on top of monggo to make it more traditional. It adds a crunchy and indulging element to the bowl.
I've even seen someone use hard tofu instead of meat for a vegetarian version. That person also switched the meat-based bouillon with vegetable bouillon.
Follow These Recipe Steps and Tips to Make Perfect Filipino Monggo
Cooking mung bean for this Filipino monggo recipe is easily done by boiling it for a while. Before starting, all you need to do is set your mung beans aside in a bowl of water while you chop your vegetables.
Throw in your chopped garlic and onions to let those aromatics cook together. Add the tomatoes and cook with the onions and garlic for two minutes. Then add your pork slices to the pot to let it brown. You don't need to see grill marks on your pork since you will be boiling them anyway, so make sure you have thoroughly cooked your pork.
The next step is to add the chicken bouillon. I think it gives monggo that chicken soup essence that I find very comforting! Finally, add in the mung beans (without their water) and fill the pot with six cups of water. Then cover it to let it continue simmering.
How to Check if Your Mung Beans are Cooked
Check every ten minutes to make sure the beans haven't soaked up all your water. I have had to re-add water once or twice to keep the ingredients from burning. After about thirty to forty minutes, your mung beans should have split. If you bite into one, the texture should be soft and just barely have a bite to it. You can consider your mung beans cooked at this point!
Before you turn off the heat, add in your fresh spinach and stir a couple of times to mix the spinach leaves into the pot. This part is optional, but you can choose to put fish sauce into your monggo dish. Two tablespoons of fish sauce will add more umami flavor to monggo.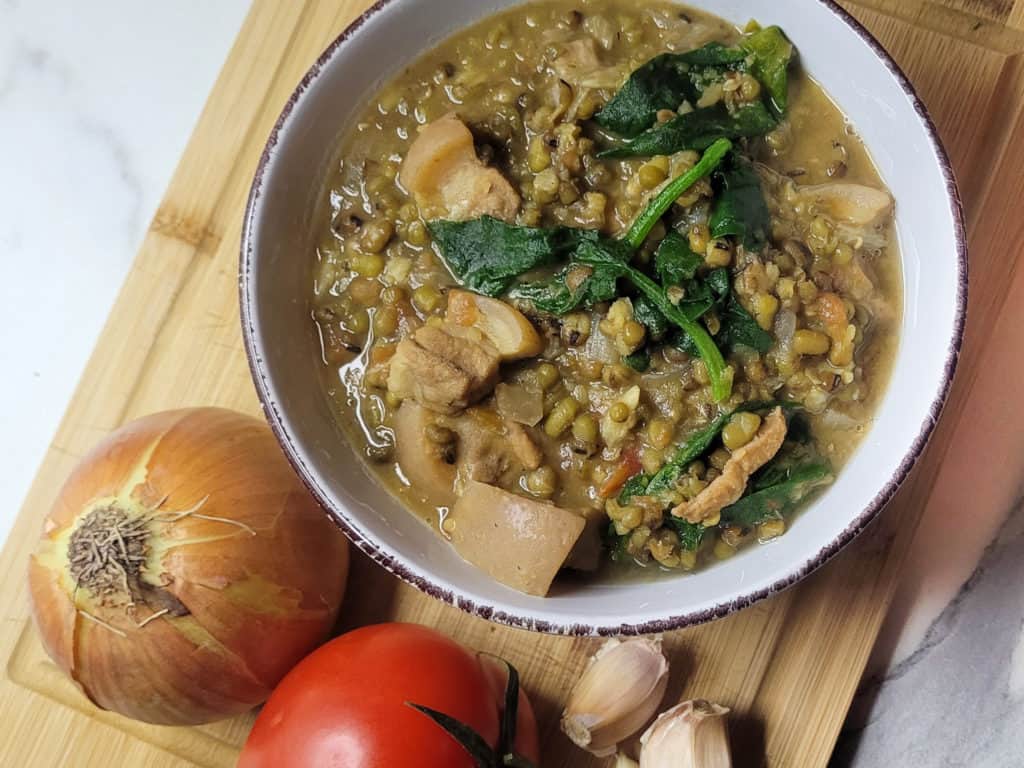 And there you have it! Monggo is an easy Filipino recipe that you can make with a few very simple ingredients. Because of the amount of mung beans used, this ulam may not look appetizing to some people. But once you taste this, I can assure you that you will feel like it's a hug in a bowl.
Filipino Monggo (Mung Bean Stew) Recipe
Monggo of mung bean stew is a simple recipe that calls for very few ingredients and little effort. Enjoy on top of steamed white rice!
Ingredients
1

onion, diced

1

large

tomato, diced

4-5

cloves

garlic, crushed

1

tablespoon

vegetable oil

175

grams

meat of your choice, cubed pieces

pork belly, beef, chicken, shrimp

200

grams

dried mung beans

1

cube

chicken bouillon (10 grams)

1420

ml

water

1

bunch

spinach leaves

1 - 2

tablespoon

fish sauce

optional
Instructions
Add oil to pot and set to medium heat. Add garlic and onions, then saute until onions are clear.

Add tomatoes and saute for two minutes.

Add your meat (except shrimp) and cook until brown.

Add water, mung beans, and chicken bouillon then bring to a boil.

Keep boiling until beans are soft yet still have a bite to them (about 45 minutes). Add more water to the pot to keep the liquid from disappearing. Otherwise you will burn the monggo.

When beans are cooked, add shrimp at this stage if you are using shrimp as your meat. Stir in the spinach and continue boiling for three minutes or until shrimp is slightly firm then turn off the heat

Optional: Stir in fish sauce before turning off the heat

Serve over white sticky rice and enjoy!
Nutrition
Calories:
475
kcal
Carbohydrates:
40
g
Protein:
20
g
Fat:
28
g
Saturated Fat:
9
g
Polyunsaturated Fat:
5
g
Monounsaturated Fat:
12
g
Trans Fat:
0.02
g
Cholesterol:
32
mg
Sodium:
474
mg
Potassium:
1351
mg
Fiber:
11
g
Sugar:
6
g
Vitamin A:
8412
IU
Vitamin C:
36
mg
Calcium:
181
mg
Iron:
6
mg
Disclaimer: Nutritional values were calculated with the Spoonacular Food API and should be used for informational purposes only.
Have You Tried This Recipe?
Simply rate the recipe by clicking on the ⭐️s on the recipe card. Have something to say? Please leave me a comment down below telling me what you think of this recipe.
Bonus: Let me and other readers know what you did to make this recipe your own - 💫 let's inspire each other!
Also, follow me on Instagram [@seesfoodwilltravel] and send me a DM with a picture of what you made. I would love to share and celebrate YOUR creation with our budding community 💞
Check out Sees Food, Will Travel on Pinterest and Facebook for more delicious updates.