My winter visit to Krakow, Poland, was an unforgettable experience. Of course, winters can be cold filled with dreary weather. But it's also a time when Polish cuisine shines, warming you straight to the bones. Racuchy z jabłkami was the first dessert that hooked me into Polish cuisine. Fluffy, crispy, and perfectly sweet, you will easily fall in love just as I did!
Update Disclosure: This post has been updated for one or more of the following reasons: easier reading, updated photos, clearer instructions, and just plain ol' improvements to the recipe (as noted).
Jump to:
What is Polish Apple Fritter?
Racuchy z jabłkami (apple fritter) is the Polish version of an apple pancake or apple fritter. From my research, I learned that racuchy means "pancake", and you can add different types of fruits to the pancake batter. It would be mixed and then fried in a shallow pool of hot oil and served immediately.
One variety consists of flour and baking powder. Another type, like this one, is a yeasted flour batter. Though I first had it as dessert, Polish apple fritters are versatile and are also served as snacks and breakfast food.
Ingredients
Here are the ingredients for this recipe:
All-Purpose Flour
Active Dry Yeast
Granulated Sugar
Salt
Vanilla Extract
Milk
Eggs
Apples
Vegetable Oil
Powdered Sugar
There's more! I added a recipe for a sour cream topping that is super easy to whip up. Just check out the recipe card below.
Substitutes
Apples: You can use any fruit you want for these pancakes. I recommend also experimenting with berries.
Vanilla Extract: You don't have to use vanilla extract and you can choose to leave it out. You can also choose to use a different flavor of extract.
Recipe Tips
Don't Overheat the Oil: You don't want your oil to be too hot because the outer part of the dough will brown way faster than the middle part has time to cook.
Strain the Oil: Line a plate with a paper towel where you can place the fried pancake so that it can soak up the excess oil. Better yet, use an extra large strainer so the oil can drip away from the pancakes.
Use Extra Fat: This tip is for when you want to go for a traditional Polish taste and plan to make the sauce topping. Use a sour cream with an even higher fat content such as 30%. Go for it. You'll thank me later!
How to Make Racuchy z Jabłkami
This Polish apple fritter recipe is simple and you don't need to set aside much time.
Here are the basic steps:
Add the flour, active dry yeast, vanilla extract, warm milk, and egg to a bowl.
Cover and let it sit for twenty minutes or until double in size.
Slice apples into bite sized pieces, then toss them into the bowl.
Heat oil in a pan and fry a spoonful of the mixed batter.
How to Serve
Serve the pancakes immediately after most of the oil has drained so it's still crispy. You can top it with powdered sugar or the sweetened sour cream topping.
Racuchy z jabłkami is best eaten when it is still warm and crispy. My favorite way to eat it is with the sauce topping, but powdered sugar is popular too. Enjoy biting into its pillowy, yeasted texture!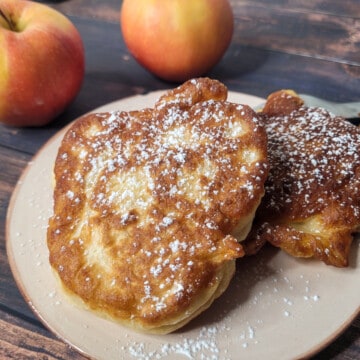 Yeasted Apple Fritters (Racuchy z Jablkami) Recipe
An easy recipe for yeasted apple pancakes or also known as racuchy z jablkami. They are delicious with powdered sugar or with a sweetened sour cream sauce.
Ingredients
Apple Pancakes (Racuchy z Jablkami)
250

grams

all-purpose flour

2½

teaspoon

active dry yeast

2

teaspoon

sugar

½

teaspoon

salt

2

teaspoon

vanilla extract

245

grams

milk, warm

2

eggs

2

apples, peeled and sliced into pieces

vegetable or any neutral oil, for frying

powdered sugar, for topping

optional
[Optional] Sweetened Sour Cream Topping
82

grams

sour cream, at least 18%

2

teaspoon

granulated sugar

1-2

tablespoon

raspberry sauce (or any fruit sauce)

optional
Instructions
In a bowl, add flour, active dry yeast, sugar, salt, eggs, warm milk, and vanilla extract.

Use an electric beater to mix all the ingredients until smooth. Cover and let it rise until double in size about 10-20 minutes depending on the temperature of your kitchen.

Once risen, mix gently with a spatula and add sliced apples.

Place a frying pan on medium heat and add some vegetable oil. Once the oil is hot, gently spoon some of the apple batter into the frying pan. Fry each side for about 1-2 mins. Make sure the outside develops a dark golden brown and crispy skin before flipping it on the other side.

Remove the fritter from the pan and place on a plate lined with a paper towel so it can absorb the oil.

If you are not using the sour cream topping, dust the pancakes with powdered sugar.
Make Optional Sweetened Sour Cream Topping
In a bowl, add sour cream and sugar. Mix until the sugar granules have dissolved.

[Optional] Add fruit sauce and stir until fully incorporated. Serve the topping with the pancakes.
Nutrition
Calories:
169
kcal
Carbohydrates:
29
g
Protein:
5
g
Fat:
4
g
Saturated Fat:
2
g
Polyunsaturated Fat:
0.4
g
Monounsaturated Fat:
1
g
Trans Fat:
0.003
g
Cholesterol:
41
mg
Sodium:
142
mg
Potassium:
134
mg
Fiber:
2
g
Sugar:
8
g
Vitamin A:
158
IU
Vitamin C:
2
mg
Calcium:
50
mg
Iron:
1
mg
Disclaimer: Nutritional values were calculated with the Spoonacular Food API and should be used for informational purposes only.
Have You Tried This Recipe?
Simply rate the recipe by clicking on the ⭐️s on the recipe card. Have something to say? Please leave me a comment down below telling me what you think of this recipe.
Bonus: Let me and other readers know what you did to make this recipe your own - 💫 let's inspire each other!
Also, follow me on Instagram [@seesfoodwilltravel] and send me a DM with a picture of what you made. I would love to share and celebrate YOUR creation with our budding community 💞
Check out Sees Food, Will Travel on Pinterest and Facebook for more delicious updates.